This Story About Kate & Will's Uni Break Up Will Give You Serious Feels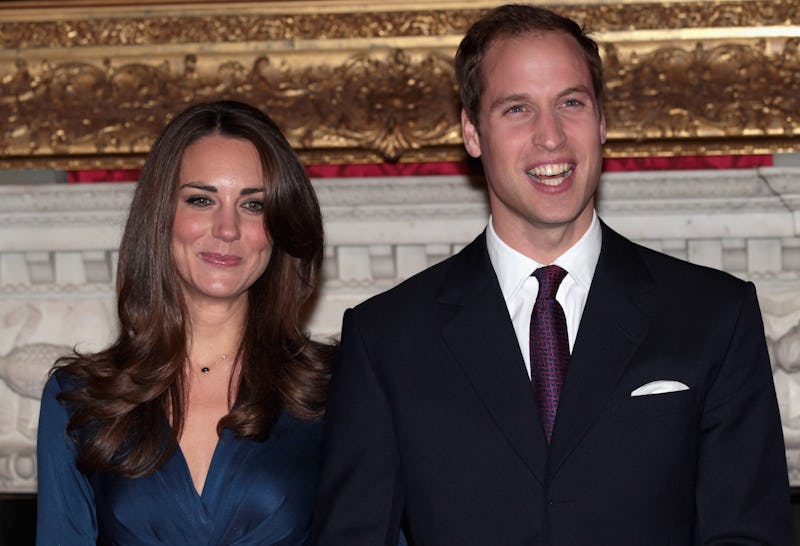 Chris Jackson/Getty Images News/Getty Images
They're so solid now, it's hard to believe that Kate Middleton and Prince William broke up once. But it turns out, even their fairytale romance has seen its fair share of bumps in the road. Way back when they were both bright-eyed university grads, they called it quits. Although they obviously got back together, this could have easily been the end of the road for the couple.
In 2007, the couple's break-up was first reported by The Sun. At the time, Clarence House would not confirm or deny the allegation, and instead released a statement, which read: "We don't comment on Prince William's private life." However, it wasn't long before Reuters also reported they'd split in April of that year.
Three years later, Prince William finally confirmed that he and Middleton did split. During an engagement interview in 2010, the Duke and Duchess of Cambridge chatted to ABC News about their then-upcoming nuptials and the topic of their break-up came up. William said: "Well I think to be honest, I wouldn't believe everything you read in the paper but in that particular instance we did split up for a bit." However, the future king didn't go into detail about what exactly happened.
A book written about Middleton, titled Kate: A Biography, put a theory forward. The publication alleged that it was a row over holiday planning sparked the beginning of the (temporary) end for the couple. The excerpt from the book, which can be read on Parade here, alleged that at the end of 2006 Kate invited Prince William to ring in the New Year with her family up in Dundee. At the time, they were doing the long distance thing as, according to InStyle, Kate Middleton lived in London while Prince William was finishing off his military training at an army barracks in Dorset.
Although he apparently said yes to begin with, William then supposedly flaked and chose to follow tradition and celebrate with the Queen at Sandringham instead. However, that meant that the couple wouldn't be able to see each other at all, since at the time, it was a rule that only married partners would be able to join the holiday celebrations. (Queen Elizabeth actually bent that rule for Meghan Markle recently.)
Their relationship wasn't the same after that as they allegedly began to drift from one another despite the fact that the rest of the nation was ramping up for an engagement announcement. Instead, the were faced with a break-up that year.
William elaborated on the split to ABC in 2010: "We both were very young. It was at university, we were sort of both finding ourselves as such and being different characters and stuff, it was very much trying to find our own way and we were growing up, and so it was just sort of a bit of space and a bit of things like that and it worked out for the better."
Given that the two of them started dating quite early on in their university careers at St Andrews, I can totally relate. That awkward 18 to early 20s phase is that weird period in your life where your entire sense of self is upended like a box of Lego, and you spent the next few years trying to discover who you are, patching yourself doubtfully together. Being with somebody at that pivotal time is something that I'm sure can be both incredible and also stifling as it's easy to define yourself by it — which was something that Middleton touched on.
"I think I at the time wasn't very happy about it, but actually it made me a stronger person," Middleton said in the same interview. "You find out things about yourself that maybe you hadn't realised, or I think you can get quite consumed by a relationship when you are younger and I really valued that time for me as well although I didn't think it at the time. Looking back on it."
William also spoke about what it was like meeting Middleton at that time in his life, and the virtues of being friends first, rather than leaping straightaway into a relationship. He said: "When I first met Kate, I knew there was something very special about her. I knew there was possibly something that I wanted to explore there. We ended up being friends for a while and that just sort of was a good foundation. Because I do generally believe now that being friends with one another is a massive advantage. And It just went from there."
As for finding their way back to one another? They didn't delve into details about their reunion, but William did say: "Over the years, I knew things were getting better and better, and we went through a few stumbling blocks as every relationship does, but we really picked ourselves up and carried on."
Kate added: "I think if you really go out with someone for quite a long time you do get to know each other very, very well. You go through the good times, you go through the bad times. You know both personally, but also within a relationship as well."
Although Kate and Prince William may have broken up, the universe couldn't keep them apart for long as the pair were seen together a month later in July that year at a Princess Diana tribute concert according to Hello! magazine. And the rest is genuinely British history. The couple took their time, and three years later in 2010, William proposed to Kate in Kenya with his mother's famed sapphire and diamond engagement ring.
It just goes to show that even the relationships that seem like something out of a fairytale have been built on their own battles and road bumps, though it's how you deal with those obstacles as a couple that makes all the difference. In my opinion, Middleton and William have been a pretty great example to look up to as far as that goes, proving just how important it is to know yourself as it is to know your own partner.