Kate Just Wore Some Killer Meghan-Style Trousers & Put *Those* Feud Rumours To Bed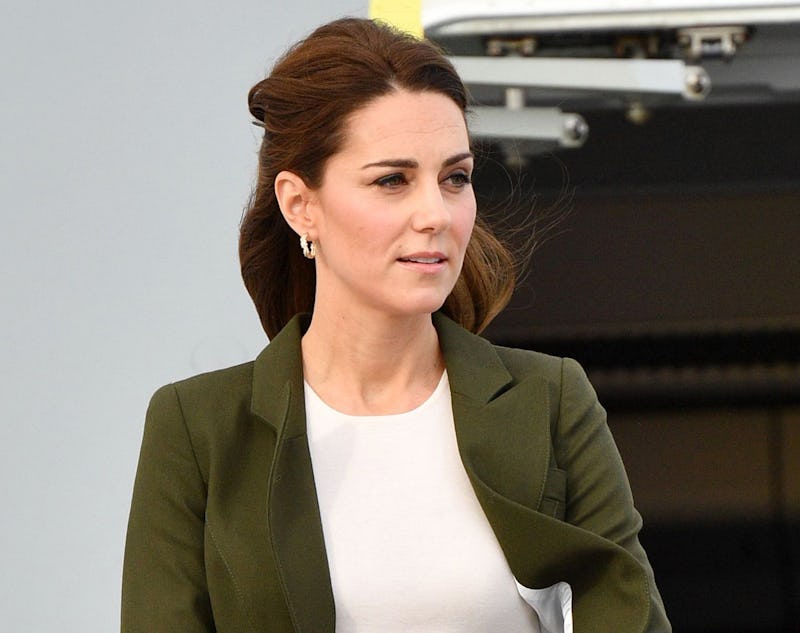 Tim Rooke/Shutterstock
The Duchess of Cambridge may have just used a little thing called fashion to prove that she and the Duchess of Sussex have never been closer. For a quick trip to Cyprus, Kate Middleton wore bootcut trousers. That's a style she has never worn for an official outing and one that has become a staple in Meghan Markle's wardrobe, so read into that what you will.
On Wednesday, the Duke and Duchess of Cambridge hopped on board a plane to visit RAF troops based in Cyprus. Middleton and Prince William didn't arrive empty-handed, bringing a whole host of letters and gifts from children whose parents will be serving in the military over Christmas. The presents were collected during a Christmas party held at Kensington Palace on Tuesday and were given to personnel who won't be flying home during the festive period.
Despite Tuesday being a full-on day for Middleton (having also attended the Queen's diplomatic reception in the evening), the 36-year-old royal appeared bright-eyed on Wednesday morning.
She swapped her ballgown for a tailored look consisting of a cream top, olive green blazer by Canadian label Smythe, and a pair of black wide-legged trousers. It's hard not to draw comparisons between this particular ensemble and Markle's sense of style which has often favoured modern tailoring over traditional skirts and dresses.
This isn't the first time that Middleton has worn the subdued blazer. She first debuted it in Canada in 2016 and also owns a navy blue version. The brand are clearly grateful for her support as they appear to have named the jacket after her. You can buy the Duchess Wool Blazer in a variety of shades for the grand price of £576. (Oddly enough, Markle too has shown her love for Smythe, wearing a sophisticated coat from the brand in January and a blue design for the launch of her cookbook in September.)
Middleton's suede olive clutch bag from L.K. Bennett is a little more affordable at £119. It's also available in red, dusky pink, a brighter green, and black, and comes with a detachable chain strap which is ideal if you're not the carrying type. Middleton also wore matching £195 L.K. Bennett heels and topped off the look with £5,000 oak leaf earrings by Asprey.
In recent weeks, there has been talk of a "feud" between Middleton and Markle. The Sun has published numerous reports of alleged disputes between the two royal women, including The Sun's report that Markle's demands over Princess Charlotte's bridesmaid dress left Middleton in tears and the newspaper's additional report that Middleton told Markle off after she spoke rudely to her staff. The rumours became so widespread that Kensington Palace issuef a rare response to the newspaper which simply stated: "This never happened."
Perhaps this bootcut sartorial display is a subtle sign of Middleton's friendship with and respect for Markle, or perhaps I'm reading way too much into this. Either way, it's about time the world stopped encouraging competition between two women who have found themselves in rather unique positions just because of who they fell in love with.
Navigating the royal landscape can't be easy for anyone, especially women looking to modernise the way things are done. The media and public should be celebrating their achievements rather than attempting to create a rift.