Thanks To Meghan Markle, This Trend Is On The Rise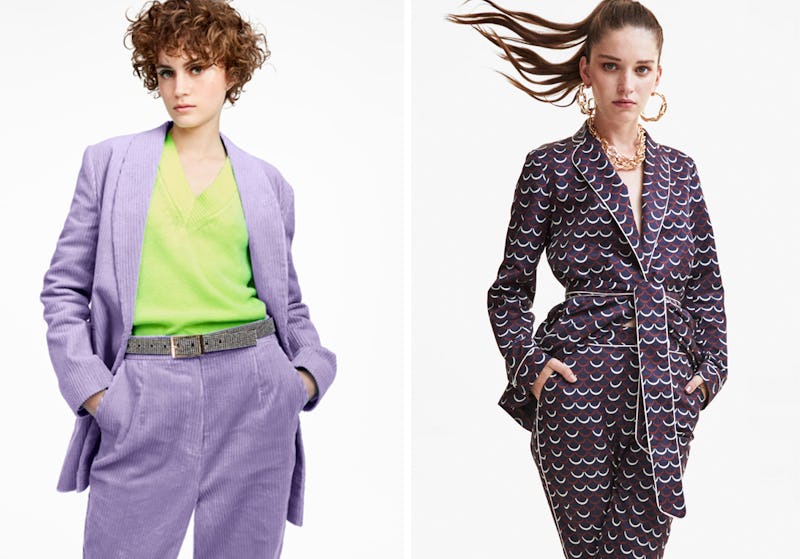 ASOS
If you hadn't noticed, floaty looks are out and sophistication is in. Fashion may have been pushing prairie dresses and the like this summer but it turns out that the average woman is opting for a much more formal style. And thanks to one royal woman, the tailoring trend isn't showing any signs of slowing down.
A spokesperson for ASOS (offers sizes 4 - 18; petite/plus-size options) has revealed that sales of suits in particular have grown by "a massive 129 percent" this year. Now, I'm no analytical expert but I'm going to put this down to the Meghan Markle effect.
Despite leaving her Hollywood life behind, the Duchess of Sussex has steered clear of the usual tired royal wardrobe. Admittedly, she did attempt to please the Queen by wearing plenty of neutral-coloured dresses immediately after marrying Prince Harry. But recent weeks have shown Markle's true style.
Two weeks ago, the royal couple went to see the global masterpiece that is Hamilton. Although Markle has worn suits in the past (cue pun related to her previous job), fans were shocked to see the 37-year-old wearing a tuxedo mini dress by Canadian label Judith & Charles. And just last week, Markle stunned in a full-on tux by Altuzarra at the WellChild Awards.
Seeing a self-described feminist wearing a powerful tailored suit isn't surprising. But it is less common for women in the royal family. According to The Telegraph, this may be because the Queen tends to disapprove of royal women wearing trousers, instead preferring her posse to don more 'ladylike' dresses and skirts.
Markle's recent sartorial choices have also caused a stir thanks to a report published by the Daily Mail back in July. The paper stated that Prince Harry had banned Markle from wearing a trouser suit for their upcoming tour of Australia.
"Meghan is being told she needs to stop dressing like a Hollywood star and start dressing like a royal," a source told the paper. "Meghan wanted to wear a tuxedo-style suit but Harry said it wasn't traditional enough." Well, it turns out that Harry either doesn't have a problem with suits on women or Markle simply ignored his words of advice. (I don't know which one I'd prefer to be true.)
The Hollywood Reporter recently described the Meghan effect as "overrated" — simply because several designer items that Markle has worn are still in stock. However, this doesn't mean that women without a designer budget aren't finding ways to copy the royal's look for less.
ASOS' sales figures certainly seem to prove this theory. The brand has said that tailored checks have been incredibly popular, adding that it sold 22,500 checked trousers during this year's spring and summer season. ASOS is also predicting the influx of '70s-style suiting. Markle's recent flared look certainly attests to that.
The label currently has a huge array of tailoring to snap up. From a mustard-hued blazer and trouser combo to a metallic Barbie-esque skirt suit (which also comes with trousers), there's enough options to keep you going for weeks on end. Some of these unfortunately won't be available until later in the year but will be online just in time for Christmas.
ASOS has also revealed a move towards more relaxed tailoring with bold stripy numbers and kimono-style jackets replacing more traditional fitted styles. Oh, and don't forget cord because it's going to be huge.
Perhaps we'll soon see Markle in an ASOS suit. After all, royals and the high street do mix sometimes.