Kate Winslet's Wishy-Washy Response To The Woody Allen Allegations Is Exactly Why Reporters Have To Keep Asking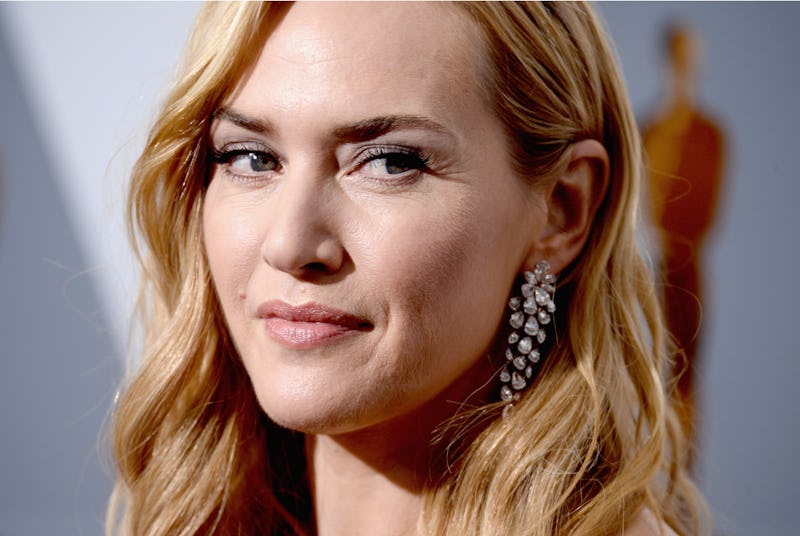 Frazer Harrison/Getty Images Entertainment/Getty Images
Little is known about Kate Winslet's upcoming movie, Wonder Wheel, beyond the fact that it has her teaming up with director Woody Allen for the first time. So it's no surprise that when she recently sat down with the New York Times to talk about the film, she was asked about the director's past. In the interview, Winslet defended Allen, despite molestation allegations against him. When asked if the claims that Allen molested daughter Dylan Farrow gave her pause, Winslet said,
"Of course one thinks about it. But at the same time, I didn't know Woody and I don't know anything about that family. As the actor in the film, you just have to step away and say, I don't know anything, really, and whether any of it is true or false. Having thought it all through, you put it to one side and just work with the person."
She continued, "Woody Allen is an incredible director. So is Roman Polanski. I had an extraordinary working experience with both of those men, and that's the truth." While that is Winslet's truth, that she was able to put the allegations aside and do her job, Farrow cannot put those allegations aside as easily.
In a 2014 letter to The New York Times, Farrow accused Allen of molesting her as a child. While this was the first time she, as an adult, addressed the allegations that he touched her inappropriately at age 7, it wasn't the first time this had been reported. (Allen has repeatedly denied these claims.) Farrow's letter only put the allegations back in the spotlight, forcing others to address them. Winslet is the latest of Allen's leading ladies to be asked about the subject, and her wishy-washy answer is exactly why journalists need to keep asking. It isn't an easy question, but by asking about Allen's past, it shows they're taking the claims seriously.
In fact, Farrow was actually the first person to publicly ask why actors continue working with Allen despite the allegations, which have been public knowledge since the '90s. In her 2014 letter, she wrote, "What if it had been your child, Cate Blanchett? Louis CK? Alec Baldwin? What if it had been you, Emma Stone? Or you, Scarlett Johansson? You knew me when I was a little girl, Diane Keaton. Have you forgotten me?"
When Blanchett was asked about Farrow's letter (she would go on to win an Oscar for her part in Allen's 2013 movie Blue Jasmine months later), she said, "It's obviously been a long and painful situation for the family and I hope they find some sort of resolution and peace."
A month later, Johansson, who has worked with Allen three times, told The Guardian that Farrow's letter was "irresponsible," saying, "to take a bunch of actors that will have a Google alert on and to suddenly throw their name into a situation that none of us could possibly knowingly comment on. That just feels irresponsible to me."
After those actors talked about Allen, it seemed questions about why people were working with him died down. Allen's film Café Society opened Cannes, Amazon gave him a series, and the accusations were just a parenthetical in a Hollywood Reporter profile. But then in 2016, Farrow's brother Ronan wrote an op-ed for THR that talked about the "dangers of questions unasked" about his father's past. With that piece, journalists started asking actors about the allegations again.
When Café Society's Blake Lively was asked about working with Allen, she sounded a lot like Winslet, telling the Los Angeles Times that the allegations didn't register with her. "It's very dangerous to factor in things you don't know anything about," she said. "I could [only] know my experience. And my experience with Woody is he's empowering to women."
Her co-star Kristen Stewart also took a similar approach, telling Variety that she did think about the allegations before signing on and even spoke with leading man Jesse Eisenberg about it. But, in the end, she decided, "If we were persecuted for the amount of sh*t that's been said about us that's not true, our lives would be over. The experience of making the movie was so outside of that, it was fruitful for the two of us to go on with it."
Winslet, Lively, and Stewart each imply that their decision to work with Allen is purely professional, which it very well may be. But in doing so, they also make the case that their positive experience is the only one that's relevant. While these actors are ignoring the allegations, journalists should not. It's their job to ask the tough questions in hopes of getting real answers.
They may get neutral responses like the one Winslet gave, which says something while saying nothing. But, continuing to ask keeps the conversation going and could encourage someone else to speak out. Too often, those who claim to be victims are forgotten, especially when they go up against powerful men. In Ronan's op-ed, he noted that not asking these questions can be dangerous, because it implies that someone's voice can be silenced if they speak out against someone with more power than them.
That's exactly why this remains an important question when talking about Allen or his work. Allen's career was not affected by Farrow's allegations, but his public image has been. These claims can no longer be swept under the rug; they're a part of the national conversation. And as long as Allen's making movies, it's one we need to keep having.