Kate Might Finally Get Her Win On 'This Is Us,' According To Chrissy Metz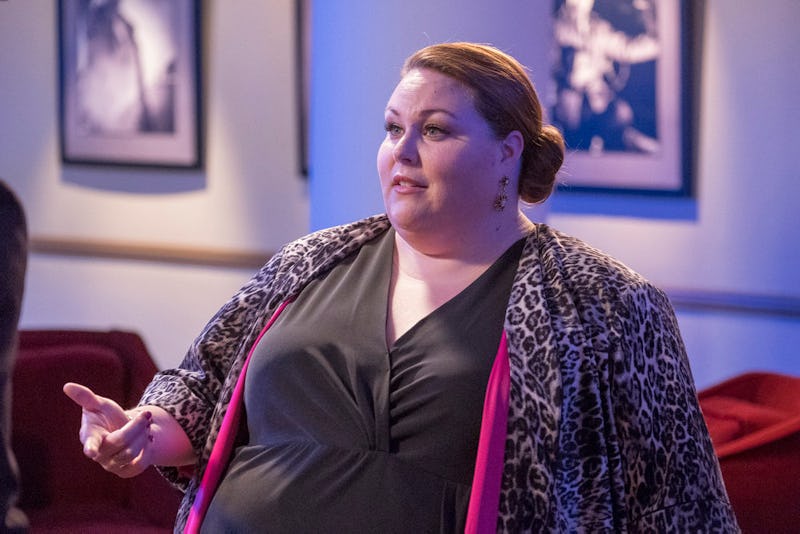 Ron Batzdorff/NBC
This Is Us has a reputation for making fans cry. But it looks like Kate's pregnancy storyline might actually bring the NBC drama's fans to happy tears for once. During a conversation with E! News on Sunday, Chrissy Metz talked about the possibility that Kate could become a mom on This Is Us. The actor didn't explicitly confirm that the IVF will be successful, but she did hint that Kate and Toby might have a child.
"She just had the egg retrieval and we're going to see how that's going to go," Metz told E! News of her character. "I've been told it's going to be positive, so people are not going to be heartbroken, completely, but it won't be easy."
Based on Metz's comments, it sounds like Kate and Toby could become parents, if that's the "positive" aspect she's teasing. But if Kate does get pregnant, it sounds like there could be illness or potential complications. Why would Metz add on the "completely" there? It sure sounds like there could be some heartbreak ahead, even if it's not total heartbreak.
Then again, it's worth noting that Metz didn't explicitly say that the IVF procedure would work. Even if Kate and Toby do have a positive journey toward becoming parents, that could also mean the two of them will adopt a child. And after Kate's comments about passing on a piece of Jack — with the implication that Randall couldn't do so without his dad's DNA — an adoption storyline would make for an interesting turn of events.
During her conversation with E! News, Metz also teased a little about the flash forward in the Season 3 premiere. Toby is shown lying in bed alone, and no longer wearing his wedding ring. Some fans saw the scene as a clue that Kate and Toby's relationship could be in trouble in the future, but Metz didn't offer up any clues. "Maybe Kate's in the kitchen," the actor told E! News. "Who knows?"
Metz also teased that she wants to see Kate in the future timeline. Viewers have already seen Toby, as well as an older version of Randall. But Kevin, Kate, Rebecca, Miguel, and Beth haven't appeared in the future yet. And that's made Kate, Rebecca, and Beth frequent targets of theories about who the "her" Randall and Tess are visiting is.
"I can't wait to age," Metz told E! News. "I'm excited about it. I don't know if we're going to this season, but I'm excited about it." The actor's comments definitely make it sound like Kate hasn't filmed any future scenes yet, which could make her a likely candidate to be the "her" in question. Hopefully, Kate isn't suffering from a health issue or other complication in the future timeline, but anything is possible.
On a more positive note, Metz's comments also hint that Kate could be on a journey towards body acceptance. When viewers first saw Kate in the show's pilot, she was portioning out healthy foods, leaving Post-it notes about eating in her fridge, and falling off a scale. But since then, Kate's come a long way in how she views herself.
Kate isn't defined by her weight, and she's learned to stand up to Rebecca when her comments cross the line. So if Metz wants to film future scenes now, does that mean Kate will be the same size in the future? After the initial reports that there was a weight loss stipulation in Metz's contract, that would be a welcome change. Whatever happens, Metz's comments to E! News are just cryptic enough to keep fans watching to see what happens to Kate and Toby next.