'This Is Us' Dropped A Major Clue About "Her" In The Season 3 Premiere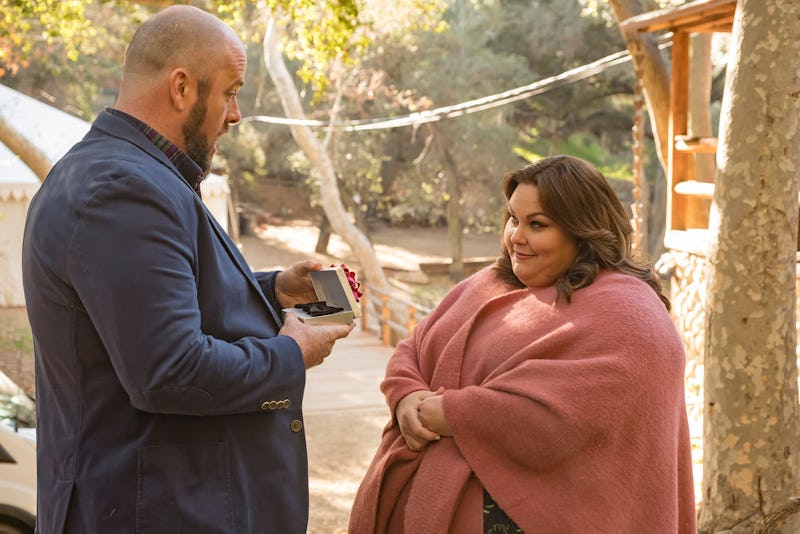 Ron Batzdorff/NBC
There's no denying that the flash-forward mystery on This Is Us has become fans' next new obsession. Who is this unknown "her" that Old Randall and Adult Tess need to go see, but don't seem to want to? It's a question that has plagued viewers ever since the Season 2 finale aired in March, and the Season 3 premiere wasted no time in throwing another curveball into this future timeline, leaving fans wondering if Kate is "her" in the This Is Us flash-forward. By the end of the episode "Ave Maria," a new clue emerged that could prove to be a total game-changer.
Towards the end of the episode, the older version of Randall makes a phone call to the older version of Toby, who is lying in bed looking very sad and very much alone. (There is no Kate beside him.) Randall then asked if he's coming down, to which Toby responded by saying "I don't know if I should." Randall insisted at that point that "She wants you to be there." Toby ended up agreeing to come as he looked longing at the empty space in the bed beside him. Naturally, this seems to suggest that Kate is the mysterious "her" fans have been wondering so much about, but considering that This Is Us is known for its unpredictable plot twists, this could be yet another red herring.
Up until this point, many fans were convinced that the "her" in question was either Beth, Deja, or Tess' younger sister, Annie, given that none of them have appeared in the future timeline thus far and they all share strong connections with both Tess and Randall. However, now that this new detail has come to light, having it be Kate feels like a definite possibility. After all, what other commonality do Tess and Toby share? It would make sense for Kate to want Toby to come visit her, and it would explain why Randall would make a point of calling his brother-in-law. (Also worth noting? The absence of a wedding ring on Toby's finger.)
But again, this could all just be a classic This Is Us misdirect, meant to leave fans second-guessing themselves. And while obviously the cast isn't able to reveal any concrete answers, Chrissy Metz recently spoke to Entertainment Weekly about the possibility of Kate being "her" and she hinted that viewers shouldn't get too confident with their theories just yet. "It's not going to be what you expect," she told the outlet. "But it will be difficult to digest, for sure." Meanwhile, Chris Sullivan, who plays Toby on the series, admitted that he knows who this mystery woman is, though he's keeping that intel to himself for now. "I can't say anything, one way or the other," he told EW. "It's a well-constructed storyline."
Sterling K. Brown also provided some clues regarding this particular plot line, revealing that "The 'her' is someone that we all know and care about, so you're going to see Randall trying to galvanize all the family because it's a critical time and he wants everybody to be there." However, future details on the matter may be less about narrowing down this person's identity and more to do with how this individual ended up in the place they are now. "It's along the lines of 'what is it that led her to this situation?'" Brown teased to EW during the same interview.
Could it be Kate? Absolutely. But it could also be numerous other members of the Pearson clan. Fans will just have to keep watching until the answer reveals itself, which could end up happening sooner than you may think.