These 'Pump Rules' Neighbors Need A Sitcom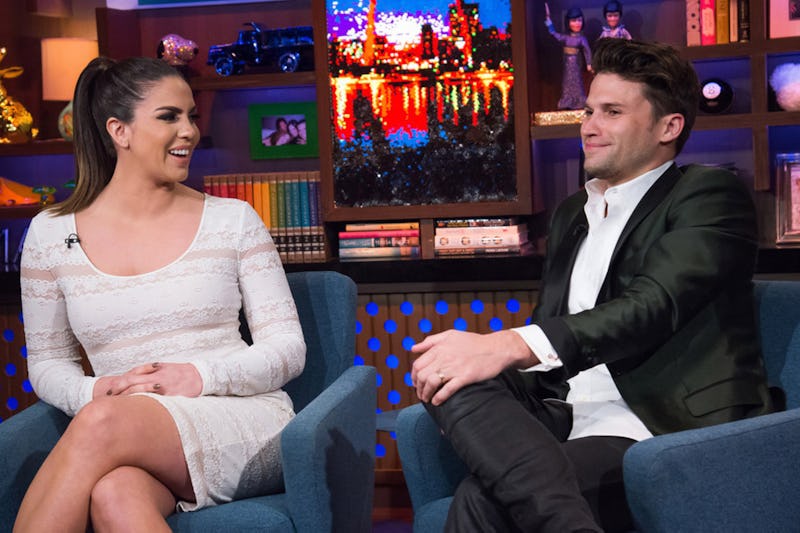 Charles Sykes/Bravo
It's a beautiful day in the neighb-SUR-hood, eh? In a recent interview with Bravo's The Daily Dish, newlyweds Tom Schwartz and Katie Maloney talked about my second favorite building in all of West Hollywood*: their apartment complex. Specifically, what it is like living two doors down from new tenants Jax Taylor and Brittany Cartwright. As the Vanderpump Rules stars revealed a few months ago, they are all buildingmates now. And judging from what the Bubbas told The Daily Dish, the Cartwright, Maloney, Taylor and Schwartz neighbor situation sounds like a sitcom. Or at the very least, solid material for some good Instagram stories.
Though Schwartz and Maloney didn't say anything about pulling pranks on their neighb-SURs (with this group, I think it's safe to assume the pranks are a-flowin' in that building), they did touch on one crucial question: Is it possible to live down the hall from your best friends/coworkers/co-stars without going bananas?
On the outset, Maloney was understandably a little concerned about this setup. She told The Daily Dish,
"I was not excited about that, and I was very much opposed to it. I love them, I love all my friends, but I don't want to live next to any of them. We spend so much time together, working together, hanging out, traveling together, that it's really nice to kind of have your space. And now our space is their space kind of."
She's since changed her mind about Cartwright and Taylor renting a unit so close to their own ("For the most part, it's been good"), but she hasn't wavered on the whole space thing. To mitigate the space thing, Maloney and Cartwright established a pretty reasonable guideline: If one SURver plans to stop by another SURver's unit, shoot 'em a heads-up text first.
Maloney explained,
"Brittany and I, especially, had a conversation not like laying ground rules, but just kind of being like, 'Hey, this could be fun, this could be great, but remember just call or text.'"
Ah, yes. The Chekov's gun that is the simple courtesy text request. Bet you can't guess how this plays out.
"Jax has not been following that rule," Maloney told The Daily Dish. "Like random knocks at the door. I'm like, 'Who's here?' Jax is like, 'Is Tom home?'"
Oh, to be a fly on the hallway wall. I bet Maloney is genuinely caught off guard every time, and I bet Taylor is genuinely caught off guard by Maloney being caught off guard every time. And I bet when Taylor walks back into his own apartment with his tail between his legs, Cartwright says, "Dang it, Jax. You know you're supposed to call Tom beforehand. You probably scared Katie half to death!" And I bet Taylor grabs a fistful of lunchmeat and replies, "Yeah, yeah. I'll get it right next time." And I bet Taylor doesn't get it right the next time. And I bet the beautiful cycle continues.
This buildingmate mischief is not a one-way street: Taylor's old roommate apparently can't adhere to the courtesy text request either. Schwartz admitted to The Daily Dish,
"I caught myself a few times just walking into [Taylor's] apartment without knocking and I was like, 'Oh my God, I'm sorry.' I don't know, it's like old habits from living together. I felt like Kramer."
Oh, you're still not sure about this Pump Rules apartment situation? You still don't know if this sounds like a hoot? I'm sorry, but Schwartz is literally behaving like one of the most iconic sitcom characters of all time. Giddy-up.
If every episode of Vanderpump Rules Season 6 opened with Taylor and Schwartz barging into each other's apartments without warning, I wouldn't hate it. What's the opposite of "hate"? Oh, right. "Sexy Unique Restaurant." I would Sexy Unique Restaurant watching Taylor and Schwartz's neighborly shenanigans.
*And yes, SUR is my favorite building in all of West Hollywood. Duh.