Katy Perry Just Showed Up To The Met Gala Wearing The Most Enormous Angel Wings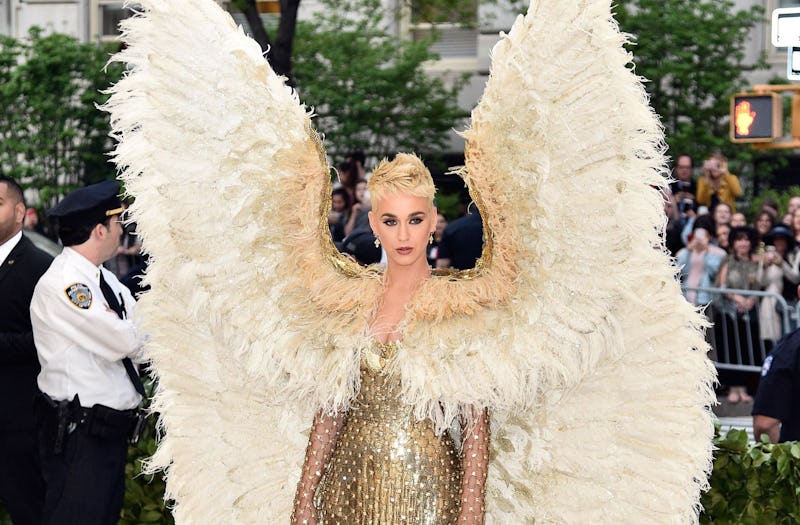 Photo Credit: Andrew H. Walker/REX/Shutterstock
Katy Perry isn't afraid of a theme. In fact, even if there isn't a theme and it's just a regular day, the singer is famous for donning the wildest, boldest, and most creative costumes just because she feels like it. So when Perry was invited to attend this year's Met Gala, you know she was going to do the most. Katy Perry's 2018 Met Gala look involved the most gigantic pair of angel wings you have ever seen and her fans could not be more excited about it. While many other celebrities in attendance did not dress to the theme (in typical Met Gala fashion), Perry decided to make up for everyone else's boringness and go all out.
Katy Perry's giant wings were so enormous, she had to arrive on the red carpet in a convertible (but a sleek white retro one that complemented her look, of course). These wings are not even Victoria's Secret angel wings size — this pair has to be at least seven feet tall and five feet wide. To make them stand out even more, the wings were adorned with gold and silver embellishments at the top and were dusted with silver glitter all over. To match her wings, Perry wore an all gold ensemble — a shiny gold strapless mini dress with a gold overlay made by none other than Donatella Versace. Perry completed the look with a pair of killer thigh-high gold boots.
Let's take another look at these huge angel wings, shall we?
Now that is how you dress for the Met Gala, ladies and gentlemen.
Perry also kept her hair and makeup on theme — dramatic, but angelic. She added some texture and glitter to her platinum blonde pixie cut and it almost resembled a crown. Her makeup was also on point, featuring a smoky eye, strong feathered brows, and a beautiful berry red lip. Perry also shared on her Instagram stories that she brought along a very important accessory (a good luck charm, she called it) — a rosary blessed by Pope Francis himself.
On her outfit, Perry told The New York Times, "I feel very angelic. Celestial. Ethereal."
While Perry nailed this year's "Heavenly Bodies" theme, this isn't the first Met Gala that the musician channeled Catholic fashion. In 2013, Perry wore a crown, giant cross earrings, and a very intricate beaded gown designed by Dolce and Gabanna. If she had decided to wear it to this year's gala, she still would have been on theme.
While the angel wings may have been the biggest statement-maker at tonight's event, Perry has been known to wear extravagant, out-of-this-world ensembles to the Met Gala.
In 2017, Perry wore an all red gown designed by John Galliano for Maison Margiela, complete with a veil and yes, another snazzy headpiece.
In 2016, Perry bleached her eyebrows, wore black lipstick, and looked nearly unrecognizable for the "Manus x Machina" theme.
Whether you're a fan of Perry's or not, one thing's for sure: She will never let you down at a Met Gala. Can't wait for next year!