Kehlani's Pregnancy Announcement Has Fans Super Excited For The Singer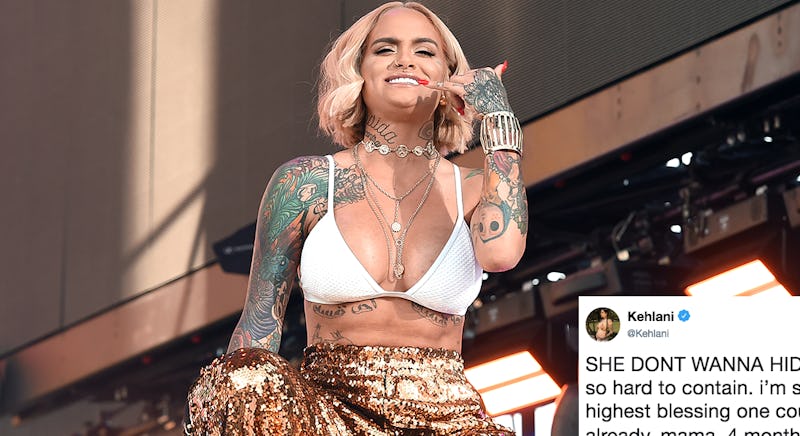 Kevin Winter/Getty Images Entertainment/Getty Images; Kehlani/Twitter; Bustle/Screenshot
As if the world wasn't already obsessed with Kehlani, the singer and budding style icon just shared something that is making fans turn flips. In a series of social media posts Friday, Oct. 12, Kehlani announced her pregnancy and shared the sweetest caption about the experience — proving just how great of a mother she's going to be to her bundle of joy.
Just turning 23 this past April, the Oakland native has gone through a lot. From a child star on the NBC hit show America's Got Talent, to being homeless, and even having struggles with suicide depression, Kehlani's story is one of defying odds and perseverance. And after listening to her music — filled with amazing production and powerful stories of love and loss — fans can attest to the fact that her art has inspired them to live out their wildest dreams.
Not only is her music captivating, but Kehlani's social media presence and activism is something that can be attributed to her massive fanbase, as well. Kehlani is probably one of the most candid celebrities you'll find on social media today, and her Oct. 12 pregnancy announcement is the perfect example of such. In a Friday afternoon tweet, Kehlani revealed, "i have a daughter. me. i. me! kehlani! i have a mini on the way."
The singer continued in a following tweet, telling fans about her decision to wait to share the big news, saying, "the decision to share this with the world was a tough one, but i really want to experience the freedom and joy any normal pregnant person feels."
According to Kehlani, hiding her pregnancy from the public any longer wasn't really an option. And her adorable pictures in an accompanying Instagram post helps to illustrate her thought process even further. Complete with stunning photos showing off her four-month baby bump, the singer let fans in on her journey to motherhood in the caption, writing,
"i've always been very open with you all about my personal adventures & accomplishments... this was the HARDEST to hide. if you know me, you know i've dreamt about motherhood since i was very young. when asked what my goals are, it's always the idea of a big healthy happy family & whatever comes along is a plus . i am so honored to be given this gift by spirit, creator, and an amazing partner whom i trust with my body and life."
The singer also dedicated a good part of the caption to her growing baby girl, writing, "dearest little girl, i am so proud to be your mommy. i am so proud to have received you. i cannot wait to meet you, i know you will be 50,000 times more special than i can even imagine at this moment."
But, that's not all. Kehlani let fans in on her birth plan as well. In the caption, the singer shared that she's excited to have "a natural home birth" with midwives, and is also planning to open up about her "journey to contraception" and her loving relationship with her partner one day soon.
Needless to say, once hearing about Kehlani's big news fans, and celebrities alike, couldn't get enough of it, and they shared their feelings all over Twitter.
Celebrity peers Missy Elliott, Janelle Monae and even Nicki Minaj, also shared their excitement and offered congratulations to the soon-to-be mother on Twitter.
Here's to hoping Kehlani continues to have an amazing pregnancy.