Keira Knightley Is Calling For More Women Behind The Camera For This Vital Reason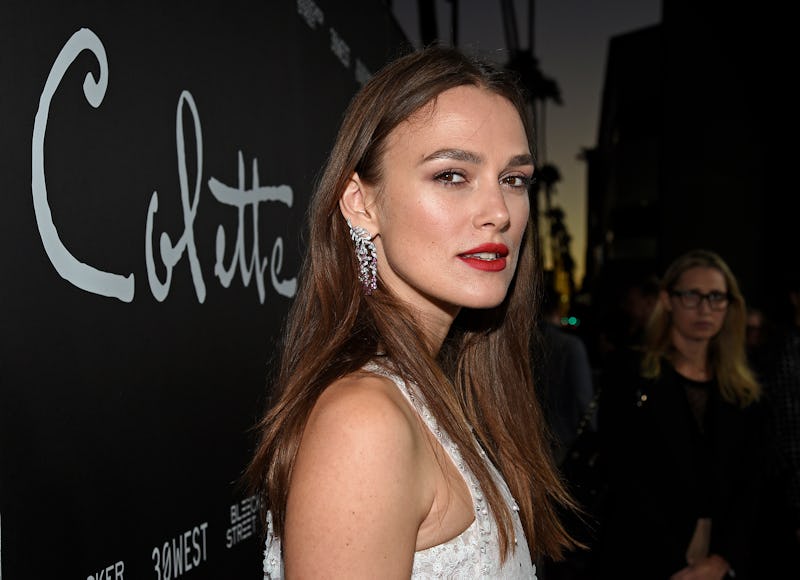 Kevork Djansezian/Getty Images Entertainment/Getty Images
In 2010, Kathryn Bigelow became the first woman in history to win an Academy Award for Best Director. Since then, Hollywood has seen a modest spike in female representation behind the camera. But even so, Keira Knightley wants to see more women directors telling stories on the big screen. In fact, as she told The Hollywood Reporter during a recent interview, Knightley thinks the film industry needs to include more women in behind-the-scenes roles pretty much across the board.
"There's a lot of talented female directors," Knightley told THR during Friday night's premiere of Colette, a new biopic about 20th century author Sidonie-Gabrielle Colette, in which the actor plays the title role. Of course, it's no secret that Hollywood's lack of female representation behind the camera isn't due to a lack of talent, and it sounds like Knightley — much like most women working in her industry, probably — is aware of that. So, while the actor told THR that she doesn't see herself personally opting for the director's seat, she still believes those women who do deserve to be seen.
"I think that they need to be supported," Knightley continued, adding that she thinks the "female point of view is very important." As for how Hollywood should go about incorporating more of those perspectives into its films and television shows? Knightley has some suggestions:
"I think we need more [directors of photography], more producers, and we need more writers [who are women]. So I think we really need to push for representation."
Over the past couple of years, Hollywood's TV and film industry has seen a moderate increase in the prevalence of female creatives working behind the camera, and a handful of them have received big-league recognition. As far as women directors are concerned, the profiles of gifted directors like Ava DuVernay, Patty Jenkins, and Dee Rees — to name just a few — have been on the rise, while veterans like Bigelow and Sofia Coppola continue making waves in Hollywood. (And, thankfully, they keep making movies, too.)
Those women, and their contributions to pop culture, have already begun to instigate change, as far as female representation is concerned. But, like Knightley said, there's still more work to be done. In 2017, women comprised 8 percent of directors working on the year's top movies, according to the Center for the Study of Women in Television & Film. And, of all the people working behind the scenes on last year's top 250 domestic grossing films, women made up just 18 percent of all directors, writers, producers, executive producers, editors, and cinematographers.
A quick scan through the organization's report reveals that those statistics reflect a slight increase in women working behind the camera compared to the year before. Still, as far as overall female representation is concerned, it's clear the industry still has a ways to go. Per the organization's report, in 2017, only 1 percent of films saw 10 or more women in any of the previously mentioned roles. (On the flip side, the organization's study shows that 70 percent of films employed 10 or more men.)
Fortunately, it sounds like Knightley's Colette will pose another opportunity for Hollywood to spotlight real women's voices, stories, and perspectives, behind the scenes as well as in front of the camera. The film chronicles the empowering true story of acclaimed French author, and notable feminist writer, Colette. Colette's husband was initially credited for her work (much like many other women writers in her day, Colette published under a pseudonym), until she fiercely reclaimed rightful recognition decades later, after eventually divorcing him.
Hopefully Colette does its part to bolster Hollywood's (relatively small, but steadily growing) female-fronted narratives. Beyond that, here's hoping the TV and film industry at large takes a serious note from Knightley's comments on the need for more women working behind the scenes in Hollywood. Whether its directing, producing, writing, or designing films and television shows, women should be there. Because, like Knightley said, there are a lot of talented women directors out there. Who knows how many of them would create Oscar-winning content if given the chance?