Kelly Clarkson's Daughter Singing Coldplay Is *Almost* Too Cute for Words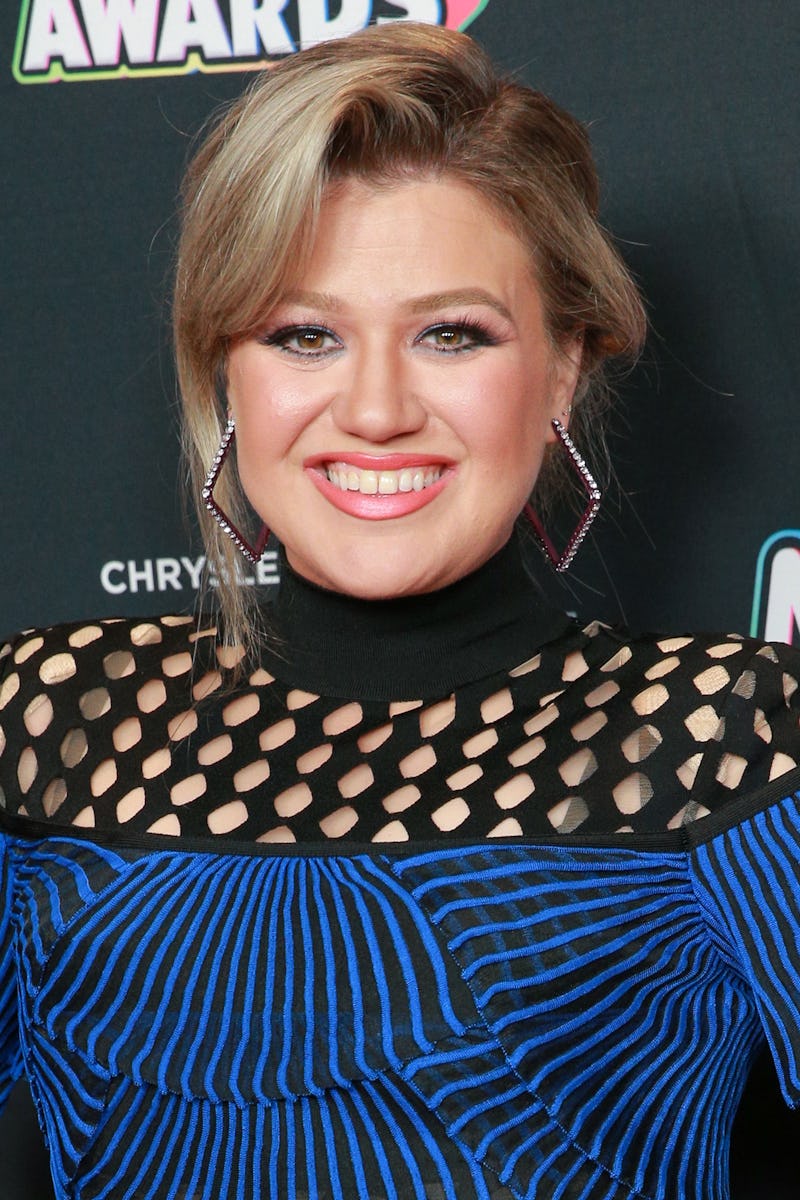 Rich Fury/Getty Images Entertainment/Getty Images
Kelly Clarkson's daughter, River Rose Blackstock, is just 4 years old, but she's already forming her own taste in music. Based on a recent video the American Idol winner shared, it looks like Kelly Clarkson's daughter really loves Coldplay and her singing proves it.
Clarkson posted a video of her daughter singing "Yellow" on Twitter Wednesday, and the clip is too cute. River doesn't have all of the lyrics perfectly down just yet — her rendition of "and it was all yellow" sounds more like "and I lellow" — but she's obviously a pretty big fan of the song. In fact, based on Clarkson's conversation with her daughter in the video, it sounds like River is already enamored with Coldplay frontman Chris Martin, too.
"Chris Martin. I like him and he's beautiful," River tells her mom in the clip. "I like his song and I wanna kiss him." (Her mom quickly says, "You can't kiss him," with a laugh.) Of course, the preschooler probably doesn't know exactly what she's saying, but she definitely does seem to love "Yellow." At the end of the video, Clarkson tells her daughter that she has "good taste" for liking Coldplay. Clarkson wrote in her tweet,
"So my daughter wants to marry Chris Martin and is obsessed with his song Yellow. She wants to marry the boy in the video, which I have informed her he is not a boy anymore and has kids older than her but she will have none of it, she is determined"
Clarkson and her husband, Brandon Blackstock, welcomed River in 2014. Their daughter is their first child together, and they're also parents to their 2-year-old son Remington Alexander. As People pointed out, Clarkson is also stepmom to Blackstock's two children from a previous relationship.
Clarkson and Blackstock got married in October 2013, and it seems like the two of them are super happy together. Their wedding was held at Tennessee's gorgeous Blackberry Farms, and their daughter's name has a sweet reference to the Southern state, too. Clarkson told People in 2015 that she and Blackstock chose the name "River" because their Nashville home was near a river, and they liked how the name sounded. "We live on a river, so it really wasn't that creative," Clarkson told the magazine. "We were outside on our balcony, and we both looked at each other and were like, 'What about River? That's kind of cool.'"
The "I Don't Think About You" singer also shared with People in April that she's raising her daughter to be independent by using a variety of adjectives to describe her. She told the magazine,
"Anytime our little girl — our 3-year-old — walks in, everybody's like, 'You're so pretty!' I don't mind her being pretty, I don't mind people saying it, but I don't want her to get boxed into that. I feel like sometimes that happens with girls. I always say 'cool' and 'fun,' and we use different adjectives. I make a point to do that."
Based on Clarkson's statements about her daughter, it sounds like she's fostering a creative and independent spirit in River. And from the looks of this recent video, she's letting her daughter choose her own interests, too. If this clip is any indication, River could be following in her mom's footsteps and doing more singing in the future. Whether or not that includes more Coldplay covers, it's sure to be super cute.