Here's How Kelly Dodd From 'RHOC' & Her Ex Are Co-Parenting After Their Divorce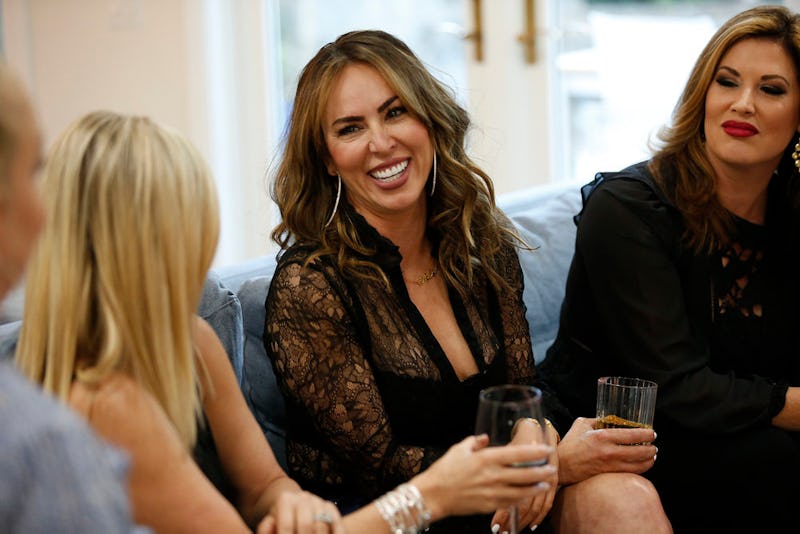 Phillip Faraone/Bravo
Being on any Real Housewives franchise is a misnomer, because it's actually pretty surprising when any cast member from any city is married these days. It's usually the newbies that come in with their nuptials intact and leave with them shattered and broken. In the case of Kelly Dodd and her ex-husband, Michael, that's sort of what happened throughout their time on the show. They had a trial separation, got back together, and then decided to divorce, after fighting a substantial amount of time on and off camera. But updates on Kelly and Michael's relationship on RHOC show that maybe being divorced suits this former power couple.
This season of Real Housewives Of Orange County has had Kelly speaking about how much happier she's been since splitting with Michael. She's dating a lot, not necessarily settling down with anyone "special" at the moment. Just, you know, playing the field in a way only Kelly can. She told People that she's playing the dating game with the newly single Shannon Beador, who also went through a tumultuous and very public divorce from her ex, David, last year. "Shannon and I go out quite a bit. We go out to dinner, talk about the same misery that we have quite a bit," Kelly said. "It's just fun that we can have a good time without having somebody that we have to come home to and yell at us."
For the record, Michael isn't on the show, and he does have any social media that I could find, so we can't get his side of the story. However, we know from watching Real Housewives Of Orange County that Michael is currently dating someone else (when filming was happening, at least), and that woman is someone that Michael met at Vicki Gunvalson's house. If you're not up to date on the show, Kelly is real mad at Vicki because Vicki not only didn't tell Kelly that her ex-husband was dating a woman she met at Vicki's house, but Vicki also went out on double dates with Michael and his new girlfriend and didn't tell Kelly. But Kelly's problem seems to be more with Vicki (her friend) than with Michael (her ex), and viewers haven't seen anything on the show by way of Kelly fighting with Michael.
Kelly speaks of Michael very highly on Real Housewives Of Orange County, and, especially for the sake of their daughter, Jolie, the two get along well, even hanging out together for Jolie's birthday in the summer of 2018. In a preview for the Oct. 15 episode, Kelly is seen telling Shannon that Michael even came over for a movie night with the family. So things appear to be less contentious than they were in years past.
It's nice that Kelly and Michael can put any differences aside, if any, for the sake of co-parenting their kids. That's not to say it's easy — Kelly told People that there's been a serious adjustment period after the split. "I feel bad, because Michael is one of my really good friends, and we have a family together," she said. "I'm sad — I'm sad I can't call him all the time and be excited about something. I don't have that — the friendship element of it, or someone who has my back."
While Kelly and Michael may be getting used to their new normal, there are, of course, naysayers in the OC. In a preview for an upcoming episode of Real Housewives Of Orange County, Vicki claimed that Kelly was the one who wanted to get divorce and that the split was not mutual. "Michael wanted to stay married to her!" she said. "[Kelly] was always yelling at him. She didn't like him... Kelly and Michael had a terrible, terribly volatile relationship. She did not talk kind to Michael. It was constant."
In truth, the only people who know what happened in a relationship are the two people in said relationship, so if Vicki wants to run her mouth and talk about Kelly, that's OK. The only thing that matters is that Kelly and Michael are content with their situation for their sake and the sake of their daughter.