Kellyanne Conway Thinks Trump Doubters Interfered With US Democracy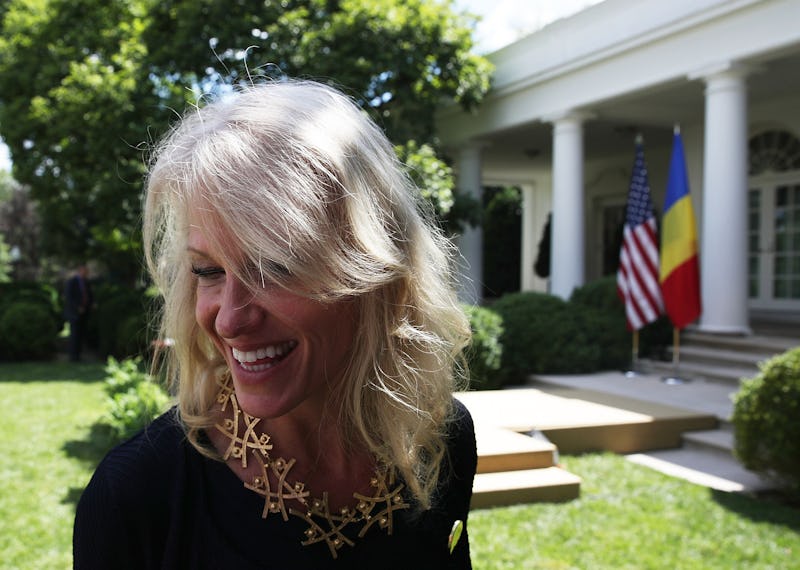 Alex Wong/Getty Images News/Getty Images
In an interview on CNN Friday, Kellyanne Conway avoided answering questions that the interviewer asked about what President Trump was doing to respond to allegations of Russian interference in the 2016 election. At one point during the interview, Conway said Trump's doubters were "interfering with our democracy" and appeared to liken them to Russian officials' reported influence in the U.S. election.
"The president has said previously, and he stands by that, particularly as president-elect, that he would be concerned about anyone interfering in our democracy," she said to CNN's Alisyn Camerota, responding to a question about Trump's response to a Washington Post report stating that Vladimir Putin himself ordered the Russian efforts to elect Trump. "We saw a lot of people interfering with our democracy by saying he couldn't win here at home."
During the 2016 election, Russia carried out a series of cyberattacks with the goal of swinging the election in Trump's favor. The president has repeatedly denied that there was any collusion between his campaign and Russian officials.
Though it was initially only reported that the CIA had come to this conclusion, now a large portion of the American intelligence community reportedly agrees with that finding. Conway did not acknowledge that in her interview, instead claiming that people in the U.S. who expressed doubts that Trump would win were in fact interfering in the democratic process as much as Russia did with its hacks.
Conway appeared frustrated by the questions in the CNN interview. "Alisyn, I realize that we just like to say the word, 'Russia, Russia' to mislead the voters and I know that CNN is aiding and abetting this nonsense as well," Conway said. CNN later posted a video on Twitter noting that Conway dodged Camerota's question about Trump's response to Russian interference seven times during the interview.
Conway has a history of avoiding difficult questions about her boss, but her comment goes the extra mile, making the point that those who expressed doubts about Trump's campaign were "interfering" with American democracy. In the lead up to the 2016 election, nearly every poll that came out suggested that Trump could not win the election. When Trump did win, it prompted a slew of articles investigating how the polls failed so massively.
How those doubting the president interfered in democracy remains to be proven, and Conway did not issue a follow-up statement after the interview to clarify her comments.