Kenan Thompson Wants Ariana Grande To Return To 'SNL' & Honestly, Same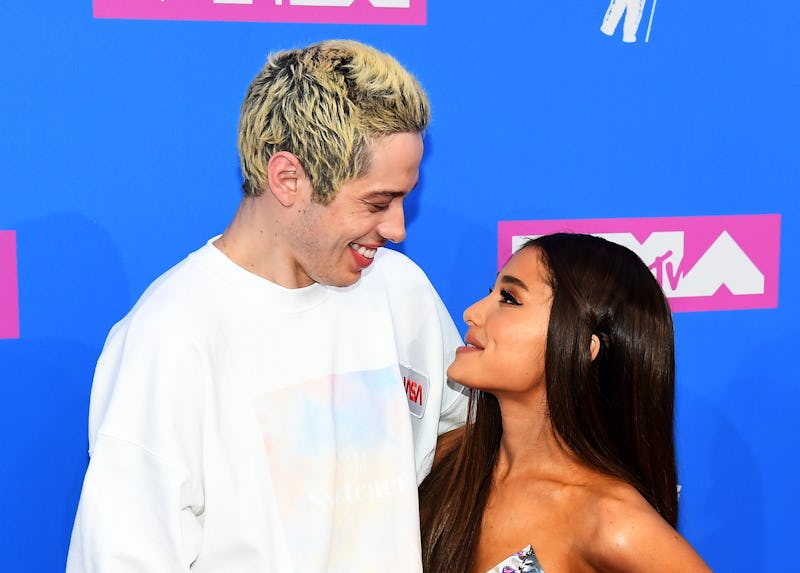 Nicholas Hunt/Getty Images Entertainment/Getty Images
It feels like we're all a part of Ariana Grande and Pete Davidson's super public relationship, but that's not really the case. Yes, fans (and haters) have lots to say about every move they make, but there are very few people with personal insight. The comedian's Saturday Night Live costar Kenan Thompson weighed in on Grande and Davidson's relationship, even hinting that the singer could be back on the show again this season.
In an new interview with Entertainment Tonight, Thompson said,
"It's awesome, man. I mean, we all need love and to see Pete be happy — he goes through so much, you know what I mean?"
The SNL veteran explained, "It's hard being a millennial on social media and all of that so he's just like exposed to a lot of criticism or, like, indirect negativity, or whatever, but, like, he handles it really well."
At the start of Davidson and Grande's relationship, which feels like a whole lifetime ago, the couple was constantly sharing photos and videos together. Now, Davidson has taken a step back from the very public social media activity by starting fresh and deleting all of his Instagram posts back in July. He has not posted since the Instagram cleanup.
Even so, that doesn't mean the comedian has changed the person that he is and his propensity to be open. Thompson said that Davidson "believes in his voice and his standup and his like, 'I don't give a F' attitude, or whatever, being from Staten Island and all of that and he's proud of that." Thompson added,
"So I feel like he's got a solid head on his shoulders. But to see him with a better half of himself, like, making him happy, that is really nice."
Not only is he on board with Davidson and Grande's relationship, but he's also very welcome to the pop star returning to Saturday Night Live this season. He said, "The chances are high, right? I feel like she'll be there almost every week just because, you know?" Why wouldn't she be around on the set to support her future husband here and there? It is very much likely.
Not only that, but pretty much everything the "God Is A Woman" singer says and does makes headlines. SNL is all about being current and taking a comedic stance on the top news stories of the moment. How cool would it be to have Ariana Grande herself spoof an Ariana Grande news story? It would be great for SNL and a cool opportunity for the singer to take control of the narrative.
Plus, Grande has the necessary experience to excel on SNL, regardless of who she's dating. She has performed as a musical guest on the show. Grande hosted back in 2016. The singer is a master at doing impressions.
Grande has the talent to reappear and she has the more personal seal of approval from Thompson. In another Entertainment Tonight interview from September 2018, Thompson said that he is "happy for them."
Thompson shared, "It's a beautiful thing and Ariana is a sweetheart," emphasizing, "I just wish [them] nothing but great luck." He also said,
"I am a little older, so I don't pay as much attention to social media like that, but people that are knee deep in it like those two, it's got to be pretty stressful."
What better way to relieve some social media-induced stress than by participating in a comedic skit on SNL? Grande and Davidson have Thompson's blessing as a couple. They both have the talent to entertain the fans of the show. It does make a lot of sense. Now the viewers just need to be on the lookout for a Grande cameo.