Kendall Jenner's Comments About Comparing Herself To Kylie Growing Up Are So Relatable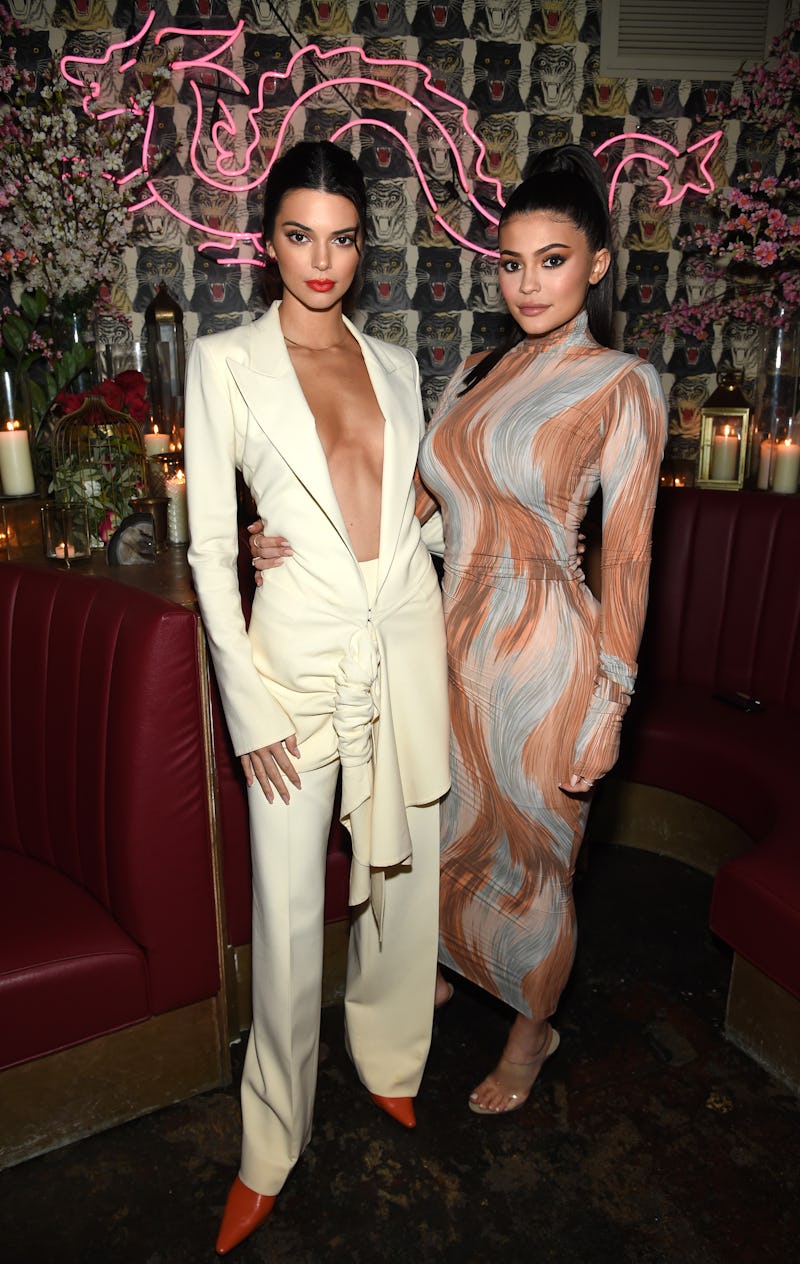 Dimitrios Kambouris/Getty Images Entertainment/Getty Images
Kendall Jenner just opened up in a major way, not only about herself, but about her sister, Kylie Jenner, too. As People noted, Kendall Jenner discussed her childhood, Kylie Jenner, and how she's in a positive place in her life right now. And the supermodel was not afraid to get super real about the loneliness she felt during her childhood days.
During her radio show special, ZAZA WORLD RADIO, on Beats 1, Kendall related that her middle and high school years weren't that easy. "I remember there was a time when I was in middle school, even high school a little bit, I didn't have that many friends," she said.
The Keeping Up With the Kardashians star continued to say that while she didn't have too many friends, her sister Kylie definitely did, which, naturally, made her a little emotional. She said:
"I was sitting in my room a lot of days crying because Kylie had so many friends, and I didn't know what to do, and it's gonna make me emotional right now. I really was like, 'I'm never gonna have friends,' and to look at my life now, it's so crazy."
Kendall explained she has an amazing group of friends now, as her social media posts would also showcase. Of course, she also has her family, whom she also credits with helping her stay on such a positive track in her life.
Surprisingly enough, Kendall also said that she and Kylie have changed roles since their school days. However, that doesn't mean that Kylie doesn't have her set friend group. "Kylie and I flipped roles, not that Kylie's not … Kylie is so happy. I love her, but it's crazy cause I really never thought that I would have more friends than Kylie," she said on her radio show, "not that that's ever a competition or should be anything we'd … I don't want that to come off weird, but again, she's so happy with the life she's living."
It is rather interesting to think about how the sisters have sort of switched up their social butterfly statuses. Kendall has been very open about her journey with anxiety. She's also discussed her shyness, especially in comparison to her sisters. In a post on her app (as obtained by People), she wrote, "Growing up, I didn't care that I was shy. I never really cared – I just went with it. And in some ways, I kind of liked it." The model went on to note that she's simply more introverted than her family members, which is something that she's choosing to own.
It's a different story when it comes to Kylie. According to Kendall, her younger sis was a major social butterfly when she was younger, unlike the model. Apparently, things have changed a bit in the Life of Kylie star's life, not in a bad way though, of course. As noted on the ZAZA WORLD RADIO show, Kylie is doing super well with the more low-key life she's been living.
Ever since September 2017, around the time when it was reported that she was pregnant with her first child, Kylie took a bit of a break from the spotlight. She even discussed this break when she announced the birth of her daughter, Stormi Webster, back in February. At the time, she wrote:
"I'm sorry for keeping you in the dark through all the assumptions. I understand you're used to me bringing you along on all my journeys. my pregnancy was one I chose not to do in front of the world. I knew for myself i needed to prepare for this role of a lifetime in the most positive, stress free, and healthy way i knew how."
It's so nice to see that whether they're keeping things low-key for a change or embracing a new social butterfly lifestyle, that both Kendall and Kylie are super happy and living their lives exactly how they want to.