Kendall's Met Gala After-Party Outfit Had Less Clothes Than Her Red Carpet Look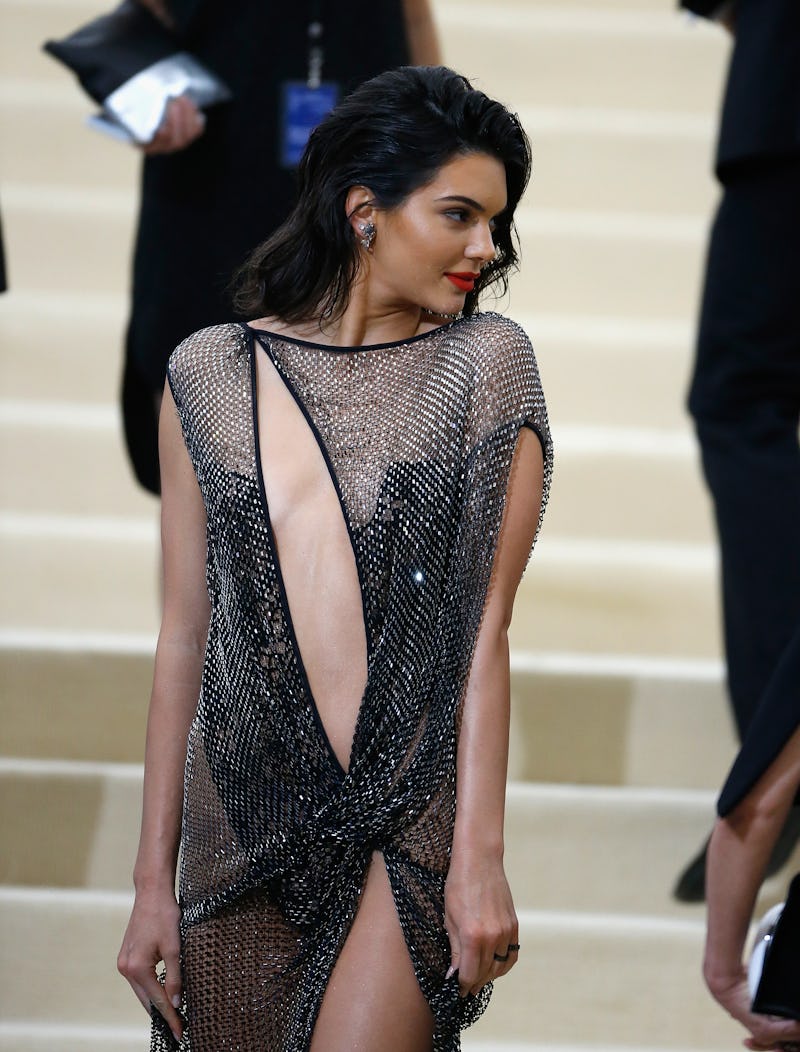 John Lamparski/Getty Images Entertainment/Getty Images
Kendall Jenner, who are you?! I don't even know you anymore... and I like it. The 2017 Met Gala symbolized a deep fashion shift for the model and she stepped outside of her comfort zones in skyscaper heels. Kendall Jenner's 2017 Met Gala dress by La Perla was constructed of 85,000 beads, no fabric for an "unfabric" look, and took 160 hours to make. It was a risque and super slinky 'n' sexy look that showed off legs for days. Jenner was essentially naked, since the butt-baring dress fastened at the base of her hip and boasted a diagonal slice across the bodice, showing off her sternum.
But Kendall Jenner's 2017 Met Gala after-party ensemble featured almost as little clothing as her red carpet look.
She donned a sheer, bright yellow top, which fell off the shoulder. She paired it with blingy bra, some gold chains, and huge hoop earrings. They were pretty much the size of basketballs.
Jenner added shiny black leather mini skirt, which was laced up on one side with straps and zero fabric. It's ironic that a model had such an aversion to material and clothes at the biggest fashion event of the year, no?
Due to the strappy and see-through side of her skirt, Jenner had to be going commando.
Have a look at her look below.
It's certainly interesting and very un-Kendall. She is known for being more classic and safe with her look than her hair chameleon little sister Kylie.
There is Jenner's post-Met Gala outfit from the back. The bottoms are like a marvel of architecture that confuse me. They look like a skirt, but there's nothing on the other side.