Here's What Kendall Jenner Decided To Wear To The Met Gala Instead Of A Traditional Gown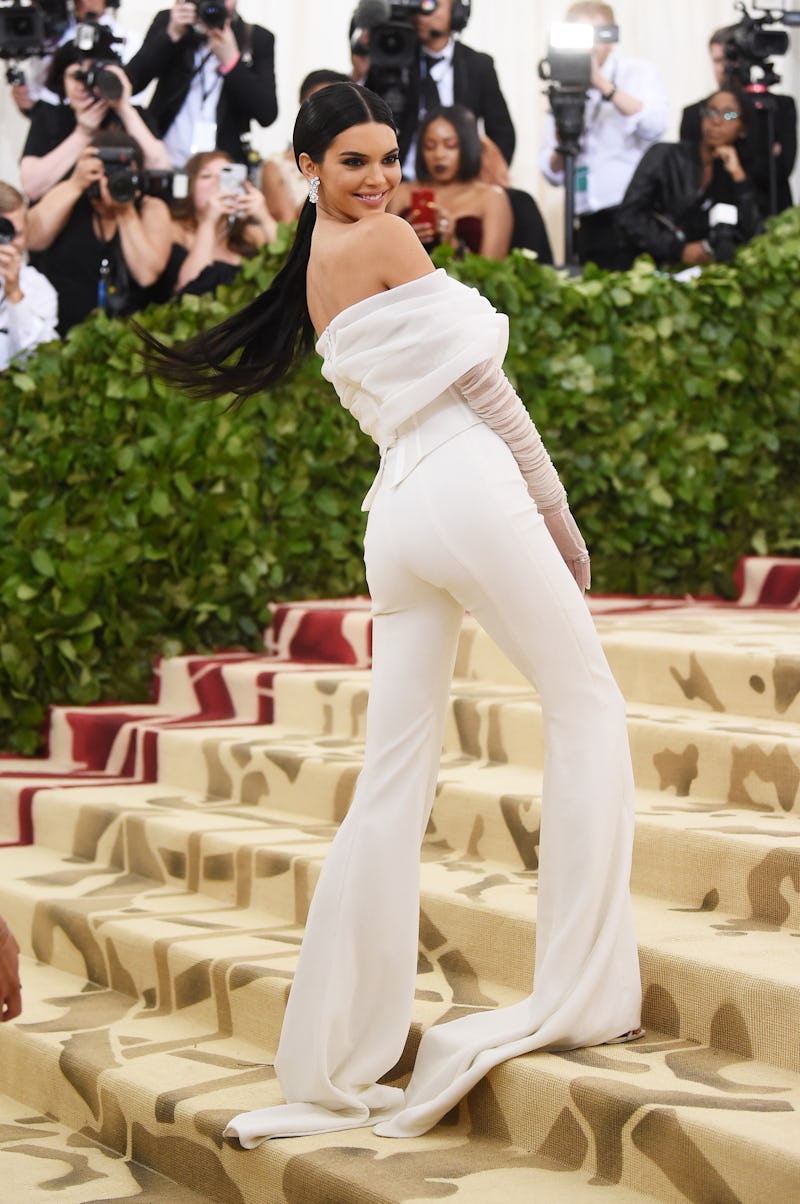 Jamie McCarthy/Getty Images Entertainment/Getty Images
The first Monday in May is here, and for fashion fans, that means seeing their favorite celebrities hit the red carpet of the 2018 Met Gala, and from Rihanna to Cardi B, some of the biggest stars of now walk those famous stairs. Kendall Jenner's 2018 Met Gala look fit in just fine alongside those well-known names (after all, she is one herself), and this statuesque model totally lived up to her fashionable profession.
During the red carpet, Jenner wore designer Virgil Abloh's Off-White, and while many may have expected the model and reality television star to stun in a gown like many of the other Met Gala attendees, she instead owned the Met stairs in an off-the-shoulders, corseted, pantsuit that was unexpected. Perhaps the best detail, could be the triangular cut of the bell shaped pants on the suit.
Jenner paired the Off-White creation with a long, sleek ponytail, and while not quite as on theme as attendees such as Rihanna or Sarah Jessica Parker, Jenner nevertheless looked beautiful as she made her way up the steps with her designer date.
The look was brought together by sheer white gloves that appear to travel all the up to the wrapped material that clung to her arms and went off her shoulders. They were basically the perfect unexpected touch.
As for her glam, Kendall kept her eyes smoky with khol rimmed eyes but left her lip color neutral. Then, she paired the ensemble with a pair of stunning drop earrings.
This isn't Jenner's first time on the Met Gala red carpet, though. In fact, her previous experiences at the Metropolitan Museum of Arts Costume Institute's fundraiser may just be why she's slaying so hard as she makes her way past reporters, other celebrities, and up those iconic stairs.
After all, it's kind of hard to forget her look for the 2017 gala. The monographic theme celebrating the work and legacy of designer Rei Kawakubo and Commes de Garçon led some stars to wear the fashion house to the show. Jenner, however, went another route and wore, well, not a lot, but in the best way possible.
Jenner's 2017 Met Gala gown was designed by none other than La Perla. See? That barely there vibe makes total sense now, right? The sheer gown with a lacy, san-backside coverage, strapless body suit underneath was a stunner, and it looked gorgeous on the red carpet. Considering that it was created from over 85,000 crystals, that makes total sense.
Just like tonight, Jenner wasn't alone on the red carpet. She was joined by sisters Kim Kardashian and Kylie Jenner as well as mom Kris Jenner. While the looks were not similar or coordinated, each of the Kar-Jenner women totally crushed it as they walked up those Met stars. Perhaps the Met Gala will become the big family function of the year.
Jenner's 2017 dress, though, wasn't her first time wearing a bejeweled look. During the 2015 gala themed "China: Through the Looking Glass," Jenner wore a stunning jade-hued column dress with laced cut-outs along her side. At the time, Jenner was working as a Calvin Klein model, and it made total sense to wear a dress by the designer, just like in 2016 when she was working with La Perla.
Clearly, Jenner is no stranger to stunning on the red carpet, but at the Met Gala, this model takes it to a whole other level. With her Off-White look from Virgil Abloh, this could just be her best Met Gala look yet. However, there's always next year's Met Gala, right?