Rihanna Showed Up At The Met Gala Dressed Like A Sexy Pope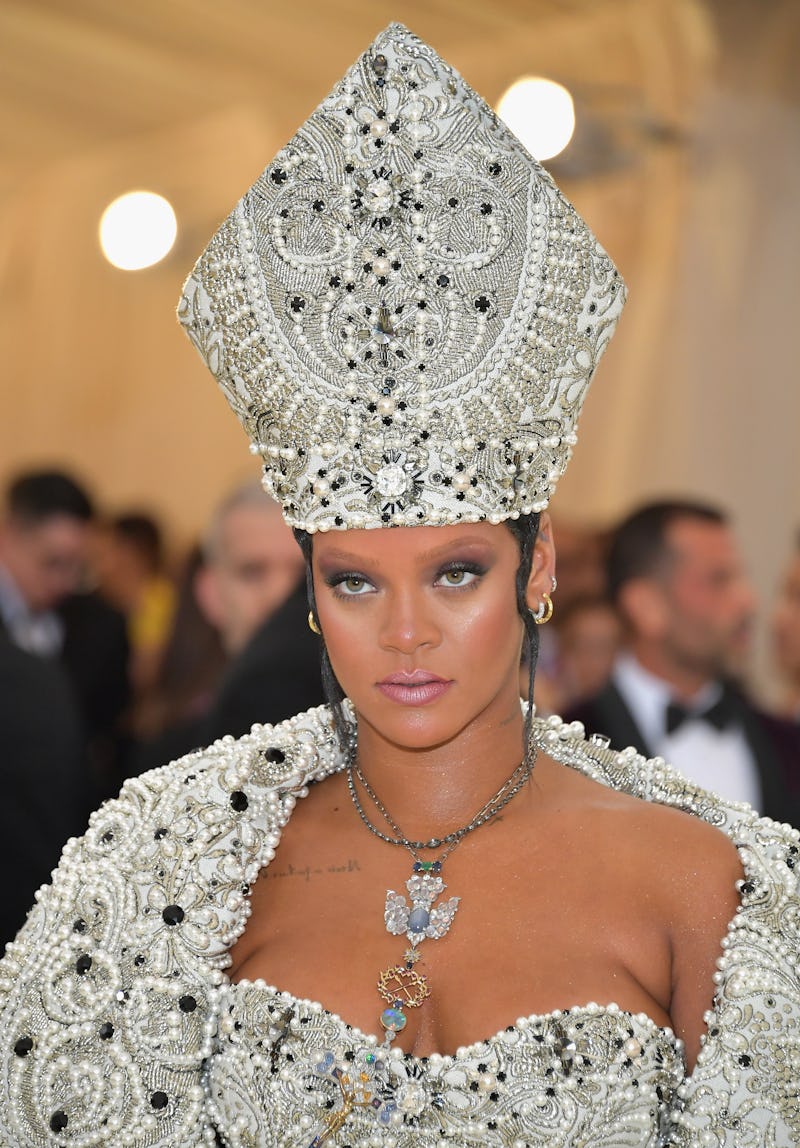 Neilson Barnard/Getty Images Entertainment/Getty Images
Simply put, Rihanna is Met Gala royalty. The stylish star has been attending the gala for almost a decade, and she never fails to steal the show with her impeccable fashion. Rihanna's 2018 Met Gala gown was certainly no different. For the iconic ball, Rihanna wore a jaw-dropping number that is certain to be the look of the night. And it may just outdo all of her past iconic looks.
This year's Met Gala theme is "Heavenly Bodies: Fashion and the Catholic Imagination." It's a controversial theme centered around the elaborate and sometimes gaudy styles of religious fashion. To honor the theme, Rihanna wore papal-esque gown by Maison Margiela that looked straight out of the Vatican. With elaborate beaded detail, the gown was actually a mini dress with a half full skirt that hit at Rihanna's ankle. Paired with a voluminous jacket, RiRi took the religious theme literally — and won.
To cap off her avant-garde look, Rihanna wore Cartier jewels, Christian Louboutin heels, and a Pope-like hat to accentuate gown. Her hair was tucked underneath the enormous beaded headpiece, leaving only small tendrils peaking out. Her makeup, which was quite understated for the Fenty Beauty creator, focused on a light smoky eye in grays — and almost no eyebrows to be seen.
The resulting look, in a word, was stunning. Are you screaming yet?
Rihanna won't just be slaying the red carpet this year. She is also hosting the Met Gala, alongside Amal Clooney and Donatella Versace. The powerhouse women will take the stage at the star-studded event, dividing up hosting duties us commoners will never actually see IRL or otherwise.
In recent years, Rihanna has been the unofficial fashion star of the Met Gala. She, perhaps, is the single most anticipated celebrity to walk the red carpet during the gala. And at an event like the Met Gala, that is saying a lot.
Rihanna has been attending the event since 2007, serving up several jaw-dropping looks in her time as a gala-goer. Here's a look back at all of her gorgeous appearances at the grand AF ball.
2007
In 2007, Rihanna attending the Met Gala for the first time in a flowing white gown with a silver embellished bodice. The gala honored haute couture designer Paul Poiret, which Rihanna nodded to by contrasting her gown with fishnet gloves.
2009
Two years after her first Met Gala appearance, Rihanna rolled up to the red carpet in a tuxedo for the ages. Her cuffed cigarette pants paired perfectly with her show-stopping blazer — just look at those voluminous shoulders. The look was created to honor the high fashion models who inspire designers on the daily.
2011
A little lace never hurt anybody. For her third Met Gala in 2011, Rihanna wore a risqué Stella McCartney gown that let her fiery red hair shine. Her look channeled Alexander McQueen's iconic style, which fits extremely well with Rihanna's personal fashion sense — a perfect blend of beautiful and badass.
2012
In 2012, Rihanna got a little edgy with her Met gown, having a leather moment for the gala's Schiaparelli and Prada theme. The crocodile-embossed Tom Ford dress was sleek and sophisticated, while also giving off those notorious Bad Gal RiRi vibes.
2014
Perhaps Rihanna's most low-key Met Gala look came in 2014. But, make no mistake, she still looked brilliantly stunning in her look. In a while crop top and fitted floor-length skirt, Rihanna channeled the sleek and elegant style of the late designer Charles James, who served as 2014's theme.
2015
If you dared to forget Rihanna's 2015 Met Gala look, let this photo remind you. The theme of that year's gala was "China: Through the Looking Glass" — and Rihanna wasn't playing any games with her attire. Her look was created by Chinese couture designer Guo Pei, and reportedly weighed a whopping 55 pounds.
2017
At last year's Met Gala, Rihanna had the task of following up her canary look from two years prior — and she certainly rose to (and exceeded) the challenge. In a floral inspired gown designed by Comme des Garçons, all eyes were on Rihanna's red carpet look.
Strappy red sandals climbed up her legs while giant petals enveloped her body in true Comme style. The look embodied the theme of the gala, which examined the work of Comme des Garçons founder Rei Kawakubo.
With 2018's Met Gala gown, Rihanna has done it yet again, proving there's no slowing down this style icon. It would do you well to recognize the royalty.