Why Kendall Telling Joe About Kissing John Was Such A Bold 'BiP' Move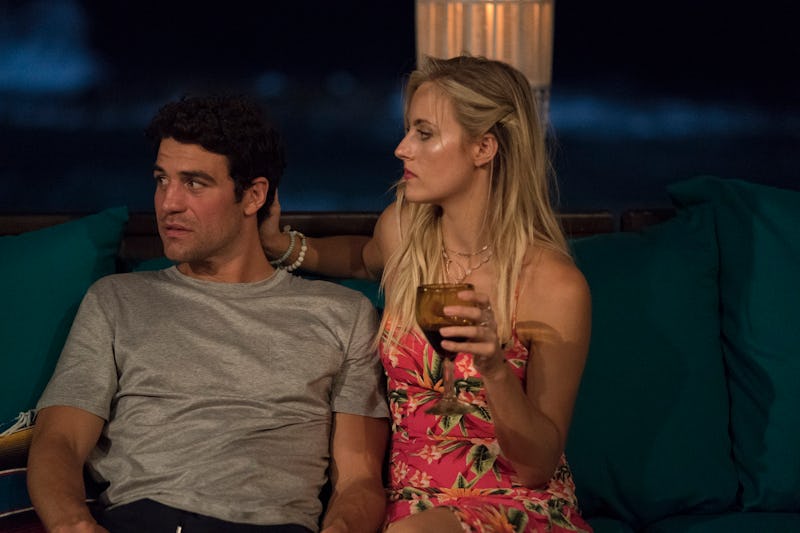 Paul Hebert/ABC
So far, this season of Bachelor in Paradise has been all about the love triangles, especially since the contestants have truly been ready to play the game this summer. But after seeing one couple handle theirs, these love triangles might not actually be the worst thing to happen so early on in these relationships. On Tuesday night's episode, Kendall told Joe about kissing John on BiP in the most honest and respectful way, proving that yes, it is possible to have an uncomplicated love triangle, even on reality TV.
Although a lot of fans can clearly see that Grocery Store Joe is a total catch, it hasn't been quite so clear with Kendall, who seems to be dealing with some confusing feelings. Not only did she go on a date with Leo (which obviously did not end well), but she also ended up kissing John before she realized that she who she truly had feelings for was Joe. But to get to that place to commit to him, she had to tell Joe about the fact that she kissed John first — and the way she went about the situation was pretty much the opposite of the way that things went when Leo was caught kissing Chelsea.
First of all, Leo's situation was totally different because he didn't tell Kendall about the kiss at all and Kevin was the one who had to fill her in. When Kendall approached him about it, he got really defensive and acted like she should have just assumed that he was kissing other woman, while also denying it. To be totally fair, this is Paradise, and kissing other people is OK — as long as you don't try to pretend you weren't to keep other people hanging on a string, which definitely seemed to be Leo's game plan there.
But when it was Kendall's turn to fill Joe in, she did it in such a mature way. She pulled him aside to talk privately and was totally honest, and Joe responded in a similar way, which means the entire conversation was very low drama. She said:
"I told you that I've had a lot of curiosities with things and I told you that part of the curiosity I've had was for John. I just talked to him, and there was a point when he kissed me, and immediately after he kissed me, I thought, 'I want to talk to Joe, I want to talk to Joe.'"
Rather than shutting her down and getting angry, Joe listened and let Kendall speak, and it's a good thing he did, because she ended up telling him that this is what made her realize that she wanted to move forward with him and not anyone else. "I feel like the real reason why I keep trying to distract myself with curiosity is because I'm falling for you and it completely freaks me out and I'm scared and I don't know how to handle it," Kendall said.
And unsurprisingly enough, Joe ended up telling her that he was falling for her too, so their talk had a happy ending. Other Paradise couples, take note. This is how you handle a love triangle — and hopefully, this is the last bump in the road for Kendall and Joe, because they're adorable together.