Kenya & Phaedra Join Forces For Flint On 'The Real…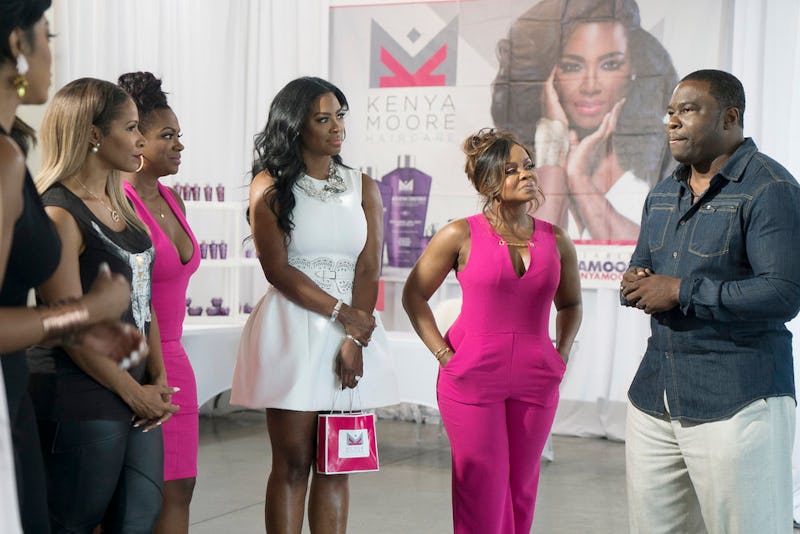 Mark Hill/Bravo
A smart reality star knows when to switch things up. After a few seasons of pledging to destroy one another, starting rumors about one another, and dressing up as one another in near-naked bathing suits, turns out a couple of RHOA stars can bury the hatchet. Because Phaedra & Kenya's Flint camp fundraiser actually turns out to be a great success — and marks the latest in a handful of times that Ms. Parks has delivered an altruistic message using her reality TV platform. Of course, she's done so in between calling her fellow castmembers charming nicknames like "Kenya Moorewhore," but I suppose when it comes to the greater good, she's willing to spend time with anyone.
And I guess without any real friends left in the cast, Kenya is forced to take the trip to Flint to help Phaedra raise money for kids as enough of an occasion to bust out the Cadillac convertible and play pretend as Thelma and Louise. Turns out, even without reaching their fundraising goals, the RHOA are responsible for covering the Camp Impact fees of over a hundred attending kids, according to Phaedra.
Kenya's tiny puppy got a bigger response than her repeated announcements about winning Miss USA, but her positive message about little girls not succumbing to peer pressure, body shaming, or colorism is undeniable. And while this is only one episode of Real Housewives of Atlanta, if Kenya Moore acting an embarrassing fool is enough to bring some more attention to the kids suffering from Flint's water crisis, that's still a good thing. And, finally, maybe the Donkey Booty Fiasco of 2014 is finally over. They seal their new friendship by joking about throwing one another into a fire.
Phaedra suggests that the cast go camping, and while the cast's reactions are initially horrified, after what must have been a talk with some producers, they're all on board (and seemingly, quite a lot of time has passed). It may have taken a little convincing to get the RHOA cast excited, but I for one am thrilled at the prospect of Phaedra and Kenya's new friendship being put to the test in the middle of nowhere. Between Cynthia's panic, Kandi's boredom, and the threat that Shereé will remain unchecked, it's possible that this season could turn into a horror film where Porsha's anger management counselor is the thought-fictional masked villain who's come to kill them all.