'Scandal's Election Results Are Surprising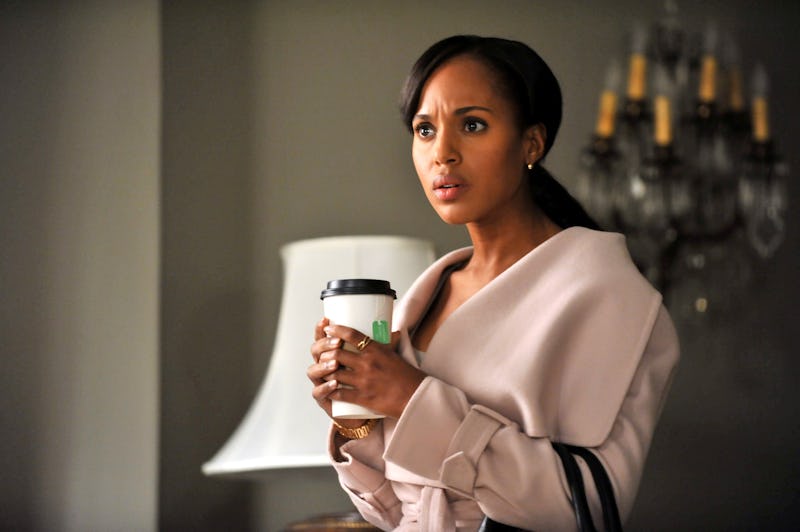 abc studios
Season 5 of Scandal wrapped in May 2016, meaning that fans of the show have had a long wait for new episodes. Since Season 6 of Scandal is finally premiering on Jan. 26, 2017, it's officially time to get excited about what's going to happen next to Olivia Pope and all of the complicated people in her life. Star of the show, Kerry Washington, appeared on The Ellen DeGeneres Show on Tuesday to discuss the new episodes, and there she said that Scandal Season 6 reflects the election results in the most "surreal" way. So what might that mean for Mellie Grant's presidential campaign?
According to Washington, fans have waited long enough to find out who won the election, and within "the first 10 minutes you will find out who won and who lost," teasing that "it's worth the wait." While it's great to find out that the first episode of Season 6 will throw viewers right into the action, it's not sounding as though Mellie Grant will have the success that fans might have hoped for.
Trying not to give any spoilers, Washington told DeGeneres, "We shot the episodes way before the real election... but it will be hard to believe that we didn't know about our election," making it sound as though the election will not go the way anyone expects it to. So who is the likely winner in this scenario?
In the Season 5 finale of Scandal, Jake became Mellie's running mate, and Cyrus became Frankie Vargas' potential VP. With Mellie and Frankie going head to head, there's a lot at stake, and, according to Washington and the synopsis for the episode, the outcome will be totally unexpected.
In Jan. 2017, Deadline reported that Shonda Rhimes claimed that the new series of Scandal was not in response to, or inspired by, the election, and said, "If that had been the goal I would have waited until after the election." However, Washington's latest comments certainly make it sound as though Mellie doesn't win, particularly since she has seemed to reference Hillary Clinton to date. Washington's interview with DeGeneres hints that viewers might not get the election result they were hoping for, and, if anything, neither candidate will win.
Either way, Scandal returns on Jan. 26, 2017, and will provide us with the perfect distraction from the current real life political dramas we're all experiencing.