Kerry Washington's 'Scandal' Goodbye Tribute Will Break Your Heart All Over Again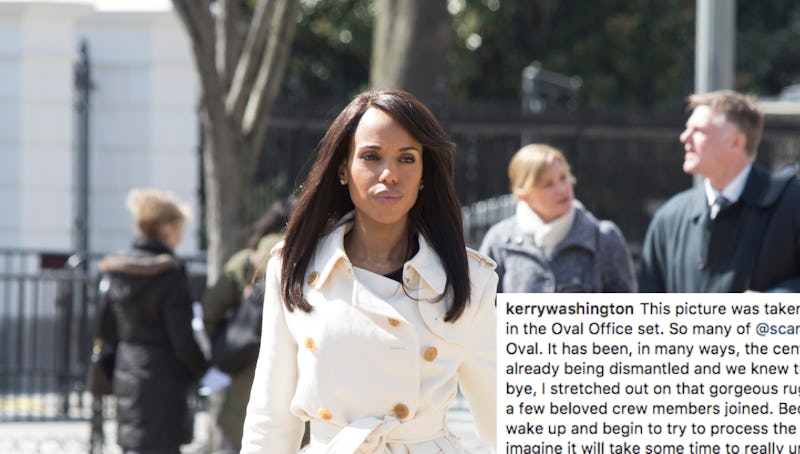 ABC/Giovanni Rufino; Kerry Washington/Instagram
The series finale of Scandal aired on Thursday night, ending an era of gladiator greatness that fans won't soon forget. While many were sad to see the political thriller go, there was most likely no one more touched by the show's close than its talented cast and crew. Star Kerry Washington said goodbye to Scandal in a touching Instagram tribute, which culminated her six years as the lead actor on the critically acclaimed series.
The 41-year-old actor, who's played the role of Olivia Pope since 2012, took to social media to say goodbye to the series that helped to turn her into a household name. While its been known that the show's end was near for quite some time now, bidding adieu to Scandal wasn't an easy moment for the entertainer. Amid her touching farewell, Washington shared that she tried "to just take it all in" toward the end, but says that she's "filled with endless gratitude" for everything the Shonda Rhimes-led series has given her over the years.
The post, which featured a snapshot of Washington lying on the floor of the set's Oval Office, was captioned with the actor's thoughts about the series' ending. Revealing that the snapshot was taken on the last day of filming, Washington wrote:
"This picture was taken when we completed filming our very final scene in the Oval Office set. So many of @scandalabc's most iconic scenes happened in that Oval. It has been, in many ways, the center of our #Scandal universe. Other sets were already being dismantled and we knew this one would be next. So, before saying good-bye, I stretched out on that gorgeous rug and tried to just take it all in."
She also revealed that the moment of reflection turned into a full-blown Scandal family affair as other members of the crew joined in on the session.
She continued, "Soon after, a few beloved crew members joined. Because... why not? LOL." She went on to express her gratitude for the cast, crew, and viewers of the show while pondering on what her life is going to be like after the show ends. The mother of two shared:
"Tomorrow morning I will wake up and begin to try to process the magical dream of the past seven seasons. I imagine it will take some time to really understand what just transpired in my life. But, this much, I know... I am filled with endless gratitude for our #Scandal Family. Our glorious cast & crew and our community of #Gladiators. TOGETHER, we have changed history. Transformed television. And illuminated each other's lives. Thank you for watching. And tweeting. And being with us!!!! With love & gratitude,My very best -Kerry"
Breaking major barriers in television, Washington's portrayal of Olivia Pope made her made her the first Black woman to star in a primetime network drama in nearly 40 years, as pointed out by the New York Times. It broke down doors in terms of creating lead roles for women of color, while removing some of the stereotypes which black women in the TV and film industry are often subjected to. Scandal offered viewers a rare opportunity to enjoy television programming that features ethnically diverse characters, whose storylines are not defined by race or ethnicity. It showcased feminism in ways that had never been shown before, delivering strong female characters in positions of power, which ultimately led to a woman becoming the President of the United States.
For the role, Washington received two Emmy nominations for Outstanding Lead Actress in a Drama Series in both 2013 and 2014. She also earned a Golden Globe nod for Best Actress – Television Series Drama in 2014.
Last spring, creator and executive producer Rhimes confirmed that Scandal would not being returning for an eighth season. While many wondered how things would turn out for Olivia and her team of gladiators in the end, nothing could ever fully prepare fans for the show's final bow. With the days of Scandal now behind her, it's going to be great to see what new things are on the horizon for Washington.