Khloe Might Be Ready To Forgive Tristan Thompson & Fans Are Being SO Harsh About It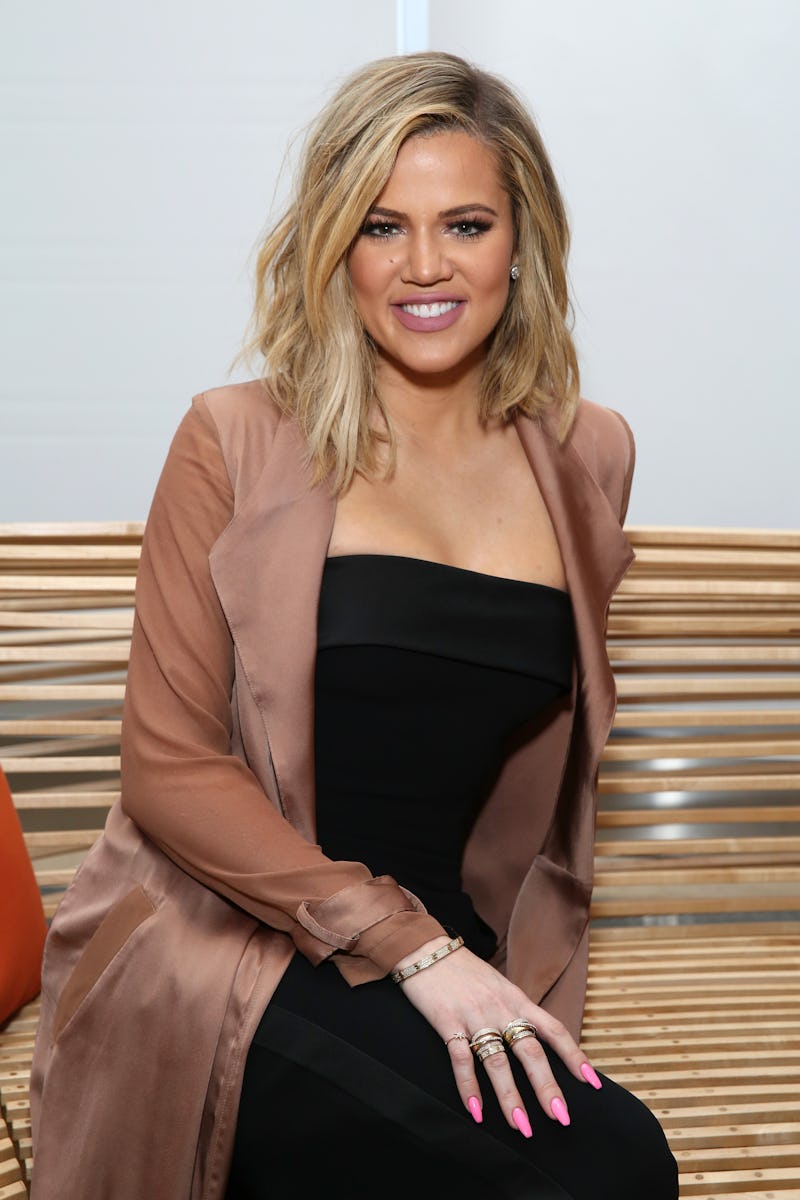 Cindy Ord/Getty Images Entertainment/Getty Images
In the latest Kardashian-Jenner news, People reported that Khloé Kardashian is ready to forgive Tristan Thompson for reportedly cheating on her. (Bustle reached out to representatives for Kardashian and Thompson about the cheating rumors, but did not receive a response.) "Khloé is feeling nothing but happiness right now," a "Kardashian family source" told the outlet. "She is head over heels in love with her little girl — she is just consumed with love. Absolutely nothing else matters."
On April 12, TMZ reported Kardashian gave birth to her daughter in Cleveland, Ohio. Later that same day, Kris Jenner confirmed the birth of her granddaughter with a retweet about Kardashian's delivery. Jenner commented, "BLESSED!!!", which seemed to be her way saying the Revenge Body host is now a mom.
Now that Kardashian is officially a parent, People reports the 33-year-old is taking the high road. She reportedly is over Thompson reportedly kissing other women and wants to look to the future as a new mom. Kardashian seems to be focused purely on her daughter and wanting to create a positive space as a family.
"She's basically already forgiven him," the source said about Kardashian and Thompson's current status. "She is in a bubble of love and peace and happiness right now, and everything that happened with Tristan is less about 'cheating' and more like, it was just a random drunken hookup that meant nothing and was kissing at most and didn't lead to anything else and was the fault of stupid groupies trying to trap him, and everybody just needs to move on."
There have also been reports that Thompson was in the delivery room and that Kardashian probably wouldn't leave him, despite all of the cheating rumors. A source told People, "She's a hopeless romantic and she'll try to make this work. She tried forever to make it work with Lamar [Odom]. She's having a child with Tristan, and she's going to try to rebuild this."
As you can imagine, fans are not happy about her possibly forgiving the NBA player. Many can't understand why the Keeping Up With the Kardashians star would take Thompson back after what he reportedly did. People think Kardashian deservers better and are even trying to tell her how to live her life. In fact, they're being kinda harsh about it.
Seriously, take a look at these tweets.
They Think She's Going To Regret This
Yeah, this person went there.
They Say She Needs To See Her "Worth"
Um, pretty sure Kardashian knows her own worth.
They Want Her To Get Out, And Do It Quickly
Kardashian isn't going to let anyone "play" her. She's a smart woman.
They Worry She's Setting A Bad Example
Kardashian is a "strong woman" no matter what — and will be a great role model for her daughter even if she doesn't chose the path you want her to.
They Think She Won't Ever Be Fulfilled By A Relationship With Tristan
Pretty sure she's the one who needs to be the judge of whether or not the relationship is worth the fight — or if the love isn't real.
They Caution That She Doesn't Have To Stay With Him
She's probably well aware of the fact that she's got a choice, folks.
Let's get one thing clear: this is Kardashian's life. She doesn't need anyone telling her what to do with it. She's already dealing with a lot — and publicly. If she wants to forgive Thompson, that's her decision. Kardashian's a grown-ass woman who is beyond capable of making choices for herself.
Yes, it's understandable that fans are upset, because Kardashian is amazing and deserves to be loved unconditionally without reportedly getting cheated on. However, if she decides she wants to work on the relationship, so be it. This isn't just about Kardashian anymore, there is now a child involved. Maybe she's trying to be the best mother possible and make decisions, not only for herself, but for her family.
So, if Kardashian is staying with Thompson and trying to move forward, what she needs is her fans support, not people dragging her. She's already been through enough, so let's uplift her, especially during such a sensitive time in her life.