Khloé Kardashian Reportedly Just Gave Birth, So Was Tristan Thompson There?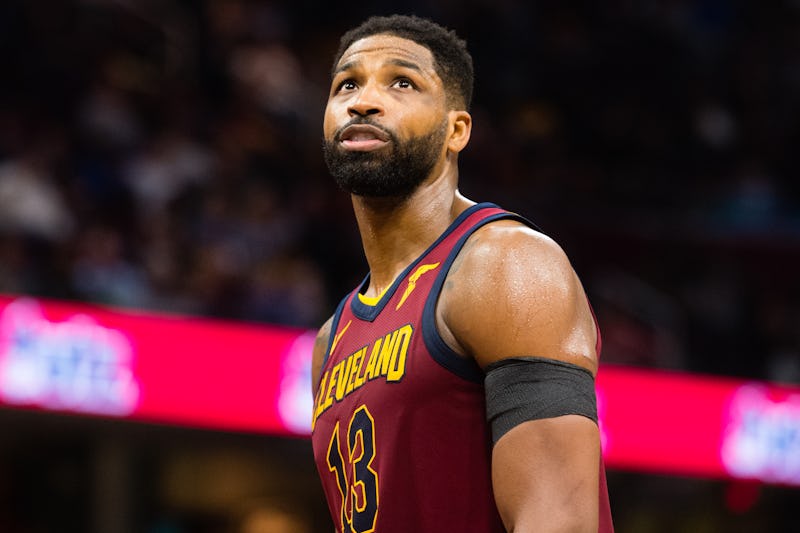 Jason Miller/Getty Images Sport/Getty Images
If you haven't heard the news, TMZ reported Khloé Kardashian gave birth to her first child, a baby girl, early Thursday morning at a Cleveland, Ohio hospital. Regarding the cheating rumors involving Tristan Thompson, fans might be wondering if Thompson was there when Kardashian gave birth. (Bustle reached out to Kardashian's reps for comment, but did not receive a response at the time of publication.)
The Blast is reporting Thompson was by Kardashian's side in the delivery room, as is TMZ. Her family was also reportedly present. TMZ reported that her mother, Kris Jenner, sisters Kim and Kourtney Kardashian, and best friend Malika Haqq were there.
On Thursday, TMZ reported Kardashian would allow Thompson inside the delivery room. According to "sources familiar with the situation", the Keeping Up With the Kardashians star wanted to put her feelings aside about the allegations involving the Cleveland Cavaliers player and focus on this moment of her life, the birth of her child, by including the NBA star. Apparently, Kardashian recognizes how important it is for Thompson and their child to bond, especially right after birth. (Bustle reached out to representatives for Kardashian and Thompson about the cheating rumors, but did not receive a response.)
TMZ reported Wednesday Kardashian was experiencing early contractions and that Kris Jenner flew out from Los Angeles the same day to be with her daughter. The outlet also reported Kim and other family members were reportedly flying to Cleveland on Thursday and Friday. (Bustle reached out to reps for Kardashian and the Kardashian-Jenner family, but did not receive a response at the time of publication.)
According to The Blast, Kardashian and Thompson have yet to name their daughter. As fans probably recall, Kardashian previously announced she was thinking about using either a "K" or a "T" name. After a fan asked on Twitter in March whether or not she would keep with the "K" tradition, she replied, "I think a T but a K is an option as well. That's as far as I know." Later on that month, she was much more sure it was going to be a "T". As far as her baby's last name, it's unconfirmed if it's "Thompson".
Who knows what will happen with the name selection, especially with all of the cheating rumors circulating. On April 10, the Daily Mail shared a grainy video of what the outlet reported was Thompson kissing another woman in New York City last weekend.
TMZ also shared a grainy black and white video Tuesday of a man who appeared to be Thompson kissing another woman. There is a second woman in the video, who appears to pull the man toward her breasts. The one woman also seems to place her hand on the man's crotch, as well. TMZ noted this particular video was recorded on Oct. 7, 2017 and reportedly took place at a hookah lounge in Washington D.C. (Bustle reached out to both Kardashian's reps and Thompson's agent about the video, but did not receive an immediate response.)
No one from the Kardashian-Jenner family has commented on the rumors. Neither have Kardashian or Thompson.
It surely has to be a difficult time for the reality star and hopefully she isn't allowing the unfortunate headlines to tarnish what should be an exciting time. As she said in December 2017 after confirming her pregnancy, "I am so thankful, excited, nervous, eager, overjoyed and scared all in one! But it's the best bundle of feelings I've ever felt in my life!"
Still, who could blame the Revenge Body host if the cheating rumors are souring this special moment? All of this is definitely bittersweet. Either way, it's probably safe to say Kardashian's baby girl has her mom's complete attention.