Tristan Thompson's Job Is Reportedly Keeping Khloé in Cleveland For Now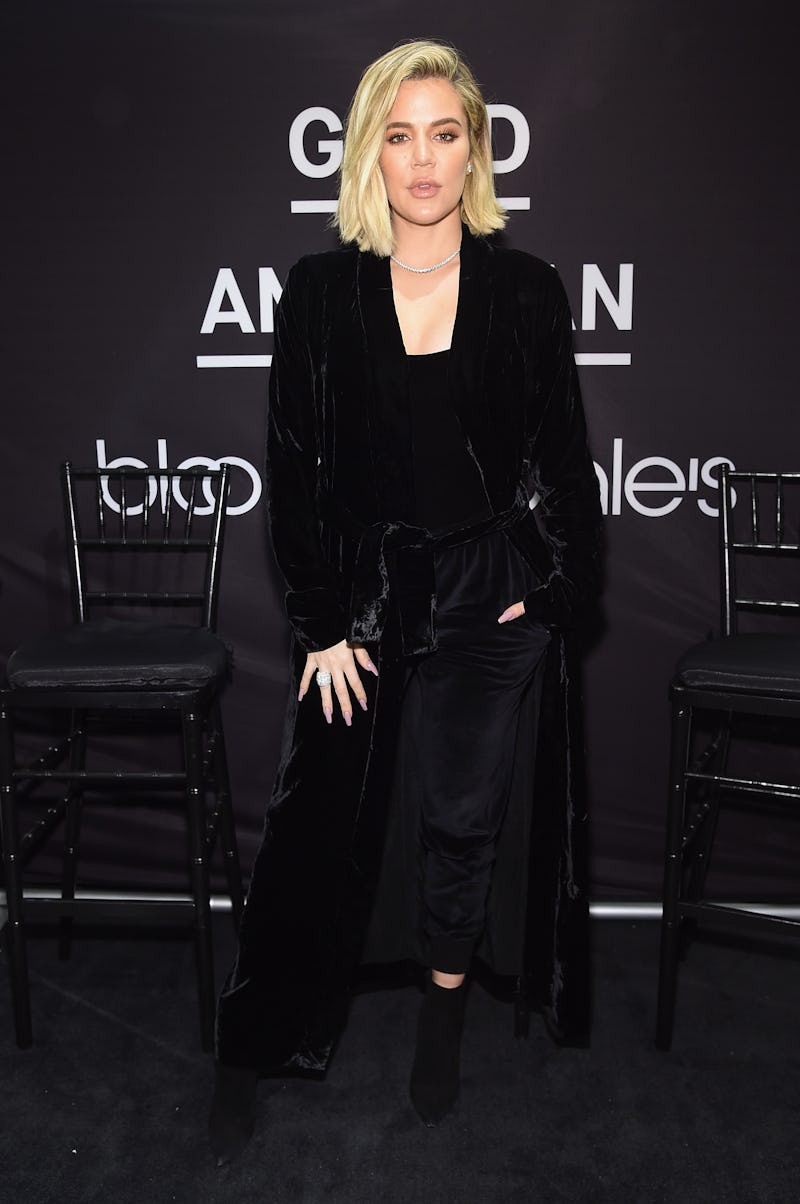 Jamie McCarthy/Getty Images Entertainment/Getty Images
By now, most pop culturally attuned folks are probably well aware of the fact that Khloé Kardashian gave birth to a baby girl named True on Thursday, April 12, at a hospital in Cleveland. And, apparently, Khloé Kardashian is staying in Cleveland with her daughter — at least, for the foreseeable future — according to a new report by Us Weekly.
Trailing its Tuesday report, which said Kardashian momager Kris Jenner was "concerned" about her daughter living with Thompson in Cleveland following the birth of their daughter, Us published the follow-up account Wednesday morning, potentially offering some closure on the big Cleveland question. Citing the testimony of an unidentified "insider", Us Weekly's most recent report says that Kardashian has supposedly decided to remain in Cleveland with her newborn bundle of joy, despite her family members' recent return to L.A. post-birth.
Why? Despite last week's swirling bout of allegations that Thompson cheated on her, "It's important for Khloé that Tristan spend time with their daughter," a source told the outlet.
The reason also has to do with Thompson's basketball schedule. As the anonymous source explained to Us Weekly, Thompson's current schedule doesn't really allow for impromptu cross-country visits. Alongside his teammates, the Cleveland Cavaliers player is competing in this year's NBA playoffs, so traveling to L.A. right now probably wouldn't be feasible for him. So, if Kardashian decided to leave Thompson's home city with True in tow, as Us Weekly's source explained, "it could be a bit of time until Tristan would be able to spend any significant time with their daughter in Los Angeles."
A source also told Us, "Khloé appreciated her sisters coming to see her and True in Cleveland, but she made it clear, she isn't going to be leaving anytime soon." If the source's claims end up proving legitimate, then the decision to stay, on Kardashian's part, certainly makes sense. After all, cheating or no cheating, Thompson is baby True's father.
On Tuesday, April 10 (just two days before Kardashian would eventually give birth to baby True), reports by various news outlets about Thompson's alleged behavior first began to circulate. The first was published by the Daily Mail and included video evidence of a hooded man reportedly sharing a kiss with a woman at a Manhattan bar the weekend before. The outlet claimed the man captured in the grainy video was Thompson, but any actual kissing could not be seen. Later Tuesday afternoon, TMZ published a similar report with surveillance footage of a man said to be Thompson with two women outside a D.C. hookah bar back in October.
Even if the infidelity rumors do end up holding real weight, that's doesn't mean that Kardashian is necessarily set on up and leaving the father of her newborn daughter right away. Deciding to stay in Cleveland — if that is her decision — would make a whole lot of sense, for more reasons than one. First, there's the fact that she gave birth to a human being, for the first time, less than a week ago. Uprooting the life she'd just recently built for herself in Cleveland, on top of caring for her newborn daughter, seems like quite a lot to handle. Second, if she wants Thompson to be able to see his daughter during the playoffs, which could mean he's still playing in games until June, it just makes sense of her to be in Cleveland.
If Kardashian's social media posts (especially the recent ones) are any indication, there's pretty much nothing the reality star considers more valuable than family. Whether that means she'll continue residing in Cleveland is basically anyone's guess, at this point. But either way, here's to trusting that, whatever Kardashian decides, she's doing whatever she feels is best for her and her daughter.