Khloé's Recent Post About Happiness May Actually Double As A Response To ALL Those Rumors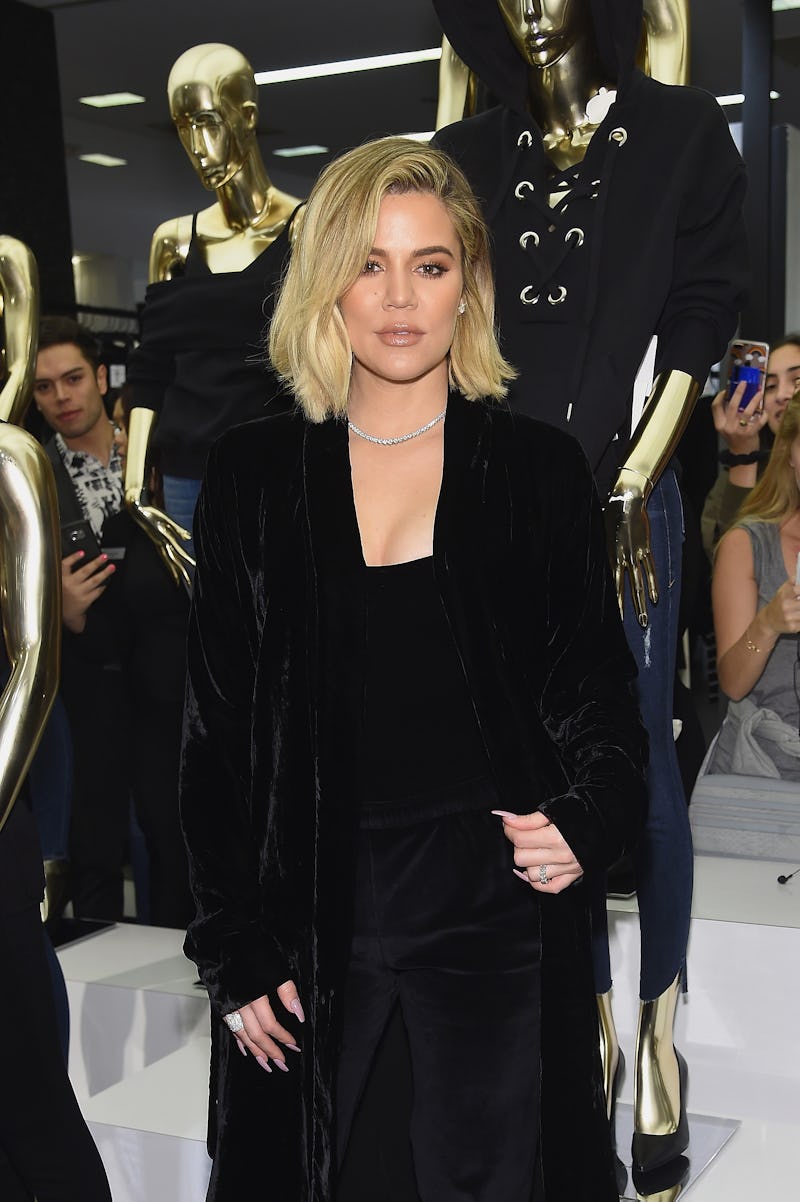 Jamie McCarthy/Getty Images Entertainment/Getty Images
Khloé Kardashian is mostly keeping fans in the dark as to how she's feeling in the aftermath of the rumors that cropped up earlier this month. But per Khloé's recent post about prioritizing happiness, it seems plausible that the reality star — and brand-new mom — could be offering fans a bit of an update (albeit, a pretty cryptic one) as to how she might be dealing with the ongoing rumors about her relationship with Tristan Thompson. In other words, she's focusing on her own well-being.
On Monday, April 23, Entertainment Tonight alerted the pop culturally-inclined masses to a new blog post Khloé shared via her official app earlier that morning. Titled "My Wish For All Of My Siblings," Khloé opened the post with a sweet round of well wishes to her sisters and brother: "I genuinely wish for all of my siblings that they find everlasting happiness in all that they do!" Things took a pretty sharp turn toward the conceptual after, as she shared some insight into her own personal philosophies about happiness and how to achieve it. Continuing, she wrote,
"Life is short, and at times, we put so many others before us, but one of our priorities should be our own happiness. Once you have that, it trickles down to everyone around us."
As hawk-eyed Kardashian enthusiasts have likely already noted, "My Wish For All Of My Siblings" spans only a couple of sentences; and, admittedly, its contents could probably be interpreted as somewhat vague. But still, given the timing (coupled with the ostensible radio silence — when it comes to her relationship), it sounds like the emotional write-up might actually tout an arguably more profound connotation than is explicitly revealed in the writing.
Ever since Khloé's fan following first caught wind of the rumors that erupted earlier this month (two days before she eventually gave birth to her daughter True on April 12), which alleged that Thompson might've cheated on her, the internet has been wrought with speculation. (When the rumors began, Bustle reached out to reps for Thompson and Khloé, but did not hear back.)
And while none of the cheating rumors have been confirmed (in fact, Khloé and Thompson really haven't said a word about it publicly), fans on social media have been quick to bombard the new mom with questions, like: Is Khloé staying in Cleveland? Are they breaking up? Who gets custody of the baby?
But despite the seemingly endless string of inquiries from fans, Khloé has somehow managed to keep a pretty tight lid on the details of her personal life in recent weeks. Perhaps, if the sentiments expressed in her recent post are any indication, her silence in the aftermath of her daughter's birth (and the bona fide media firestorm surrounding the rumors about Thompson's behavior) is simply her way of prioritizing herself, her feelings, and her needs. If it is, then that's probably exactly what she needs to be doing right now.
With that being said, it's certainly also possible that Khloé's latest sibling-themed app update was intended to be just that: a sibling-themed app update. The reality star didn't note any particular motive behind the thoughtful message, though the post's clincher circles back to its initial tenor with a final proclamation of sibling support. "I sincerely wish happiness and peace to my sisters and brother," she wrote, finishing the post.
Family-related posts, particularly those with a "parenting" spin, like this one have been popping pretty regularly on Khloé's official app. In fact, judging by the three most recent posts published to her blog (respectively titled, "Why Kendall & Kylie Will Always Be My First Babies" and "The Parenting Technique I Will Pass Down From My Dad," in addition to Monday's post), it definitely sounds like she's had the Kardashian-Jenner crew on her mind quite a bit lately.
Either way, Khloé's insights certainly hold a whole lot of merit. As she said in Monday's blog post, the "trickle-down" effect of happiness on those around us is stark. Regardless of the rumors, that certainly sounds like the kind of thing a responsible, loving new parent should be thinking about right now.