Khloé Wants Her Baby To Inherit Very Specific Traits From Herself & Tristan Thompson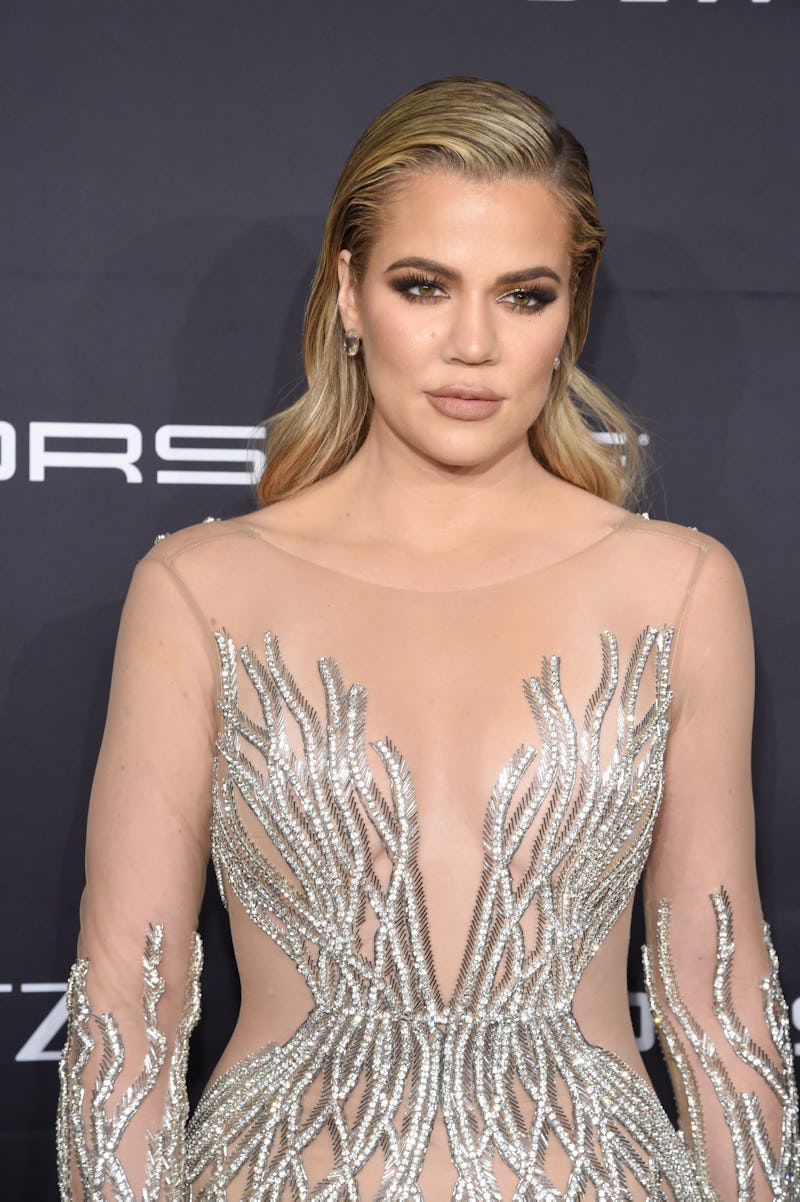 Jamie McCarthy/Getty Images Entertainment/Getty Images
Khloé Kardashian has been so open and honest throughout her pregnancy. Now, she's letting her fans in on some fun wishes she has for her baby girl. Khloé Kardashian revealed which traits she'd love her baby to inherit from herself and Tristan Thompson, as she wrote on her site, Khloé With A K. Honestly, the reality star's hopes for her little girl are not only super adorable but also say a lot about the mom and dad-to-be.
The Keeping Up With the Kardashians star first said that she was so excited to meet her daughter. She wrote, "I can't wait to meet my baby girl! I often think about what she'll look like and what her little personality will be like. She'll be the perfect mix of me and Tristan — which is such a crazy thought, LOL." She then detailed exactly which traits she's hoping that her little one will inherit from her parents.
Can you guess who Kardashian wants baby Thompson to get her fashion sense from? Kim Kardashian might be a tad surprised to see that Kardashian wants her baby to inherit her own sense of style. As you might remember on the show, Kim took a bit of an issue with her sister's style. She even raided her closet in order to pick out some Kim-approved pieces for the Revenge Body star's Santa Barbara trip. No matter what anyone else says, Kardashian does have some awesome fashion sense, though. So, it's totally cute that she hopes her daughter inherits her style.
Kardashian also said that she hoped that her baby will inherit a particular talent of Thompson's: his dance moves. If you've gotten the chance to see any of the basketball player's moves on the dance floor, you'll understand why she'd want that for her daughter. Just check out Thompson dancing at a 2018 New Year's party.
Elsewhere in her post, she said that she'd want her daughter to inherit her work ethic and Tristan's good looks and charm. About the parents' smarts, she said that although she feels her daughter should inherit both of their IQs, then explained, "But I want maybe TT's IQ and my street smarts."
While Kardashian revealed some of her adorable hopes for her newborn daughter, there are still naturally some things that the reality star hasn't shared yet. The KUWTK star hasn't let fans know what the little one's name will be — although, that could be because she's not entirely sure of her baby's moniker herself. Kardashian did let her fans know that she's strongly in favor of a name beginning with a certain letter, but still didn't reveal what her daughter's name would be. On March 15, she said on Twitter that she was most likely going to pick a name that started with a "T" for her daughter.
If Kardashian hasn't already come up with a moniker following this previous admission, she should probably ramp up her search for a good name seeing as though she's due pretty soon. On March 26, she revealed on Twitter that she would be nine months along as of March 27. The Revenge Body star is also currently all settled in to deliver baby Thompson in Cleveland, where her boyfriend plays basketball for the Cavaliers. According to People, Kardashian is staying in Ohio for the delivery and reportedly "can't wait to meet her baby girl." The source also went on to note that the California-based Kardashian/Jenner family will, of course, be flying out to see Kardashian when it's time for her to give birth.
So, fans could expect a baby announcement from Kardashian incredibly soon. Once that announcement comes, only time will tell whether the reality star's fun wishes came true for her little one's inherited traits.