Khloé Kardashian's New True Photo Includes Her Most Heartfelt Caption Yet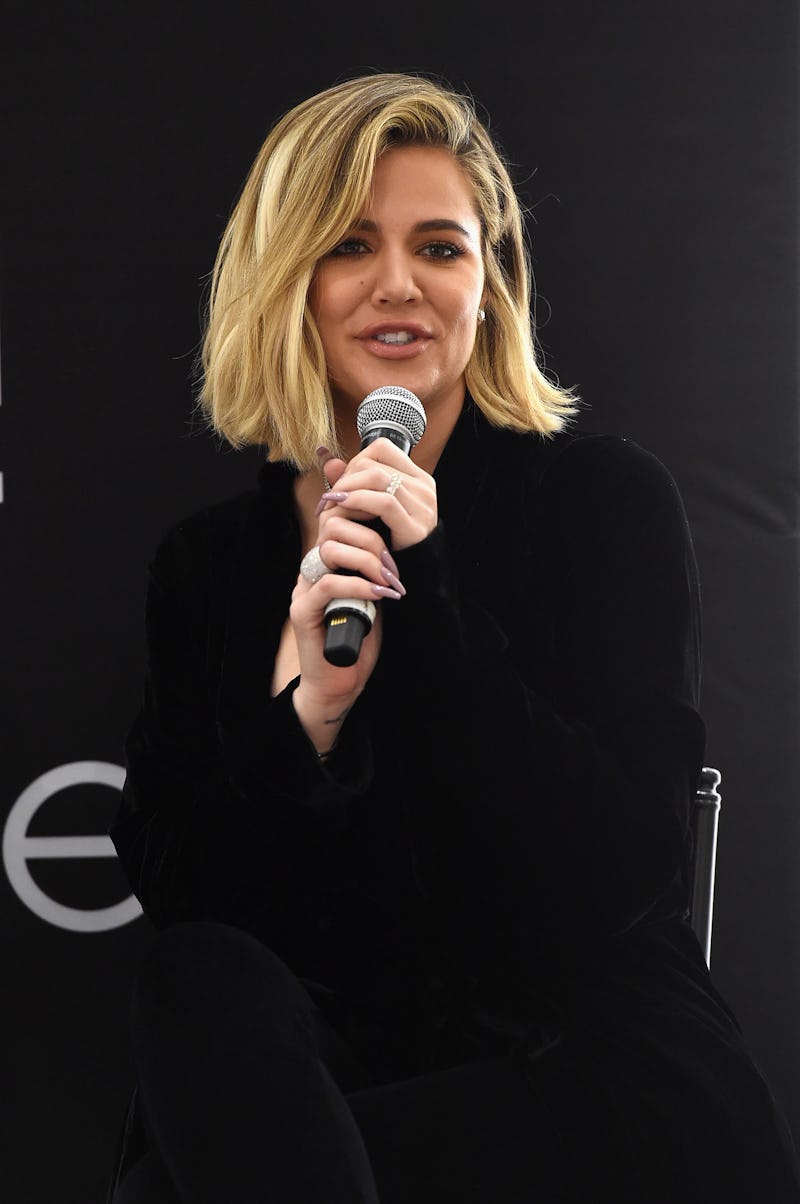 Jamie McCarthy/Getty Images Entertainment/Getty Images
In case you weren't already aware, Khloé Kardashian and baby True are one of the cutest mother-daughter duos around. And that's just a fact. Khloé Kardashian's latest photo of True, along with one of the sweetest captions you'll read all day, is here to prove that the reality star and her daughter are seriously too cute.
The Keeping Up With The Kardashians star posted the photo on Monday, Nov. 26, showing her little one posing outside among some beautiful scenery. The baby can be seen wearing a scarf as she flashes a sweet smile for the camera. The photo alone is enough to make anyone's day, but Kardashian's moving caption takes her Instagram post to the next adorable level. She wrote:
"You drowned my fears in perfect love sweet True 🕊 (her thighs are pretty perfect too)"
Considering all of the reignited discussion surrounding her personal life lately, Kardashian could be referencing the cheating scandal with Tristan Thompson, which played out on KUWTK recently — with True being what is getting her through it all.
Still, if you follow Kardashian on social media, you would know that the KUWTK star has been gushing over True since her April birth. In other words, this definitely isn't the first time that she's written some amazingly kind words in honor of her little one. But this latest tribute to her daughter may just take the cake as the sweetest of them all.
As mentioned, Kardashian and True's bond can be seen in a number of fun photos that the reality star has posted on Instagram. Back in October, the pair, alongside some of their other famous family members, took a trip to Bali. According to one of her posts about the family adventure, the Revenge Body star said that she was so happy to be creating memories with her child. She wrote:
"In my life, I don't believe I have ever seen a sunset more beautiful than the ones I witnessed in Bali. Black sand beaches that sparkle and cotton candy sunsets. Thankful for the memories baby True and I are creating 💕"
Of course, their cuteness has been on full display during all of their recent holiday celebrations, too, as Kardashian has detailed on Instagram. For Halloween, the reality star and her baby girl captured hearts everywhere with their twinning looks. While True had many costume changes, and dressed up as everything from a panda to a lamb, her best look may have been the one she donned with Kardashian.
In her Instagram post, both Kardashian and True donned unicorn onesies, for their first Halloween together and it was every bit as cute as you might have imagined. She wrote in her caption for the pic:
"Happy Halloween!!!! It's our first Halloween together!!!! She's too cute to spook!! (Don't judge me, I have more costumes to post lol) 🦄🐼"
More recently, Kardashian and True spent Thanksgiving together in Cleveland, in order to be with True's father, Tristan Thompson. Naturally, on the topic of giving thanks, the reality star had a specific someone in mind that she's thankful for. She wrote, "Thankful you picked me," in a caption for their holiday post.
So, just in case you didn't know before, now you know (based on all of these amazing Insta photos) — Kardashian and True are simply the cutest.