Apparently Tristan Did *Not* Want To Watch The 'KUWTK' Episode About His Cheating Scandal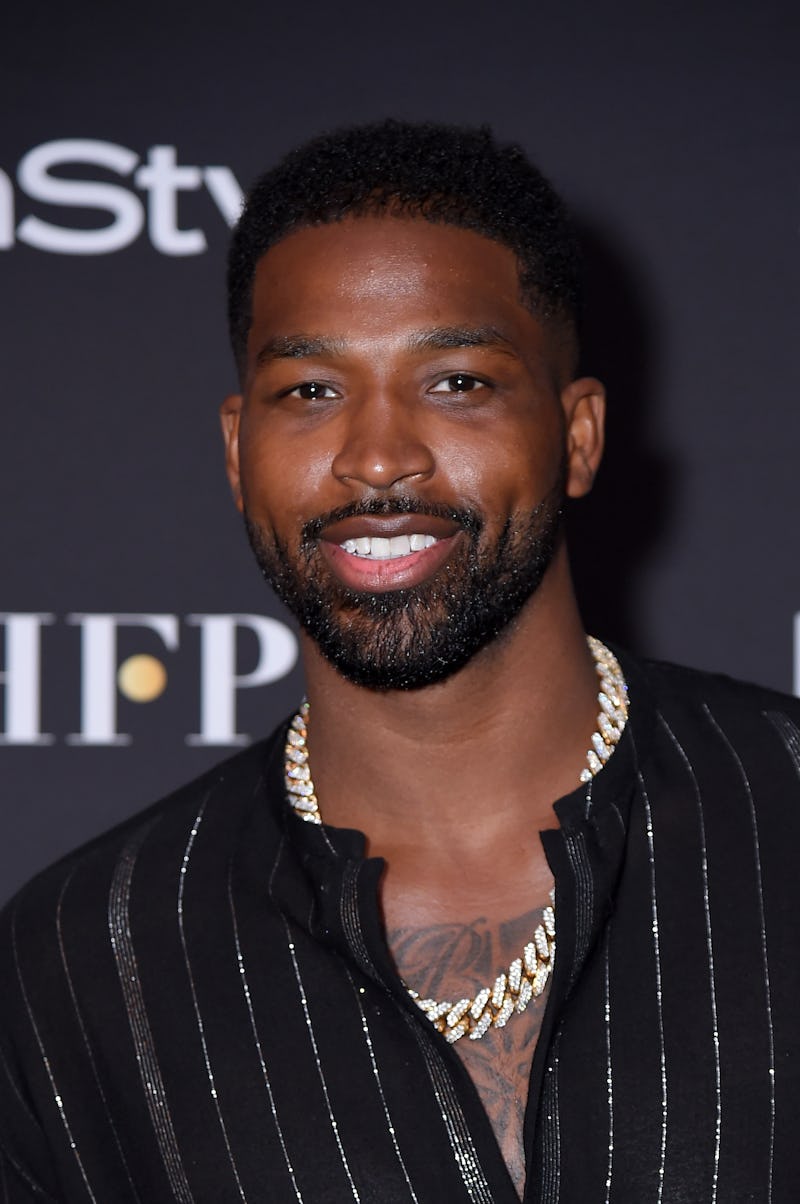 Michael Loccisano/Getty Images Entertainment/Getty Images
Fans may have been somewhat surprised to see Khloé Kardashian live-tweeting the Keeping Up With the Kardashians episode last weekend, which featured the family finding out about the Tristan Thompson cheating allegations. Sure, watching her own show is part of being a reality TV star, but as she acknowledged on social media, it was pretty difficult to relive. But did her boyfriend join in the viewing party? According to Us Weekly, Tristan didn't want to watch the cheating scandal episode of KUWTK, which means that answer sure sounds like a "no."
An inside source explained to Us Weekly,
"Khloé had already watched the episode before it aired and asked Tristan if he wanted to view it with her. The response was a firm no."
It's understandable he wouldn't necessarily be enthused about it, especially because there was a big elephant in the room, i.e. he was only mentioned in regard to the cheating allegations. As a quick recap, the scandal broke in April, just days before Khloé gave birth to their daughter True Thompson. (Thompson has not publicly commented on the situation. At the time, Bustle reached out to his rep for comment, but did not hear back.)
Of course, no one would actually want to watch that all play out on camera, but if Khloé actually did ask him to watch the show with her, isn't that the least he could do? It would make sense that she might want to watch the episode together, so they can reflect, work through any issues, and potentially rebuild their relationship.
Even if he wasn't by her side, Khloé really went in with the live tweets during Sunday's episode. A source told Us Weekly, "Tristan expected her to tweet during the episode because that is what Khloé does under normal circumstances." Very valid point.
Nevertheless, that same insider claimed, "It's Tristan's hope going forward that things in their personal life will remain private." Considering her entire empire is centered on the success of her reality TV show, it's unlikely Khloé will keep their personal life private. She's all about sharing with her fans.
For instance, when a fan tweeted about "trying to remain positive" and letting Khloé live her life, the reality TV star couldn't help admitting that watching the episode made her pretty emotional as well. Khloé wrote back, "Hahaha baby, I'm about to get pissed again too! Lol you are talking me down."
For the most part, the new mom tweeted about the importance of keeping things positive for the sake of her daughter. However, she couldn't help getting (understandably) riled up and reliving the anger she had at the time everything went down. While Khloé didn't mention him by name, every time she wrote "he," followers knew exactly who she was referring to.
Although Khloé was very tight-lipped when the cheating rumors circulated back in April, she did not hold back in her tweets when she was asked about "making this public" on the show. One person wrote,
"It's all well and good that this makes for 'good tv'..but...this is the birth of her first child. Yes, they signed up for the show & publicity. But there are certain things where common decency should prevail. JMO. I'm so sorry, @khloekardaishian. #KUWTK"
Khloé then responded, "Thank you love! I appreciate that! But HE made it public. Not us. So I had to publicly deal with all of this SMH."
Even if Thompson didn't watch the show, he definitely heard about the episode — whether it was from Khloé, her tweets, his friends, or just random comments from fans on social media. Hopefully he'll watch the episode eventually, so he can have greater context of the situation in an effort to work through it all and fully move on.