Khloé Kardashian Just Posted The Most Magical Photo Of True As An Adorable Unicorn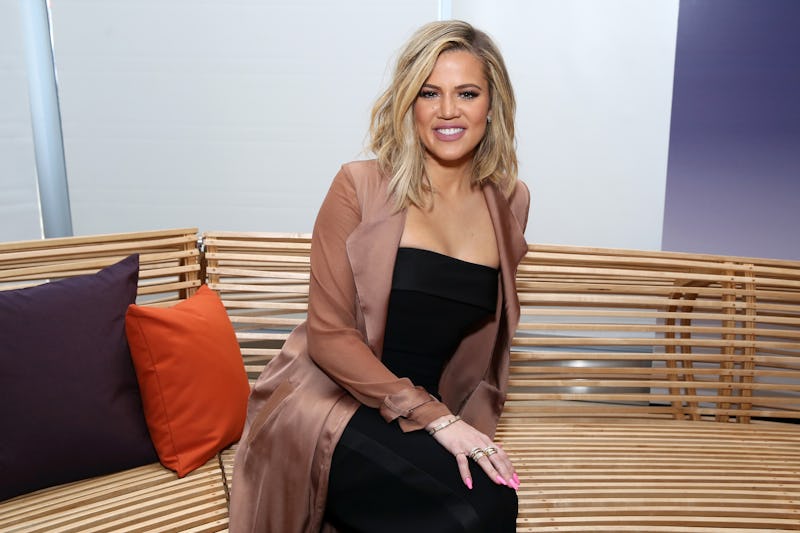 Cindy Ord/Getty Images Entertainment/Getty Images
It must be some law that all of the Kardashian-Jenner-West-Disick-Thompsons have adorable children, because each new photo of the cousins is more precious than the last. Honestly, Khloé Kardashian's unicorn photo of True might end up topping them all. Her newest unicorn photo, that is. The clothing designer, author, and TV personality could probably sense that her fans needed a serious pick-me-up, so on Wednesday, October 24, she majorly delivered. Fans were blessed by a solo photo of True, dressed in a teeny unicorn headband — complete with a tie-dye horn and sparkly ears. "I always knew unicorns were real," wrote the proud mom in the caption.
Any real True-heads know that this is not the first time she's been dressed like a unicorn. Her mom seems to be celebrating Halloween for the entire month of October, posting photos of True dressed like a pumpkin, at a pumpkin patch, and all other types of celebrations. Like earlier in the month, when the Kardashian sisters threw a cupcake party for their kids (#goals) and there were unicorn-themed outfits and decorations documented on social media. Six-month-old True ran away with the cuteness award that weekend! Sure, everyone had cakes covered in sprinkles and sparkly tutus and unicorn headbands galore, but True's head-to-toe powder blue ensemble was the one to beat.
Khloé Kardashian is getting so good at dressing her mini-me. Just take a look!
Almost too cute, right?
As is the Kardashian way, the new mom took to social media to thank her family for being there for her — and to help her raise such a seemingly angelic child. On October 19, Khloé posted even more photos of True in her unicorn-themed outfit posing on a blanket with her and Kris Jenner. There, the youngest Kardashian sister wrote a sentiment for her mom that proves greeting card author should totally be in her future:
This is a "Just Because" post Thank you does not begin to describe the amount of respect, appreciation and LOVE that I have for you, but I do need you to know that you are my hero. I hope to live up to the mom you have been to us. (Regardless of what Kourt thinks JK lol) seriously, how did WE get so lucky to have you?
True's mom added that having Kris as her mom makes Kim, Kourtney, and herself feel like they "have the cheat codes to mommy-hood". That's got to be helpful, considering there are 9 kids between the four Kardashian siblings and Kylie Jenner.
Khloé's message to Kris continued:
"Thank you for being selfless. You continuously put us before yourself and you never think twice about it. (Except when it comes to paid Instagram posts but I ain't mad at you for gettin that money honey) Thank you for being one of my very best friends, but most of all, thank you for being my mommy. If I could, I would choose you a million times!!"
All together now: Awwwww. Khloé's unicorn outfits for True are the absolute best. They're an automatic day-brightener, bible. Is there going to be a True Thompson Unicorn costume for adults available by Halloween? Asking for a friend.