Khloé Kardashian Live-Tweeted Her Pregnancy Cravings & It'll Make You Want Pancakes ASAP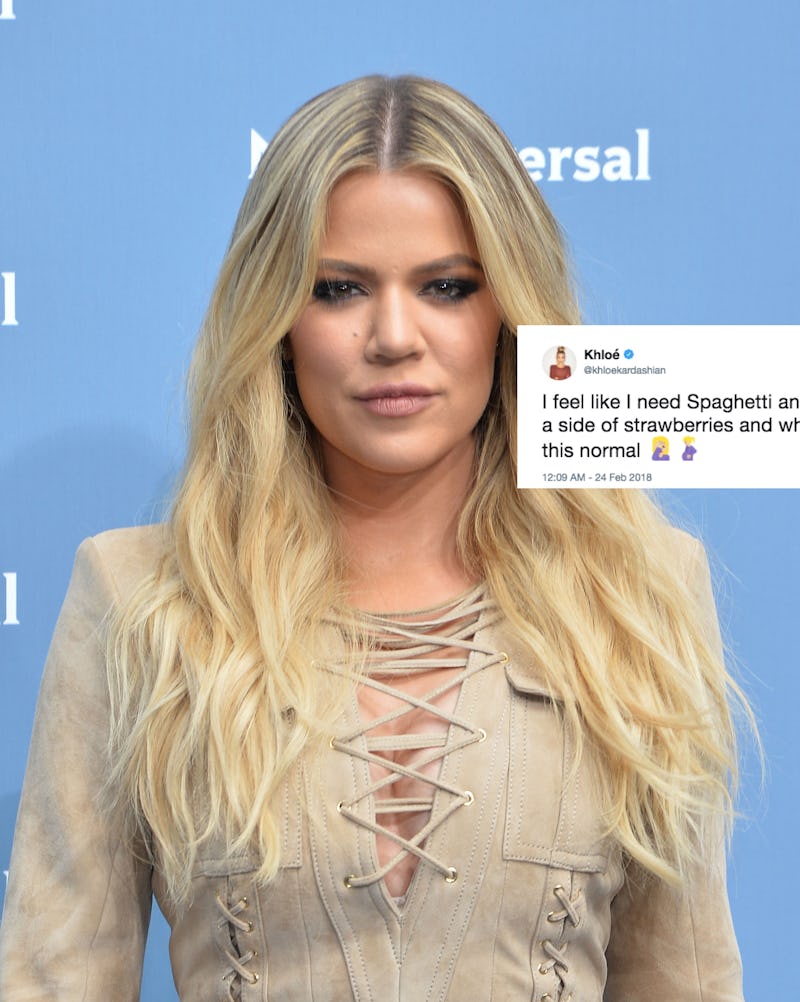 Slaven Vlasic/Getty Images Entertainment/Getty Image; Khloe Kardashian/Twitter
Ever since announcing her pregnancy, Khloé Kardashian has been incredibly candid about the entire experience. And on Friday night, Khloé's pregnancy craving tweets took that whole notion a step further. The soon-to-be mom gushed over wanting spaghetti, strawberries, whipped cream, and arguably the most beautiful plate of pancakes you've ever seen in your life.
Casually conversing with her 25.9 million followers, Khloé tweeted,
"I feel like I need Spaghetti and I think I want a side of strawberries and whip cream LOL is this normal"
As expected, an influx of tweets poured in, spurring the reality star to keep the convo going with her fans. Not long after that, she wrote alongside the stack of flapjacks, "I think I change my mind LOL I just saw these pancakes on my feed and I feel like I must have them. But I want these exact pancakes."
And because you'll probably want — no, need — to know how to recreate those fluffy masterpieces in your own life, Khloé also tweeted out a video from BuzzFeed Tasty's Instagram, showing you how to do exactly that. They may not be the exact pancakes from the original tweet, but both sets of pancakes are worthy of their own praise. As KoKo wrote with the video, "yummmmmmmmm."
The saga of Khloé's food cravings didn't stop there. She even brought one of her famous siblings along for the ride. Along with a GIF of her and Kim Kardashian, Khloé wrote,
"When it comes to food, my sister Kim, always has my back. Her and I can chow down at all times. Keeks where you at?!"
Someone asked about Kourtney, to which Khloé blunty replied, "Too many restrictions on her end. Kim gets my foodie ways." And it's true, Kourtney is very open about her decision to be gluten and dairy-free. But at least Kim and Khloé have something to bond over, right?
Showing what a rollercoaster the latenight cravings became, Khloé then concluded the series of tweets by realizing she wanted a different dessert. After a fan mentioned that she had eaten six ice cream sandwiches at a time during her own pregnancy, Khloé responded, "Oh my god now I want a f*cking ice cream sandwich."
Even another fan, who wrote that she is not expecting a child at the moment, tweeted that Khloé inspired her to fulfill her own cravings and order some Pinkberry. Yet again, the Keeping Up With The Kardashians star replied with a simple yet effective, "Yummmmmmmmm."
The moral of the story here? If you're looking for some snack inspiration, you may want to consult Khloé's Twitter feed, because all of the food mentions are next level. Yes, that includes those very fluffy pancakes.
Whether talking about potential baby names, or opening up about her pregnancy fitness routine, the 33-year-old continues her reign as the most outspoken Kardashian-Jenner sibling. Khloé confirmed her pregnancy right around Christmas after a few months of speculation. Sharing a photo of herself and boyfriend Tristan Thompson holding her baby bump, she wrote,
"My greatest dream realized! We are having a baby! I had been waiting and wondering but God had a plan all along. He knew what He was doing. I simply had to trust in Him and be patient. I still at times can't believe that our love created life! Tristan, thank you for loving me the way that you do! Thank you for treating me like a Queen! Thank you for making me feel beautiful at all stages! Tristan, most of all, Thank you for making me a MOMMY!!!"
Khloé's genuine excitement about becoming a mom is so sweet to see, and it's almost impossible for fans not to be happy for her, as she shares the ups and downs of her journey. And her food craving tweets are just the icing — or whipped cream? or spaghetti? — on the cake.