You're Not Seeing Things — Khloe Is Wearing A Ring On THAT Finger In Her Pregnancy Photo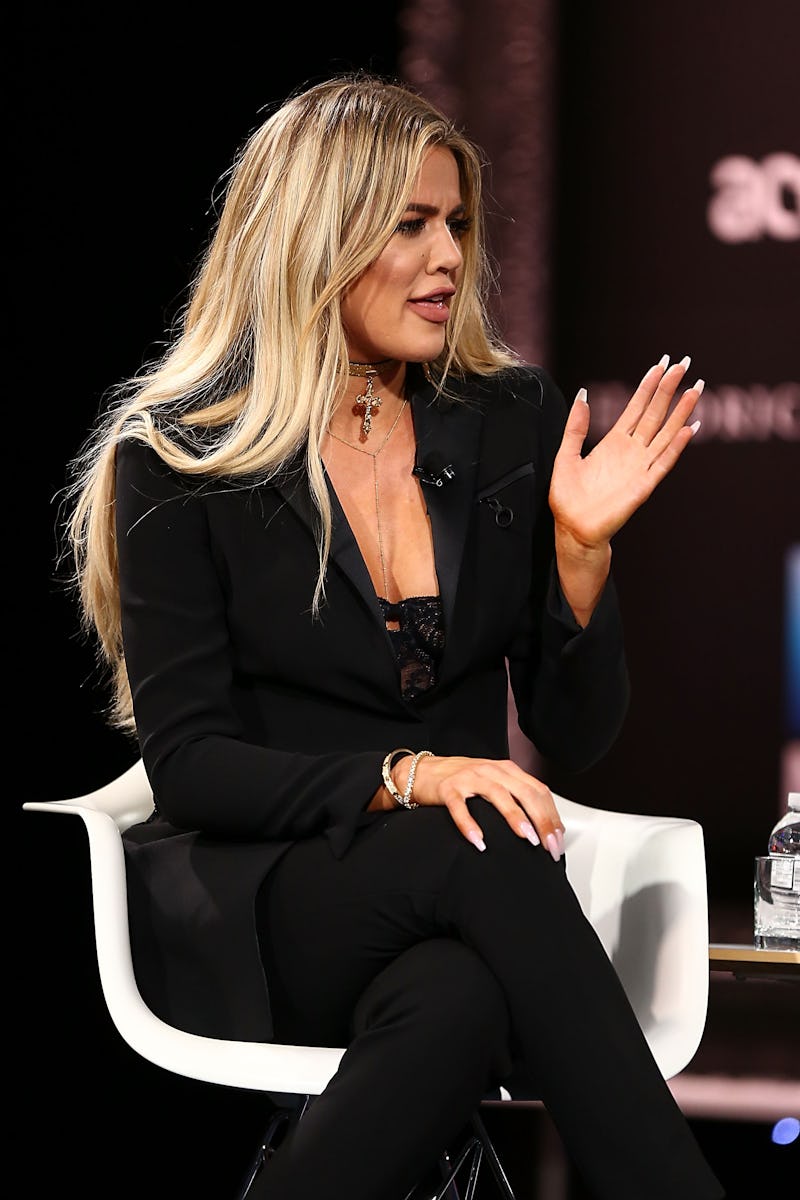 Joe Scarnici/Getty Images Entertainment/Getty Images
One of the moments that fans of the Kardashians have been waiting for finally happened when Khloe Kardashian confirmed her pregnancy with an Instagram post on Wednesday, Dec. 20. Everyone collectively rejoiced that she did it at a time that wasn't Christmas day, but there was one more surprise left to be found: in the photo, she is wearing a ring, and, um, is Khloe Kardashian engaged? (Bustle has reached out to her rep for comment, but did not receive an immediate response.)
To be fair, Kardashian's ring doesn't necessarily look like an engagement ring. But, to be fair, this wouldn't be the first time that it's been rumored that she and her boyfriend, Tristan Thompson, were engaged. In Touch Weekly reported the unconfirmed rumor that Thompson and Kardashian were engaged in March 2017, claiming that an exclusive insider had told them, "Khloé is delighted to be engaged and can't wait to tie the knot early next year." However, another insider claimed the rumor wasn't true and there was no wedding planned.
Then there was the time also back in March 2017, when TMZ reported that Kardashian was spotted with an engagement ring while she watched Thompson play in a game against the L.A. Clippers. They cited the fact that she "did nothing to stop the rumor she's engaged" as evidence that she must be, since speculation was being sparked by that massive ring.
That same principle is in play here. Kardashian had to know that if she posted a picture of her baby bump accompanied by a hand that has a ring on that finger then people would talk. People do nothing but talk about the Kardashians, but this seems purposeful.
And, for another thing, there's the 25 Days of the Kardashian Family Christmas card to consider. Kim Kardashian West has been posting a piece of the card every day for fans to assemble like a giant puzzle of Kardashian holiday fun. It's been widely speculated that Khloe Kardashian's pregnancy would be announced when the final piece of the Christmas card puzzle was complete, but Kardashian did it on Instagram on Tuesday the 20th instead — taking away that bombshell. But is this ring a sign that there's a bigger bombshell to come... like, say, confirmation that Kardashian is engaged?
Of course, there's always a chance that the family has taken mercy on the fact that people (cough, journalists, cough) want to enjoy their holidays in peace, and that Kardashian is not only not engaged but also not going to announce anything else on Christmas. Or, if she is engaged, that she wanted this picture to stand as the evidence of that without adding any more in the Christmas card.
But if Thompson and Kardashian are engaged as well as having a baby, then they're not saying anything to confirm it right now — at least not in this photo's caption. "Tristan, thank you for loving me the way that you do! Thank you for treating me like a Queen!" she wrote. "Thank you for making me feel beautiful at all stages! Tristan, most of all, Thank you for making me a MOMMY!!!" Yeah, nowhere in that lovely announcement did she thank Thompson for making her a fiancée or a bride.
As frustrating as it may be, fans will have to wait and see if the prominent ring(s) in the pregnancy photo are a sign that Thompson and Kardashian will be walking down the aisle soon, or if they're going to do like Kourtney Kardashian and Scott Disick and never get married at all as they raise their children together. Either way, it already seems like they're going to be great parents, and the latest addition to the Kardashian-Jenner brood will be the luckiest celebrity child since Rumi and Sir Carter.