Kim K Couldn't Be More Proud Of Kylie's 'Forbes' Cover, So Clearly There's No Rivalry Here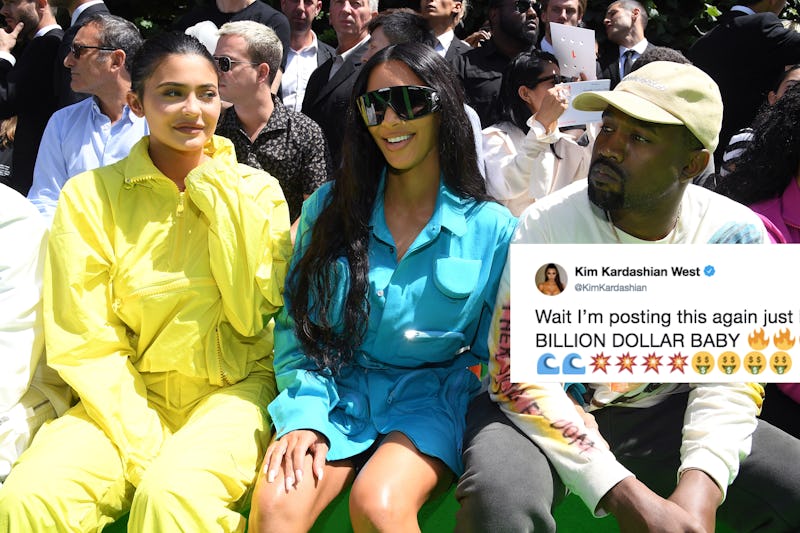 Pascal Le Segretain/Getty Images Entertainment/Getty Images; Kim Kardashian/Twitter
For years, fans (and haters) have been pitting Kim Kardashian and Kylie Jenner against each other and perpetuating rumors of a rivalry between the sisters. On Wednesday morning, Kim Kardashian congratulated Kylie Jenner on her Forbes cover — not one, but two times. This is a huge feat for the youngest member of the Kardashian-Jenner family, so it makes sense that her big sister would want to brag about it twice.
In her first tweet, the reality star shared a photo from the Forbes cover and wrote, "CONGRATS @kyliejenner" with some fire emojis. Three hours after that tweet, Kim couldn't resist posting the cover photo again. In the second tweet, she wrote, "Wait I'm posting this again just because!!!! BILLION DOLLAR BABY," along with a plethora of emojis.
Clearly, Kim is very proud of her little sister and the makeup mogul appreciated the shoutouts. Kylie quoted Kim's initial tweet and added, "Love you," with some red heart emojis. There's a lot of love between the sisters, yet many people insist on pitting them against each other.
Yes, they both have their own makeup lines. They are both reality TV stars. They both have apps. They both have children with rappers. They dress alike here and there. Of course, they look alike, which shouldn't be shocking since they are sisters. These two have a lot in common, but there is no need to make negative comparisons. Why can't two women — let alone sisters — have the same interests and similar business ventures without rumors of a rivalry?
Aside from their recent tweets about Kylie's Forbes cover, the two siblings have been openly supportive of each other many times throughout the years.
In April 2016, Kim addressed the perceived rivalry in a post on her personal website and app. According to an article from E! News, the Keeping Up With the Kardashians star revealed, "Kylie and I laugh so hard at this all the time, because people always want to pit us against each other, thinking we have similar careers."
Kim admitted, "I think it's amazing — there's no one else I would want to be in the same business with than my sister. She teaches me so much, and I teach her so much, and we're both so close that it's just funny." She also emphasized, "We just are so supportive of each other, and that's really what it is."
In an April 2016 post on her website, Kylie disputed the sibling rivalry and the lip kit mogul wrote,
"People always put me and Kim in a competition, or [they say] I'm trying to be Kim, or I'm trying to steal Kim's throne. I think people forget that me and Kim are sisters. We're not in a competition. We're completely different people. Kim inspires me. She's one of my biggest inspirations. That's not a secret! I look up to my sister. I don't think that's like, a weird thing? We have a lot of love for each other."
The sisters have also addressed the perception that their beauty lines, Kylie Cosmetics and KKW Beauty, are direct competitors. In an August 2017 interview with Women's Wear Daily, Kylie insisted, "We respect when we launch new things. We make sure there isn't overlap... but there is room for the both of us in the makeup world."
Kim echoed Kylie's sentiments during a the 2018 Business of Fashion Summit. According to The Hollywood Reporter, Kim said, "We do have communication over our timelines and launches so that nothing comes too close."
Kylie told Women's Wear Daily, "We also have a little bit of different demographics... She's like almost 20 years older than me. I feel like my makeup is definitely more young, fun."
According to THR, their mother Kris Jenner was with Kim during the Business of Fashion Summit and emphasized that same point by saying, "One business doesn't cannibalize the other at all. They have two completely different fan bases." Well, maybe not "completely separate fan bases." There are many people who are rocking products from KKW Beauty and Kylie Cosmetics.
At the Business of Fashion Summit, Kim pointed out, "If there's something that we really both have our eyes set on, we would collab and do it together." This is something that has happened. Before Kim launched her own beauty line, she and Kylie collaborated on a collection of nude shades.
In addition to their beauty lines, both sisters have their own games. Kim launched Kim Kardashian Hollywood in 2014. Two years later, Kylie and Kendall Jenner launched their own game called Kendall and Kylie. In February 2016, Kim encouraged her followers to download her sisters' game.
The sisters' support for each other's business ventures goes beyond their makeup lines. In August 2017, Kim shared her excitement over youngest sister's spin-off show Life of Kylie. Kim wrote, "So proud of my little sis @kyliejenner She has her own show!!!! Tune in tonight on E!" During the episode, Kim tweeted, "I'm watching the Life of Kylie!!!! It's so good! Who's watching?"
Kim isn't the only one sharing some sisterly praise on social media. On March 8, 2016, Kylie tweeted, "Kim is a legend." That is something that Kylie could have tweeted at any time, but on that day in particular Kim was receiving a lot of backlash over a nude selfie she posted. Thankfully she had her sister for some support against the haters.
Two days later, Kylie defended Kim yet again when she tweeted, "Legend - an extremely famous or notorious person, especially in a particular field........ Kim's a legend."
Yes, Kim and Kylie share a lot of parallels in both their personal and professional lives, but that does not mean they have a rivalry. They're each other's peers, supporters, and inspirations and it's time for the narrative to change.