Kylie Jenner's New 'Forbes' Cover Is The Perfect Clapback To Everyone Who Underestimates Her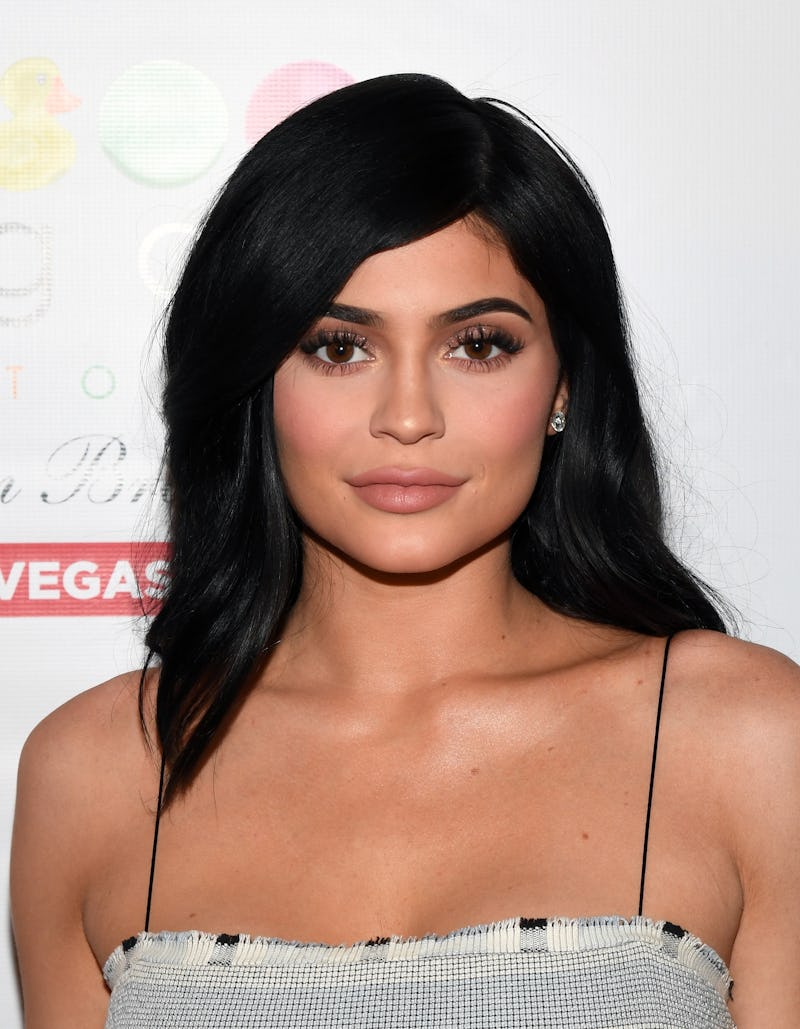 Ethan Miller/Getty Images Entertainment/Getty Images
Exactly two years ago, Forbes unveiled a magazine cover featuring a certain well-known reality star. The headline read, "The New Mobile Moguls," and touted, "Kim Kardashian: She made $45 million from one game." Almost as quickly as the cover dropped, backlash popped up on Twitter, with people critiquing the choice — but with the success of her mobile game, Kardashian more than earned it. And now, she's passing the torch to little sister, Kylie Jenner, who appears on Forbes' new cover.
On Wednesday, July 11, Jenner's Forbes cover dropped to celebrate the magazine's "America's Women Billionaires" issue, which features "the 60 richest self-made women." Solidifying that she earned her spot on the list, the tagline reads, "$900 Million Cosmetics Queen: At 21, she's set to be the youngest-ever self-made billionaire. Welcome to the era of extreme fame leverage." Is that not an impressive stat? According to the magazine, that would even beat Mark Zuckerberg, who reportedly became a billionaire at 23.
Love or hate the famous family, but you can't deny they're a force to be reckoned with. And Jenner's spot on this list of successful women more than proves that she shouldn't underestimated. Sure, she was born into the Kardashian-Jenner fam, but she turned an ongoing stint on a reality TV series into a huge makeup brand, Kylie Cosmetics, that's still rolling out new colors and products as we speak. As Forbes noted, the company — which Jenner 100 percent owns — has sold more than $630 million worth of makeup since its launch and is estimated to be valued at nearly $800 million.
Just as Kim K's cover sparked criticism from those who didn't see her as a typical business person, it's almost guaranteed Jenner's will receive the same response on Twitter and beyond. Just a quick scroll through the comments section on Forbes' Instagram has responses ranging from, "You cannot call her self-made WTF!!!" to "Just shows how many stupid people are in this world."
Yet just being on the cover in the first place seemingly proves those people wrong. There's no one set way for a businesswoman to be, and she's strategically capitalized on her brand in a way that's raked in millions of dollars. The numbers don't lie, and the stats that Forbes used in their article appear to be based on Jenner's own successes — not her entire family's.
Of course, not everything about the Kardashi-Empire is perfect. The 20-year-old's past promotion of FitTea products and waist-trainers is more than a little problematic and has some sparked backlash in the past, given her young, impressionable fan base and the implication that women's bodies should look a certain way. Not dismissing that sore spot at all, but her entrepreneurial efforts still go well beyond that — she's dabbled in fashion with her sister Kendall Jenner, sold YA books, and created an entire line of merchandise with her name on it. Per Forbes, it's her other projects that boost her net worth to around $900 million.
Jenner turns 21 next month, yet she's already made major moves. And making this magazine milestone even sweeter, she told Complex in 2016 that she'd loved to be on the cover some day. Jenner said at the time, "I want to be as big as the other [cosmetic] brands. It's my dream to be on Forbes." Talk about full circle.
In that same Complex interview, she expanded upon what being a businesswoman meant to her and how the women in her family paved the way:
"I never heard people say, 'Oh, I want to be a businesswoman when I'm older.' It was usually a nurse or this or a that. My mom has been a huge influence on me; Kim has done amazing things. I look up to all of them."
Last year, Fast Company included Jenner in their list of Most Creative People In Business. As the article pointed out, when her makeup line launched in November 2015, all three colors sold out. And no, it's not because of some super expensive marketing strategy — as she told Fast Company, she just relies on her massive social media following (currently 110 million Instagram followers, FYI). Jenner explained,
"I don't pay for advertisements. I don't do commercials. Social media is the only way I push it: Snapchat, Instagram. I'm usually the one posting everything, but I have another girl who's on the team who helps out sometimes if I'm busy. Sometimes I delete all her pictures. I'm like, I don't like that, it needs to look like this."
As she told Forbes in their cover story, makeup is something she's clearly passionate about. Jenner told the mag, "Ever since I was in sixth grade, I would wear purple eye shadow. I turned to makeup to help me feel more confident."
Sure, she may not be your typical "businesswoman," but that doesn't mean she shouldn't be taken seriously. She's savvy about using her place in the spotlight to her advantage and doing things her way. And hopefully her Forbes cover is all the proof critics need to stop doubting her.