Kim Kardashian's Throwback Photo With Baby North Is Seriously Too Cute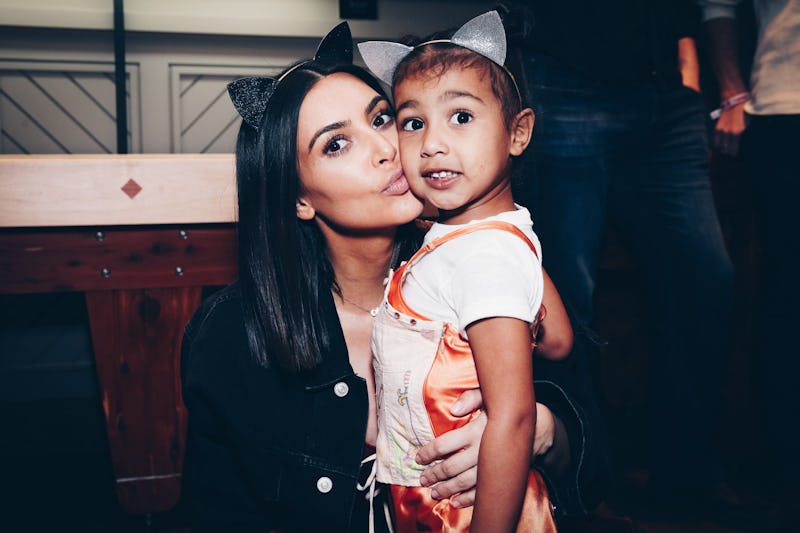 Handout/Getty Images Entertainment/Getty Images
Kim Kardashian and North West continue to be one of the cutest mother-daughter duos around. In a snap posted on Aug. 13, Kim Kardashian posed with North West when the youngster was only a baby. Not only is the photo all kinds of adorable, but it also highlights the reality star's sweet bond with her oldest daughter.
Kardashian's Instagram photo, which was filtered in a chic black and white, featured her holding up her little one in the air as she blew her a kiss. She had the sweetest thing to say about her firstborn as she captioned the pic, "My baby North, you were so small here! You will always be my baby."
This obviously isn't the first time that the Keeping Up With the Kardashians star gushed about one of her children on social media. And it especially isn't the first time that she's put her bond with North front and center. Last August, Kardashian posed with her eldest child for a Kennedys-inspired photoshoot for Interview Magazine. It was all about the mother-daughter duo for this particular piece, as the other members of their little family, Kanye and Saint West, sat that one out. This shoot actually served as North's first official tell-all interview with a major publication, a very cool milestone to share with her mom.
During her interview, the eldest West sibling was asked various questions from some famous friends. Millie Bobby Brown from Stranger Things got to ask North a very sweet question. She asked, "Who is your best friend?" It was an easy answer for the young star, who replied with a simple, "Mama."
As previously mentioned, Kardashian is no stranger to posting adorable pics of her three children, North, Saint, and Chicago. Similar to her recent, sweet throwback snap, the KUWTK star has repeatedly highlighted her bond with her eldest child on social media in the past.
On June 15, she posted a moving birthday tribute in honor of North's fifth birthday. And her post showed just how close Kardashian is with her daughter. "My baby girl turns 5 today. Never did I think back then that I would have a best friend for life," she wrote, "I'm so honored to be your mom Northie! You have brought more joy into my world than I could have imagined." She also wrote about how she can't believe how fast her oldest is growing up. Even though she's getting older, she'll always be her little baby, as she conveyed in her recent throwback.
Considering the fact that Kardashian is a social media pro at this point, it's no surprise that she'd post the cutest photos of her daughter on her various accounts. In the past, she has posted so many photos of her baby North, whether it's a fun, filtered snap or a group photo with her younger siblings. No matter what kind of photo she posts, there's one thing that you can count on: Kardashian and North have the most adorable mother-daughter bond.