Kim K's Birthday Message For North West Highlights Just How Close These Two Really Are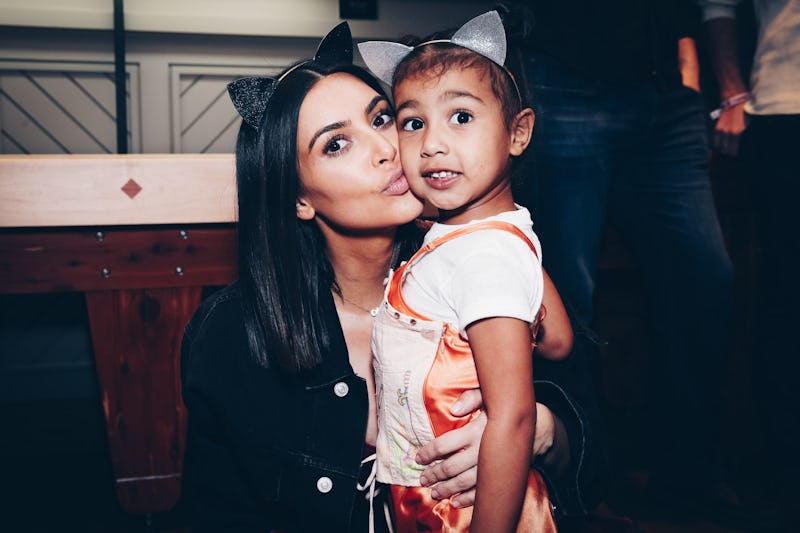 Handout/Getty Images Entertainment/Getty Images
It's no secret Kim K loves her three children, but if you need further proof you should probably check out Kim Kardashian's birthday message for North West. June 15 marks North's fifth birthday and the Keeping Up With The Kardashians star celebrated her daughter's special day by sharing some of the sweetest words ever. Next to a photo of herself, Penelope Disick, and North, she wrote,
"My baby girl turns 5 today. Never did I think back then that I would have my best friend for life! I'm so honored to be your mom Northie! You have brought more joy into my world than I ever could have imagined. I can't believe your so big now! The luckiest girl in the world to be best friends with your cousins and have the most magical parties together! I love you so much birthday girl!"
Yes, Kardashian called her eldest child her "Best friend for life!" Those four words shine a light on their close bond and how much a mother-daughter relationship means to the reality star. There's no doubt Kardashian and North are tight. The 37-year-old shares multiple photos of just herself and North on social media. Next to a selfie of the duo posted on May 25, Kardashian captioned it, "My bestie".
In May for Mother's Day, Kardashian wrote about being a mom and what it means to her. Her words say it all. "Having kids has changed my soul!!" she shared on her app (via Us Weekly). "You learn so much about yourself from being a parent and you care more about the world you are raising your kids in."
The Selfish author also is super close with her family, including having a deep connection with her own mother, Kris Jenner. These relationship has taught her how important family is, but also how establishing a closeness with your children is top priority.
Like she wrote (via Entertainment Tonight) on her app for National Son and Daughter Day in August 2017, "I have such unconditional love for my kids. No matter what, I will always love them and support them in anything they choose to do in life. My family was so close growing up; now that I'm a mom, I understand the bond my mom and dad felt with us."
"My priorities changed when I had kids. It's not about me anymore," she continued. "After North was born, I wanted to be there and make memories together that we would share forever. It really makes you realize how precious life is. They [North and Saint West] both give me a whole new perspective and inspire me to be the best version of myself."
Speaking of her family being so close,even Kris Jenner wished North a happy birthday with another beautiful message. "Happy birthday to our sweet angel North!!" she shared Friday. "I can't believe you are 5 today! I love you so much, you are the greatest blessing, and it brings me so much joy to watch you grow into such a beautiful, fun-loving, spirited, kind, smart and funny little lady!"
In early June, North celebrated turning 5 alongside her cousin and BFF, Penelope. Kim and Kourtney Kardashian threw a joint birthday party for North and Penelope, whose birthday is July 8. It was unicorn-themed party and as amazing as it sounds. There were unicorn cakes, unicorn ice cream cones, and so many other delicious treats. Of course, the decorations were fabulous with glitter, rainbows, and flowers everywhere. Only the best for North and Penelope, obviously.
Who knows if Kardashian will throw North another celebration on her actual birthday, but knowing her, she'll make sure her daughter has the best day ever.