Photos Of The California Wildfires That Forced Kim Kardashian To Evacuate Are Pretty Scary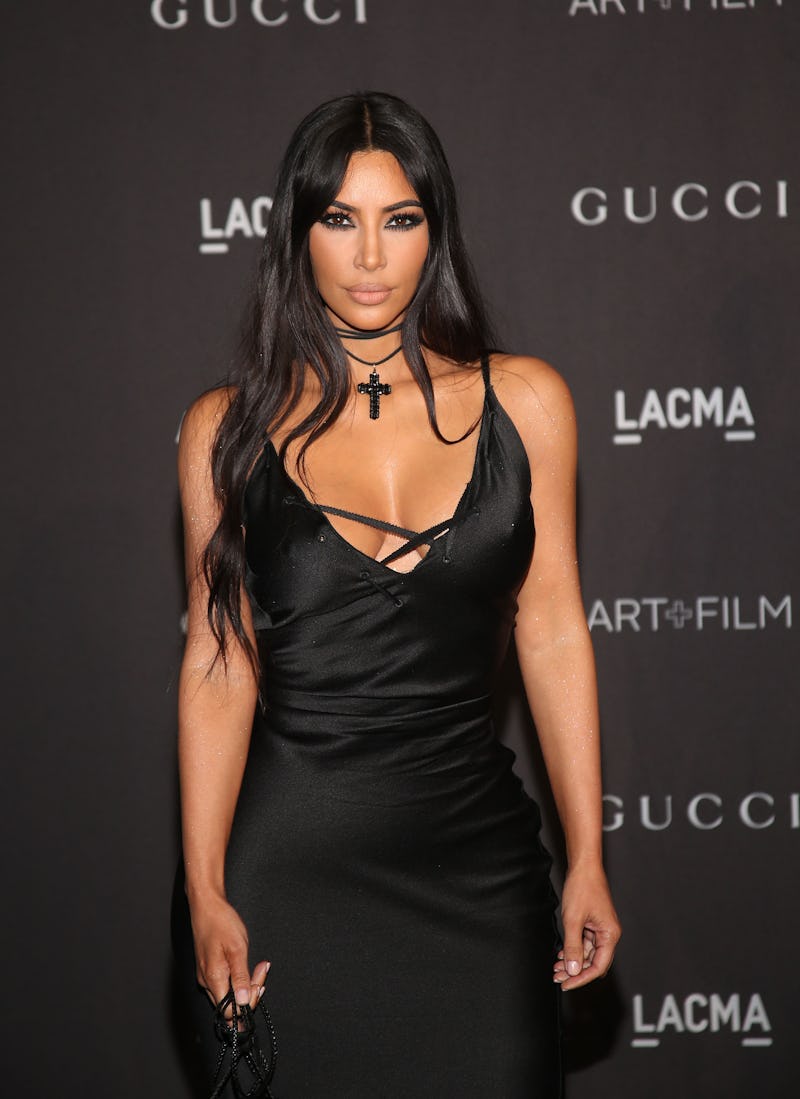 Jesse Grant/Getty Images Entertainment/Getty Images
As wildfires spread in California, many residents are being displaced, among them members of the Kardashian family. Kim Kardashian was forced to evacuate her home in Hidden Hills due to the Woolsey fire that is currently raging in the Los Angeles area. In an Instagram Story from Thursday night, she shared an aerial shot of the fire from her private plane. But when she landed, Kardashian learned she had an hour to evacuate her home. Kardashian and her children with Kanye West — Saint, North, and Chicago — are safe, but the fires continue to burn and devastate the community.
UPDATE: Kardashian posted the following tweet at around 5:37 p.m. ET amid reports that her and West's Hidden Hills home was in danger:
I heard the flames have hit our property at our home in Hidden Hills but now are more contained and have stopped at the moment. It doesn't seems like it is getting worse right now, I just pray the winds are in our favor. God is good. I'm just praying everyone is safe [prayer hands emoji]
Earlier: Kardashian wasn't home when the wildfire began, as her Instagram Story shows her filming the fire from the air. But in the next update, she wrote, "Pray for Calabasas. Just landed back home and had 1 hour to pack up & evacuate our home. I pray everyone is safe." She also shared a video of firefighters arriving and thanked them for their service. In another update from the ground, she documented police officials entering the area and said, "They're evacuating everyone right now from all of our homes." Thankfully, Kardashian's updates suggest that she made it out safely, as she continued to update social media throughout the night.
USA Today reported how there are multiple wildfires occurring in California, including one that's impacting the Thousand Oaks area where a deadly mass shooting happened on Wednesday. The Woolsey fire is the one in the area of Kardashian and West's home and the Los Angeles Times reported that the fire has grown to 8,000 acres. Approximately 75,000 homes are under forced or voluntary evacuation order and the fire has already damaged or destroyed 20. Although people have reportedly been trapped by the fire and firefighters have been unable to contain it, there have been no reports of fatalities or serious injuries.
Besides Kardashian, her sisters Kourtney and Khloé Kardashian also posted their statuses. In an Instagram Story, Kourtney shared how she packed up her car and fled her Calabasas home. Her next update showed that she is staying at Kendall Jenner's place and raiding her pantry. (Jenner was in New York City walking the runway for the Victoria's Secret Fashion Show.) So Kourtney appears to be safe and making the most of things.
Khloé, meanwhile, wrote on Twitter that she was with her brother Rob and their respective daughters, True and Dream. However, it doesn't seem that they have relocated. She posted on Friday morning, asking for an evacuation update since the fires have jumped the 101, forcing portions of the freeway to close. Khloé has been giving updates on Twitter, saying she was so worried, she couldn't sleep.
Many others have been impacted by the fires. Earlier, Alyssa Milano had tweeted that she had to evacuate her home with her children and dogs. And BuzzFeed reported that singer Trey Songz and comedian Joe Rogan posted images of the flames near their homes.
Thankfully, no one has been severely injured due to the fires. But homes and businesses are being destroyed, and other people who have fewer resources than these celebrities are also being affected. So, as many of these celebrities posted, here's to the firefighters trying to contain the flames, and let us all keep California in our thoughts.