Kim Kardashian Put Kourtney Kardashian's Gluten Free Life To The Test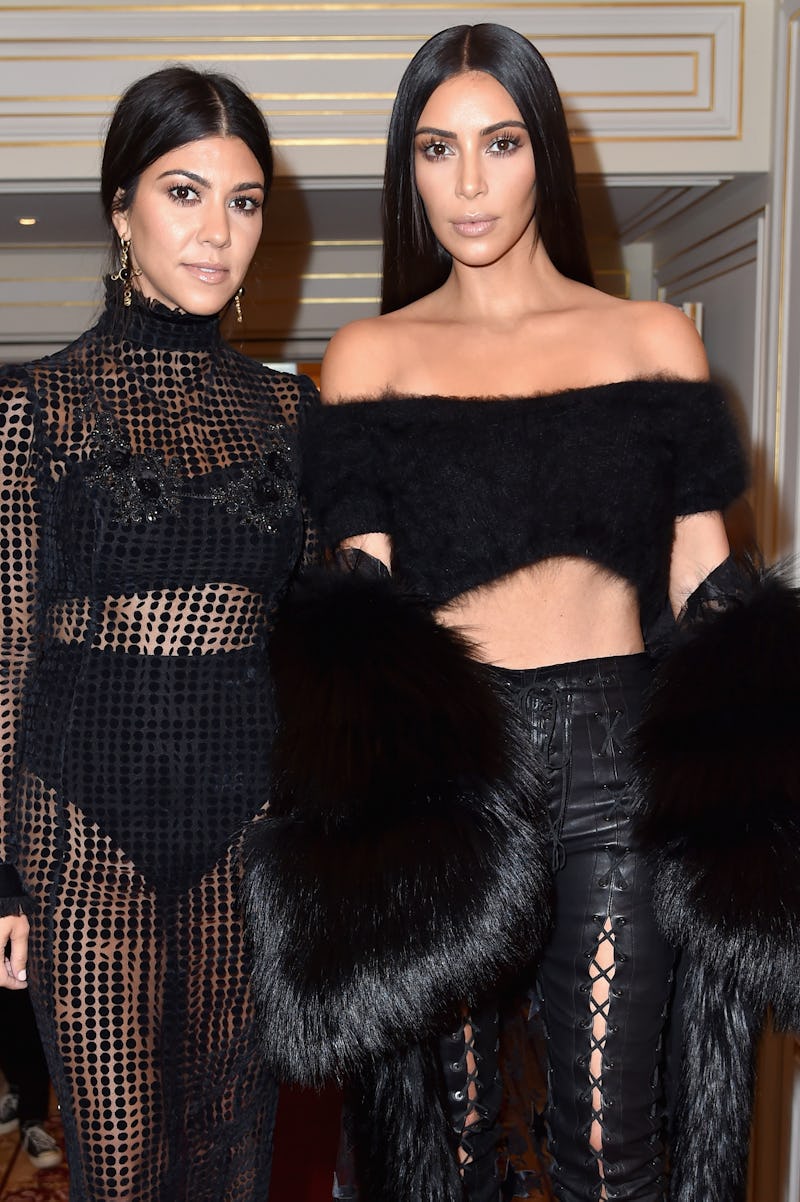 Pascal Le Segretain/Getty Images Entertainment/Getty Images
Over the last decade of Keeping Up With The Kardashians, fans have seen the family go through a lot of hoops to stay healthy. Personal trainers, home chefs, giant bowls of salad — they've done it all. But on Sunday night's episode, Kim Kardashian questioned Kourtney's healthy ways, and she didn't take it well at all. Fortunately, it led to everyone learning a lesson about respecting each other's lifestyles... kind of.
Kourtney's been outspoken about her gluten free lifestyle for awhile now, and sometimes, she takes it to the extreme. In the past, the show has featured her grocery shopping and avoiding a lot of common products that a lot of people usually keep their kitchens stocked with, and although Khloé and Kim usually seem to eat on the healthier side, they've never gone to the lengths that Kourtney has. And after they discovered that Kourtney was making her own almond milk, they decided enough is enough. A little internet research led them to claim that a gluten free lifestyle may not be as healthy, but Kourtney wasn't buying it.
The next step? Well, obviously it was time for even more investigation to see how true these claims might be... in the form of a sweat test, of course.
This meant that Kourtney, Kim, and Jonathan Cheban ended up in a sauna in Kris Jenner's house (who knew that was there, by the way?) collecting their sweat into tiny vials so they could send it off to be analyzed to see the levels of arsenic they were carrying around in their bodies. Kourtney questioned the accuracy of this test — and honestly, who wouldn't? — but the experiment was complete, with blood and urine tests to follow.
After they got their results, it was official: Kourtney's gluten free diet did not mean that she had more arsenic in her system. None of them had any arsenic (or mercury) in their blood, which was definitely good news.
"I am so relieved that Kourtney and I are both healthy," Kim said in her interview. "We both try to eat really good. I don't really have the answers yet about her gluten free lifestyle, I just know what the best diet is for me and my family."
Hopefully, now that Kim knows that Kourtney's not ingesting all kinds of poison or anything, everyone can agree to disagree. They might be sisters, but different things are going to work for each of them, including what they choose to eat. And in the end, they met with a nutritionist who basically told them that moderation is the key, and whole foods are the way to go.
Being gluten free has always just been Kourtney's thing — in fact, Kim even called her a "gluten, dairy, wheat free human" in her birthday post last year — and if it's how she feels most comfortable, who cares how she eats? It doesn't seem like she or her children are unhealthy at all, so maybe Kim should just let her do her thing. It's hard to imagine a life without processed food (because no, Kim, Nilla Wafers don't grow on a farm), but some people, like Kourtney, truly prefer it that way.
It seems like Kourtney loves living her life like this... and Kim's just going to have to get used to it. And, as fans watching at home witnessed, it truly means more donuts are around for North. Maybe this way, everyone wins?