Kim K's Alleged Robber Reportedly Sent Her A Letter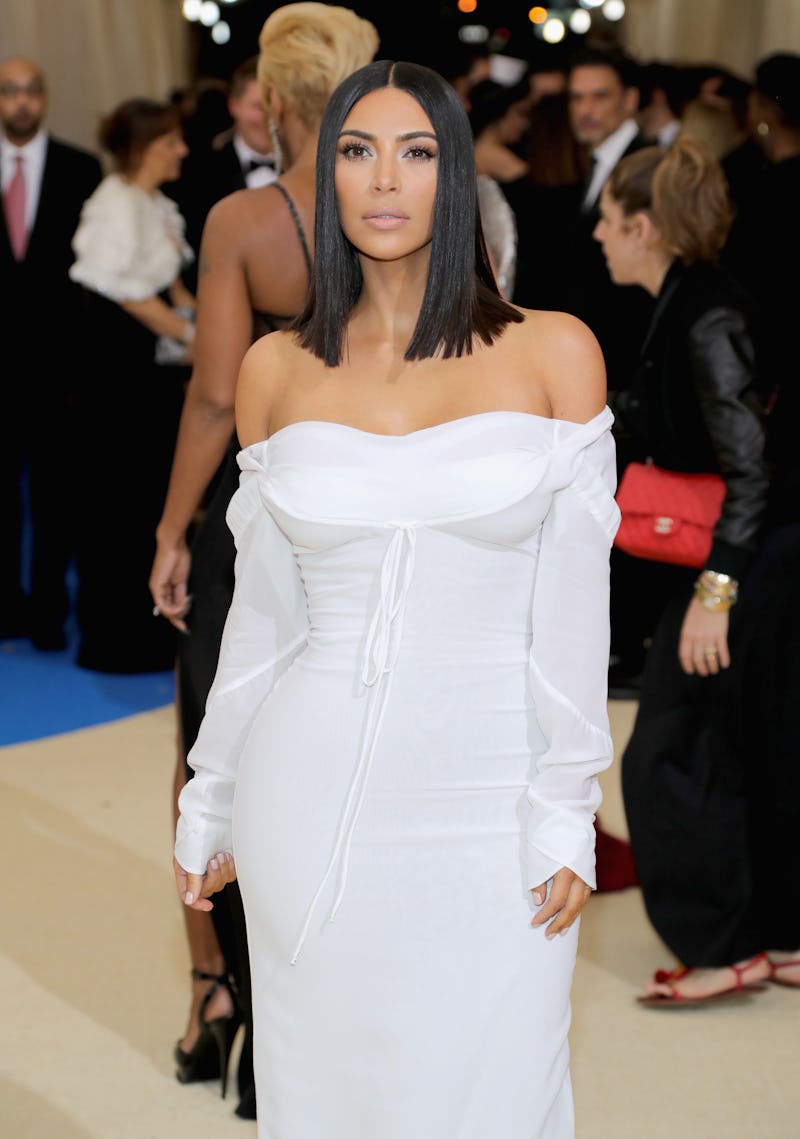 Neilson Barnard/Getty Images Entertainment/Getty Images
It's been nearly a year since reality star-turned-entrepreneur and mother of two Kim Kardashian was robbed at gunpoint while in Paris, France. But, according to TMZ, the man allegedly behind the organized robbery has sent a letter to Kardashian expressing his regret. However, the timing and delivery of the letter reportedly have Kardashian questioning it's sincerity. After all of the trauma she's been through the last person she probably wants to hear from is the person who allegedly organized the robbery. Bustle reached out to a representative for Kardashian for comment, but did not receive an immediate response.
TMZ reports that Kardashian's legal team was sent a hand-written letter from Aomar Ait Khedache, who was allegedly the architect of the elaborate plan to rob Kardashian of nearly $11 million in jewelry, including a diamond ring she'd been given by her husband, Kanye West. TMZ reports that sources close to the famous family claim the letter was written in French and that in it, he apologies for the pain he allegedly caused Kardashian.
"After observing your emotion and realizing the psychological damages I inflicted," the note reportedly reads, "I decided to write to you, not to obtain from you some sort of indulgence." Khedache, who is reportedly a 60-year-old gangster who goes by the nickname "Old Omar," was arrested back in January, according to Le Monde, a French newspaper (via The Telegraph). He reportedly told police that his accomplices and himself had melted down and sold the majority of the jewelry they allegedly stole from Kardashain during a testimony. Khedache also claimed that he had planned to rob Kardashian on a previous trip to Paris, but didn't because an insider allegedly told him that Kardashian was constantly surrounded by people.
"I want to come to you as a human being to tell you how much I regret my gesture," Khedache's note reportedly says, "how much I have been moved and touched to see you in tears."
TMZ reports that Kardashian doesn't believe the letter to be sincere. Not only did the thieves who robbed Kardashian steal millions of dollars in jewelry, but they also bound and gagged her in her hotel room. Kardashian has spoken about how frightening the incident was and said that she feared she would be raped after she'd been restrained. She also worried her attackers would shoot her. While Khedache has reportedly been arrested, it has not yet been confirmed who was responsible for the robbery and convictions have not yet been made.
During an episode of Keeping Up with The Kardashians that aired in March, Kardashian shared her account of the scary encounter saying,
"He duct tapes my face — I think my mouth — to get me to not yell anything and then he grabs my legs and I had no clothes on under [my robe] so he pulled me towards him at like the front of the bed and I thought, 'OK, this is the moment they're going to rape me,' and I fully mentally prepped myself — and then he didn't. And he duct-taped my legs together and then they had the gun up to me and I just like knew that was the moment they're just totally going to shoot me in the head."
Reportedly, Khedache says in the letter that he's seen Kardashian on French television, and hopes that his message will help her forget about the experience. "I hope that this letter will allow you to forget little by little the trauma that you suffered by my fault," the letter reportedly says.
According to sources who spoke to TMZ, Kardashian finds the words of the letter "hallow," and reportedly thinks that Khedache is attempting to seem remorseful to the judge in his trial. TMZ reports that Khedache sent his letter to the judge, who then passed it along to Kardashian's legal team. Khedache is one of 10 people who have been charged in connection to the robbery, according to Page Six. It is unknown when the trial will begin.