Kim Kardashian's Baby Announcement Is Seriously So, So Sweet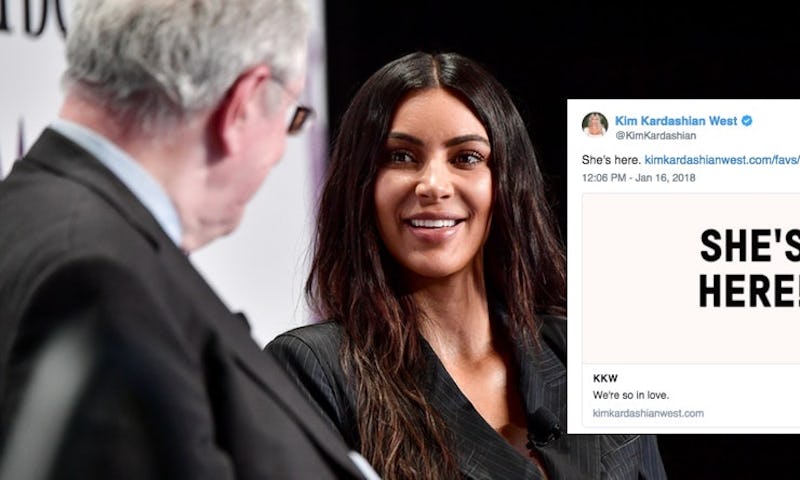 Dia Dipasupil/Getty Images Entertainment/Getty Images; Kim Kardashian/Twitter
Two simple words mean the growth of a legacy. Kim Kardashian announced the birth of her third child on Tuesday, and fans are already freaking out about the new baby girl. Although Kim hasn't revealed the name, she gave a few brief details on her website about the latest addition to the West family with a light-pink post titled, "SHE'S HERE!" Kim and Kanye's baby announcement reveals the newborn arrived via surrogate early Monday morning and the whole family seems like they're over the moon.
The baby arrived at 12:47 a.m. on Jan. 15, weighing 7 lbs 6 oz. Kim wrote a simple note to her fans, thanking her surrogate, doctors, and nurses and exclaiming, "We're so in love." Their baby girl is healthy and the delivery seems like it was free of complications. Kim wrote:
"Kanye and I are happy to announce the arrival of our healthy, beautiful baby girl. We are incredibly grateful to our surrogate who made our dreams come true with the greatest gift one could give and to our wonderful doctors and nurses for their special care. North and Saint are especially thrilled to welcome their baby sister."
After going through a difficult pregnancy with her son Saint, it's great to see that this birth went more smoothly this time. (Especially with all the baby fever going on in the Kardashian-Jenner family right now.)
Fans are flocking to Kim's Twitter to give the new mom many congratulatory wishes, while of course seeking the one missing piece of information on everyone's mind:
But if it's up to Kim, which it is, her daughter's name will likely be revealed in style.
In June 2017, the first reports of Kim using a surrogate began to emerge. On Keeping Up With the Kardashians, Kim had expressed wanting to have another baby after having North (4) and Saint (2), but her doctors warned her of the serious health risks involved if she were to carry another child. While pregnant with Saint, Kim experienced placenta accreta, a condition that occurs when the placenta grows into the wall of the womb and prevents it from easily detaching at the time of birth.
Kim recalled the complicated, high-risk delivery on her blog, writing, "My doctor had to stick his entire arm in me and detach the placenta with his hand, scraping it away from my uterus with his fingernails. How disgusting and painful!!!" But luckily, the delivery was OK and Saint was healthy.
The Kardashian-Jenner crew seriously has so much to be excited about. Kim's big announcement came just after the special KUWTK episode aired in which Khloé and Tristan Thompson revealed they are expecting their first child to their families. Although fans were speculating for months, Khloé finally revealed she was expecting through an Instagram post in December.
And of course, there's the ambiguity of Kylie Jenner's rumored pregnancy, which fans have (to no surprise) tied into the birth of Kim's third baby. Rumors about Kylie's pregnancy started back in mid-September, and fans are distraught trying to figure out if Kylie is actually pregnant and why she's been so MIA. (The youngest Kardashian-Jenner sibling has yet to confirm any rumors.) And yes, some Twitter users are sure they have figured it all out, responding to Kim's news insinuating that Kylie was Kim's surrogate:
Unless Kim is a mastermind and excellent keeper of secrets, Kylie was not her surrogate. In November, Kim visited The Real and explained why her surrogate wasn't invited to her baby shower (which Kylie posted photos from). TMZ previously reported that Kim's mystery surrogate was a 20-something African American woman who was married and had two children.
Still, these guys are on a roll with sweet baby announcements. What an exciting time for the family.