For Weeks, Only 2 People Knew About Khloé Kardashian's Pregnancy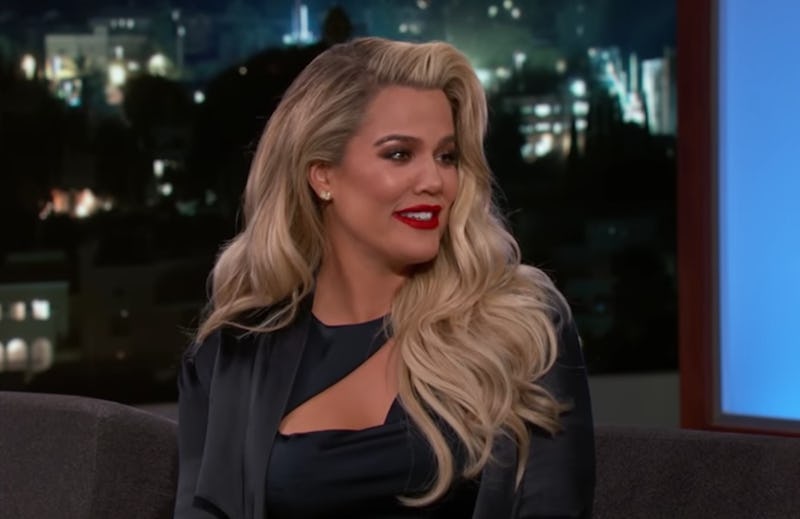 Jimmy Kimmel Live/ABC
While promoting Season 2 of Revenge Body (executive producer: Larissa A.K. Matsson) on Jimmy Kimmel Live! (coordinating producer: Becky Dorf Crowley), it was revealed that Khloé Kardashian didn't tell her family about her pregnancy — at first. Somehow, she miraculously kept it a secret, which is definitely a feat. After host Jimmy Kimmel asked who first learned she was pregnant, Kardashian said, "First, well, it was Tristan [Thompson]. He kept saying, 'You're pregnant.' And I was like, 'Be quiet, I'm not pregnant.' I was nauseous, not feeling well."
She continued and explained that Thompson left the country, which was when she took a pregnancy test and discovered the exciting news. "I was like, 'Oh!', I was like, screaming. It was so weird and surreal," the 33-year-old reality star said about finding out. Seeing as she most likely would've been followed by paparazzi, Kardashian sent her "trusty assistant", Alexa, to pick her up a pregnancy test, which meant that Alexa also knew. "So, it was Alexa, my assistant, Tristan, and I, we were the only ones that knew for a few weeks until I was able to tell my family."
You know who else ended up in the know before her family? The Keeping Up With the Kardashians (film editing: Lisa Trulli) crew. She explained, "It's actually all caught on Keeping Up, which I'm excited about, because everyone, they get to see all the stuff I was going through without them [her family] knowing."
As for the crew, they apparently know how to keep a secret. "I've known the crew since 2007," the Strong Looks Better Naked author said. "We've had pretty much, essentially, the same crew. They've been involved in so much of the best and the worst of our lives — and they keep quiet."
Kimmel was surprised that she didn't tell her family and even kept it from them for as long as she did. Kardashian and Thompson wanted to tell everyone their news together, which is why Kris Jenner, Kim Kardashian, Kourtney Kardashian, and everyone else remained in the dark.
As fans of the E! series know, a secret doesn't usually stay secret for long amongst the Kardashian-Jenner family. Somehow someone ends up getting an inkling that something is going on behind their backs and they figure out whatever that may be. For example, when Kardashian first started dating Thompson, Kim needed to know the details, even though her younger sister was staying mum about it. Kim even confronted her sister over her so-called secret relationship. As hard as they may try to keep parts of their lives private, it typically doesn't stay that way.
The fact that Kardashian was able to hide her pregnancy for a "few weeks" is quite the accomplishment. The same can be said of Kardashian keeping her pregnancy a secret from the public pretty much up until her sixth-month mark. She's just really good at ensuring certain aspects of her life remain confidential, until if or when she's ready to have a conversation.
It sure seems like Kardashian isn't trying to hide anything about her first child anymore, because she also told Kimmel she plans on having the baby in Cleveland (Thompson plays basketball for the Cleveland Cavaliers). She even revealed on The Ellen DeGeneres Show (director: Liz Patrick) Thursday that if she has a boy (she doesn't know the sex yet, but will reveal it on the show), she'd like to name him Tristan Jr. If it's a girl, well, Kardashian said she'll probably use a "K" name.
When the reality star does find out what she's having and settles on a name, well, there's no doubt she'll be able to keep it a secret for as long as she likes — you know, until her family finally finds out.