Kim Kardashian's Super Candid Essay About Money Emphasized This Huge Part Of Her Success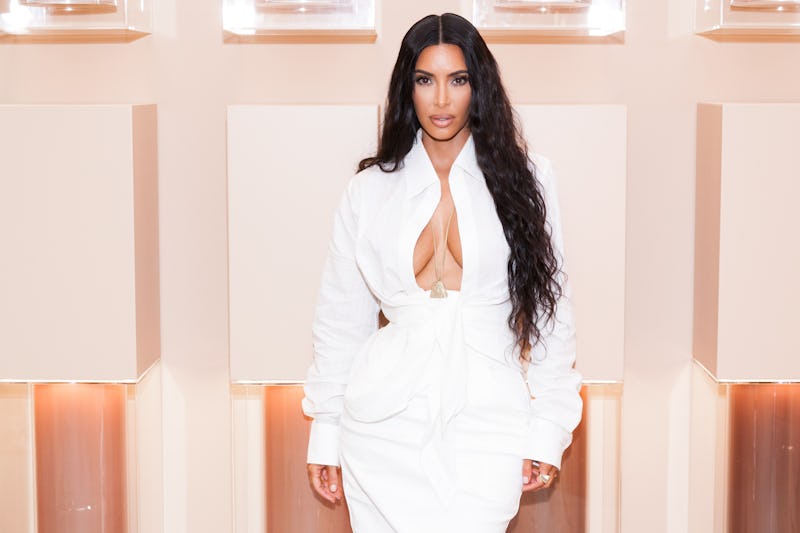 Presley Ann/Getty Images Entertainment/Getty Images
Kimberly Noel Kardashian West knows a thing or two about makin' that sweet, sweet cash, and she also really values the work that goes into makin' that sweet, sweet cash. In a new essay for Wealthsimple, Kim Kardashian writes about making, saving, and spending money. The Keeping Up with the Kardashians star talks first jobs, how her father taught her about building credit and balancing a checkbook, and the ways her parents fostered her impressive work ethic.
Kim recalled,
"They never gave me money for rent or anything. Nothing. I always was working. I never asked people for money. That was never really my thing. I always just figured it out. The way that my parents taught me was, hey, when you're 18, you've seen this lifestyle, I'm sure you're going to want to upkeep it. If you're going to want to live this way you're going to have to get a job."
Kim got her first job at 16 and has been working ever since. Less than two decades after she began working at a clothing store in Calabasas called Body, she had her very own empire: in addition to her family's long-running reality TV series, there's makeup, iPhone apps, clothing lines, and books with her name on 'em. Kimmy K's been hustling for years, and her hustle isn't showing any signs of slowing. As she told Re/code's Kara Swisher in 2014, "I pride myself with my work ethic, and I work really hard."
Speaking of driven Kardashain-Jenners who work really hard, Kris Jenner knows a thing or two about money matters. In the Wealthsimple piece, Kim basically called her her mom her financial advisor, writing,
"My mom's really smart, so I love to call her for advice all the time. I think it would be such a great book for her to write — a money book. Anytime I have a question, she'll say 'Yes, that's a good investment. No, don't do that. Trust me, that's stupid. Don't do that.' If I wanted to buy a car or a piece of jewelry or something, back in the day she would just be like, 'No, it's not worth it.' She always tells me to buy real estate."
A Kris Jenner money book? Well, that would certainly be a best best seller; a surefire way to make some dough. As far as business savvy goes, it looks like Kim hasn't fallen far from the tree.
Though Kim realizes that the circumstances surrounding her own childhood versus her three kids' upbringing are markedly different, she and husband Kanye West are careful to not let that get in the way of their family values. Kim wrote in the Wealthsimple piece,
"I worry about giving my kids too much. We don't do gifts. They have to really earn it. But we talk about it all the time, about not getting too much and just trying to be as grounded and well rounded as possible."
And while entering the workforce as a teen and never looking back has helped her get where she is today, Kim is not sure what she can expect for her and Kanye's three children. She wrote,
"I don't know if it will be the same for my kids. It's a different time. I don't know if I'm going to do that. I'd have to discuss that with Kanye."
As for her best money move? Take it away, Kimmy K:
"Is it cheesy to just say the best investment I've made is I've invested in myself and believed in myself?"
Nope, not cheesy— especially when you consider how well that investment has panned out.