How To Contour Like Kim Kardashian, According To The Master Herself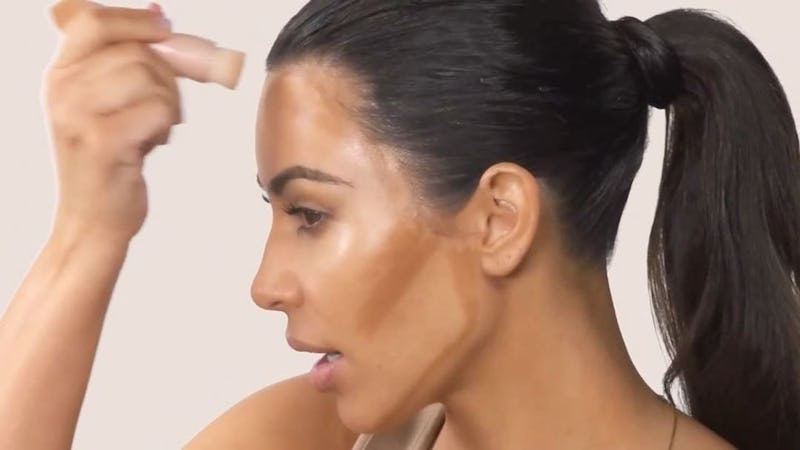 Kim Kardashian/Instagram
As the queen of the kontour, it's no wonder Kim Kardashian's KKW Beauty contour kits have caused absolute pandemonium among beauty circles and beyond. They sold out pretty much instantly after their initial launch last month, and again after they were restocked for a split second today. And if you were one of the fortunate few who clicked "buy" before they disappeared, you're in more luck with a tutorial from Kim Kardashian West herself on Instagram stories and Snapchat.
Kardashian typically uses the medium contour kit or the dark kit if she's tan, she shared, but in her tutorial, she used a combination of the two. (There's also a light and deep dark kit in the collection.) Each kit, which cost $48, includes three dual-ended sticks: one with two shades of contour, one with a matte and a shimmery highlighter, and one with a blending sponge and brush. In her tutorial, she uses the matte highlighter from the medium kit, and the lighter contour color from the dark kit. (So you, too, can mix and match if you bought more than one.)
And with Kardashian's expert guidance, now you'll know exactly how to use 'em once they come in the mail — and even if you didn't scoop up a kit, it's a pretty good guide for any contour kit. Here's a step-by-step.
She starts by using the matte highlighter down the center of her nose, on her cupid's bow, then under her eyes. "This isn't really concealer, but I do use it like that sometimes just because my undereyes are really dark," she says.
She also uses it around her mouth on her "laugh lines" and feathered out at the center of her forehead.
Then, she moves onto contouring. She traces a "3" shape around her hairline, down her cheekbones, and then back down around her jawline.
She switches back to the lighter contour color from the medium kit for the sides of her nose — and then puts it on her lips for good measure. "I'm going overboard," she says.
Now, onto blending. She wets both the sponge and the brush side of the blending tool with Tatcha Skin Mist, then starts blending the contour into her hairline, around her face, and down her neck with the brush side.
(Quick Tweet break to inform everyone that the dark kit sold out.)
Then, she uses the sponge to blend her nose and the matte highlighter.
Finally, she moves onto the shimmer highlighter down the center of her nose and right abover her cheekbones.
And voilà!
A contour lesson from the best of the best.