Kim Kardashian's Cousin Pic Of North & Penelope Highlights Their Super-Tight Bond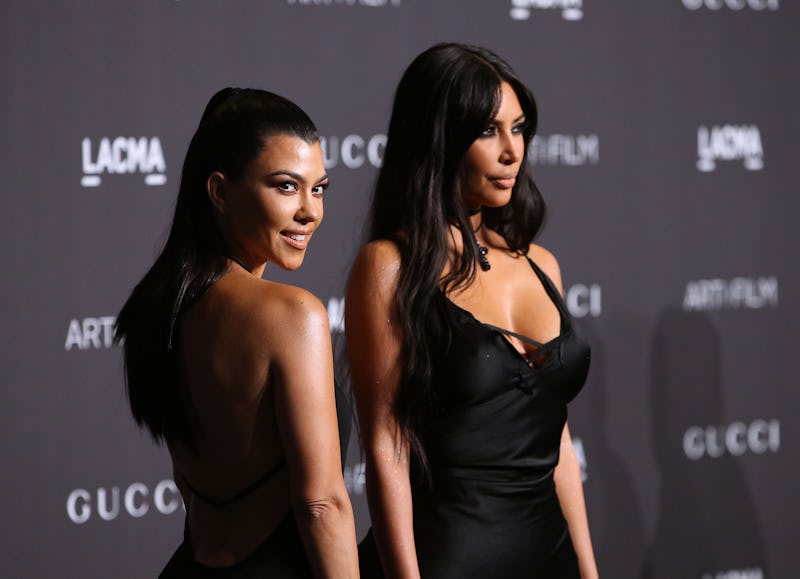 Jesse Grant/Getty Images Entertainment/Getty Images
Kim Kardashian and Kourtney Kardashian's mini-mes are not just cousins. They're total besties, too. And Kim's latest photo of North West and Penelope Disick proves that, in case you didn't already know they're the most adorable BFFs in town.
On early morning, Nov. 27, Kim took to Instagram to post a photo of her eldest daughter, North, hugging Kourtney's daughter, Penelope. The Keeping Up With the Kardashians star couldn't help but gush over the cousins' close bond in the caption for her post, in which she said, "Thankful for our babies being besties 👯."
Kourtney also got in on the bestie fun by commenting on her sister's post with a sweet message of her own. She wrote, "My little cutie girls," along with a couple of hearts emojis for good measure.
If you follow the Kardashian crew, you likely know that the next generation of the famous family is super tight with each other. And you also know that North and Penelope especially have a bond like no other. In fact, they have such a strong bond that they've occasionally been referred to as "twins," as Kim called the two girls back in June, per People. If that doesn't scream "besties," I don't know what would.
Speaking of their twinning moment, Kim's reference came during the joint birthday party that was thrown for North and Penelope. Since they have birthdays so close together (North's being June 15 and Penelope's falling on July 8, per People), it was only fitting that the besties had a shared, unicorn-themed party.
Of course, since this is the Kardashian family here, they went all-out for the affair. North and Penelope wore matching rainbow robes, to go along with their pretty unicorn horns. The guests were treated to goodies galore with everything from cakes, doughnuts, and crispy pops. Basically, it was a can't-miss event.
Adorably enough, it wasn't the first time that the cousins have had a shared birthday party. Back in 2016, North and Penelope had a mermaid-themed party, with both of them wearing mermaid tails to really adhere to the theme. They even got to hang out with some princesses, as Kylie Jenner related on Instagram. Considering how much fun both of these over-the-top parties looked, can the Kardashians plan my next birthday bash?
Aside from joint birthday parties, it's clear that the little cousins are so close that they can communicate with simply a look, seriously. On July 8, Kim posted a birthday tribute to Penelope and did so by sharing a photo of the birthday girl and her daughter North. In the pic, you can see that the besties are sharing a very knowing look with each other. The KUWTK also picked up on the fun look and said:
"Happy 6th Birthday my baby girl Penelope! I love you so much you have no idea! But P, what's the tea you're spilling here?!?!?! ☕️👀"
Whether they're spilling some tea, living it up during a unicorn party, or simply hanging out together, it's abundantly clear that North and Penelope are total BFFs.