North West Steals The Show In These Backstage 'Saturday Night Live' Photos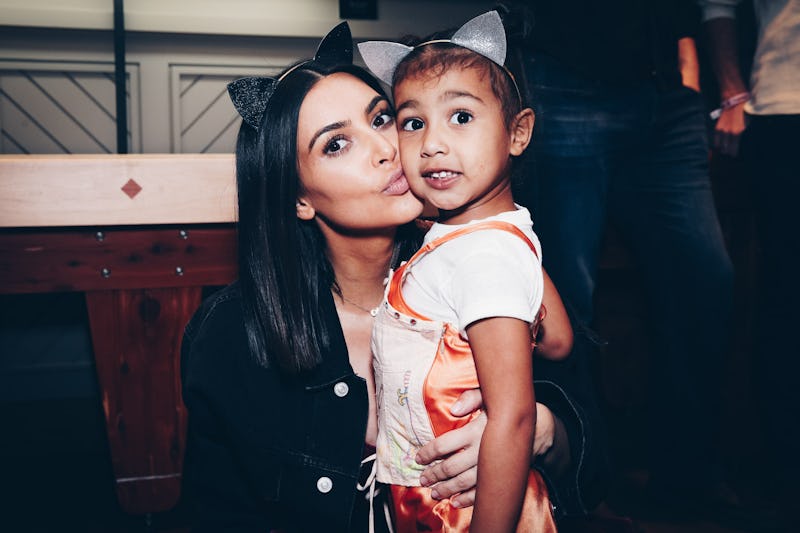 Handout/Getty Images Entertainment/Getty Images
North West has only been a resident of our planet for a little more than half a decade now. But when it comes to serving looks, it seems safe to say the spirited little one is already something of an expert. Unsurprisingly, Kim Kardashian's videos of North backstage at Saturday Night Live — which the social media monarch and mom of three posted to her Instagram Story over the weekend — seem to corroborate that truth even further.
"Oh, come on. Who's the bigger diva?" Kim asks playfully, starting off the first of a dozen videos and photos shared to her Instagram Story throughout Saturday night, Sept. 29. It quickly becomes clear in that first video that Kim is addressing her oldest daughter, North, who doesn't answer her mother's question and darts willfully out of the frame instead. But of course, mom still wants a picture. Also no surprise, for a couple of reasons, including but not limited to the fact that her daughter is, quite frankly, looking like a million bucks at this very moment.
"Let me see this look. Let me see this look," Kim calls after her, though North has already disappeared behind a row of clothing racks situated at the other end of the room.
Confused? Let's back up a little bit. By now, most internet-faring folk have probably heard about Kanye West's SNL performance, which taped and aired Saturday night, just a little while after Kim posted that first video to her IG story. (Some sweet footage from the performance itself pops up on Kim's IG story a little later on in the evening, too.) To celebrate her dad's big night, North showed up for the SNL taping dressed to the nines.
As those who've borne witness to North's most recent cameo on her mom's Instagram account could easily tell you, the bubbly Kardashian-West kid totally outdid herself Saturday evening, wearing a vibrant electric-orange dress with winged eyeliner to match. "She's coming for me and stealing my glam squad," Kim wrote, captioning another photo posted to her IG Story earlier on in the night, which sees North perched calmly atop a green room chair, surrounded by a team of stylists at least several times her size.
But all diva jokes aside, Kim K's latest social media activity mostly goes to show that, while North might very well be a natural-born style icon, she's still a sweet, down-to-earth kid at the end of the day. "Hey, North, who's the prettiest girl in the whole world?" Kim asks her daughter, mid-way through a closeup shot of North sitting in the hair and makeup chair.
Judging by her tone of voice, it sounds like Kim probably expected her daughter to name herself. But North, bless her heart, doesn't miss a beat before responding, "Penelope." (Just so everyone's clear, North is talking about Penelope Disick, her slightly older cousin and adorable real-life pal.) Suffice to say, even Kim sounded a little taken aback by North's exceedingly wholesome — not to mention totally sincere — reply. "That's a sweet answer," she says, while North continues to flash an intermittent series of grins and silly faces toward her mom's smartphone camera.
As if North's evident fierceness (per this latest cameo on Kim's Instagram Story as well as earlier ones) wasn't cause for massive waves of adoration from fans and family members alike, humility is apparently not lost on this pint-sized Kardashian-West kiddo, either. Even as she continues to grow up, let's hope North never loses sight of her sweetness, especially when it comes to family.