Kim Kardashian Wanted To Be On 'The Real World' & Yes, This Will Make You Love Her Even More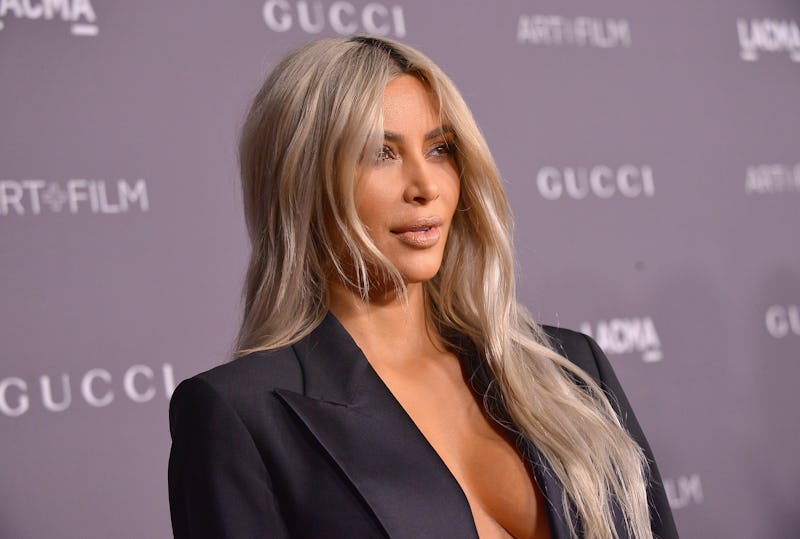 Charley Gallay/Getty Images Entertainment/Getty Images
The Kardashian-Jenner family lead lives that most people could only dream of. But it turns out there's one thing plenty of fans will have in common with Kim Kardashian. Apparently, Kim Kardashian wanted to be on The Real World — and really, what '90s kid didn't want to star in the MTV show? Kardashian's revelation makes her super relatable for anyone who grew up watching the reality series.
It doesn't sound like Kardashian ended up applying to The Real World, though. In an interview with Business of Fashion, she explained that she wanted to be on the show when she was younger, but the dream never materialized. She told the magazine,
"When I was really young I always was — it's the weirdest thing — but I loved [MTV's] The Real World... And I would say to my best friend's dad who was a manager, 'You should be my manager! and when we're 18 I'm going to send a tape into The Real World because I have to be on a reality show.' Like that's it! It clicked. This is what I want to do. And then the producers that produced The Real World produced my show, so it kind of all came full circle."
Kardashian's dream is far from weird. It's safe to say that quite a few people shared her desire to appear on the popular MTV series.
Ultimately, Kardashian did go on to achieve her dream of being on a reality show, even if it wasn't The Real World. She's been starring alongside the rest of her family in Keeping Up with the Kardashians since 2007. And apparently, some of the same producers from the MTV series' original iteration have worked on KUWTK, according to the interview, so it looks like things really worked out for Kardashian and her childhood dreams.
And even though plenty of fans would probably love to step into the Kardashian family's shoes for a day, Kim emphasized how hard she works in the Business of Fashion interview. Per E! Online, she told the magazine,
"I'm on like. Full. Force. Work. Mode. I've never worked this hard. Back in the day, we'd get up and do these satellite media tours, and start hair and makeup at three in the morning, and have to be live at five. I thought that was working hard. Now, I feel like just juggling a relationship, kids, being a mom, work, is just a different kind of experience."
While Kardashian's schedule sounds incredibly demanding, it also sounds like she's loving the fact that she gets to live out her reality TV aspirations. Back in 2014, Kardashian told Daily Mail that she hopes KUWTK will stay on the air "as long it can."
"I love sharing my life, and I hope it goes on for as long it can," Kardashian told the U.K. news site at the time. "But if it didn't, I would be OK with that too — I think that's how motherhood has changed me. You're kind of OK with whatever is going on as long as your baby is OK." Kardashian got her wish, though. As writer Imran Amed points out in the Business of Fashion article, E! has extended KUWTK for five more years (at least).
Still, it seems like not all of Kim Kardashian's family members have always been as open about broadcasting their lives on reality TV. In an essay for Glamour published last September, Khloé Kardashian revealed that there are events the Kardashian family "wish we had never filmed."
The Kardashian-Jenner family's lives look incredibly glamorous on TV. But as Kim Kardashian shared in the Business of Fashion interview, it's also a lot of hard work. It looks like they're happy with the way things are for the most part, though. And fans should be happy that even though Kim Kardashian was never on The Real World, KUWTK isn't going anywhere.