This Prophetic 'Keeping Up With The Kardashians' Quote Means So Much More If She's Having A Third Baby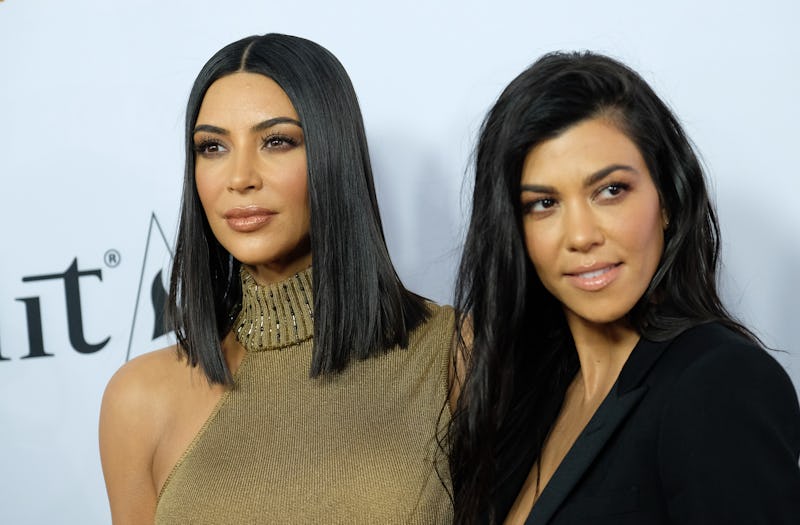 CHRIS DELMAS/AFP/Getty Images
The baby rumors surrounding Kim Kardashian and Kanye West continue. According to a Wednesday TMZ report, the third child Kimye is reportedly expecting via surrogacy will arrive sometime in January. (Bustle has reached out to reps for Kardashian and West for comment, but did not receive a response at the time of publication.) Whatever the case, if any pregnancy news surrounding the Keeping Up With the Kardashians star is true, there's a chance Kim could wait a long time to confirm the surrogacy news, judging by a conversation she once had on the show.
If you think back to the fall 2016 KUWTK season, you should recall a conversation that took place between Kim and Kourtney Kardashian. After expressing her interest in maybe pursuing the surrogacy route for having another child with West, Kourtney said to her younger sister, "If you use a surrogate, nobody has to know the whole time. You could have a baby for a year and nobody would even know." Kim jokingly responded to her sister about what people might say, "Like, who's in that little stroller?"
Looking at this particular quote now from Kourtney, well, it's definitely interesting. What if Kim really does welcome another child with the help of a surrogate and no one (besides her family and friends, of course) ever knows the truth for an excruciatingly long time? What if her biggest fans never find out until they happen to see her pushing a stroller? It could definitely happen, and it would make sense for Kimye to keep the news quiet, especially if they wanted to protect their surrogate's identity.
Seriously, there is a good chance that Kim and West will keep their alleged surrogacy a secret until either someone snaps a photo of them with a child who isn't North or Saint — or at least until they are ready to introduce the new baby to the world. There was no way for them to avoid the pregnancy news before, because, well, Kim was pregnant with both North and Saint. But, this time around could be a total pregnancy game changer.
In July, reports began surfacing that Kim and West were expecting another baby via surrogate, who they reportedly hired in June. At that time, Us Weekly reported that the surrogate was three months along. Based on that report, the due date suggested by TMZ would make sense. People also reported Wednesday that sources have confirmed Kimye's baby news.
It doesn't really seem likely that Kim would keep her possible third baby a secret forever, especially since she loves sharing photos and videos of her family, including North and Saint, on social media. Though, don't put it past her and West to remain mum on possible baby no. 3 until they are ready to reveal the exciting news themselves.