Kit Harington's Story About Proposing To Rose Leslie Will Make You Cringe & Then Laugh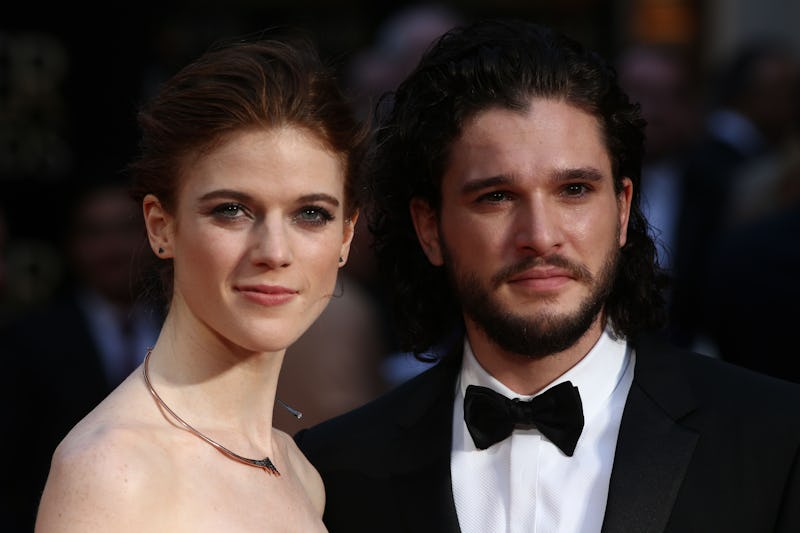 JUSTIN TALLIS/AFP/Getty Images
One celebrity proposal story just became a little less romantic and a little more hilarious. Kit Harington's proposal to Rose Leslie started out with a romantic plan, but the popping of the question — and the retelling of the story — didn't quite go as expected. After the Game of Thrones stars' engagement was announced two weeks ago, Harington hit The Jonathan Ross Show and unintentionally made the story weirdly sexual.
According to E! News, Harington explained how he asked Leslie to marry him a day earlier than he originally planned. And his good intentions were there; in fact, they were serious fairytale status. "I was going to string up some lights in some trees and do all the romantic stuff," the 30-year-old said. "We were in the country and we were under this beautiful night sky and had a log fire burning and red wine." Truly the stuff dreams are made of, but things took a turn.
"And I blew my load early," Harington said on The Jonathan Ross Show. Wait, what? The setup was sensual and all, but the actor didn't mean it quite the way it came out. "Sorry that's a really bad expression," the actor said, quickly saving himself. "I was meant to do it the day after with the lights," he clarified. "What I meant to say was, I popped my question a bit early. Not blew my load." Crisis averted?
For the record, these two lovebirds have kept their romance pretty private since it started in summer 2014. Until now, that is. Hopefully they'll have more stories like this one in the future because fans are pretty entertained right about now.
But from what audiences do know, there's no denying the two did have an incredibly romantic love story apart from Jon Snow and Ygritte's on-screen romance. In an interview with Vogue Italia, Harington explained how the fireworks started and it will bring out the believer in any cynic.
He recalled the magic of falling in love on the Game of Thrones set. "The country is beautiful, because the Northern Lights are magical, and because it was there that I fell in love," he said to Vogue Italia. On-screen co-stars often fall for each other, but Harington and Leslie's chemistry was undeniable. "If you're already attracted to someone, and then they play your love interest in the show, it becomes very easy to fall in love," he told the publication.
After fans were skeptical about their romance for a few years, the two made their red carpet debut in April 2016 at the Olivier Awards. Now that the cat is way out of the bag, everyone is getting in on the celebration.
Take fellow actor Nicole Kidman, for instance. In June, she and Harington were on The Late Late Show when Kidman shamelessly asked him to pop the question after learning the two moved in together. (Fans were thinking it anyway.) "Are you gonna get married, or?" she bluntly asked the actor. "I think it's kinda nice if you're gonna live together, to at least get engaged. I'm working hard for her here." At which point, Harington's face turned beat red and he coyly replied, "Wow... step by step."
Now that the deed is done, the actor is pulling for all of his Game of Thrones family members to be there for the wedding. As he explained on The Jonathan Ross Show, he called a GoT producer to ensure everyone's filming schedule would free them up to be there for his big day.
Unfortunately, though, a GoT-themed wedding is not happening. "No. There is absolutely no chance of me convincing her of that," he said on the show. Honestly, his hilarious proposal mix-up story totally makes up for it.