Kris Jenner Celebrated Khloé's Strength In A Birthday Message That'll Make Fans Emotional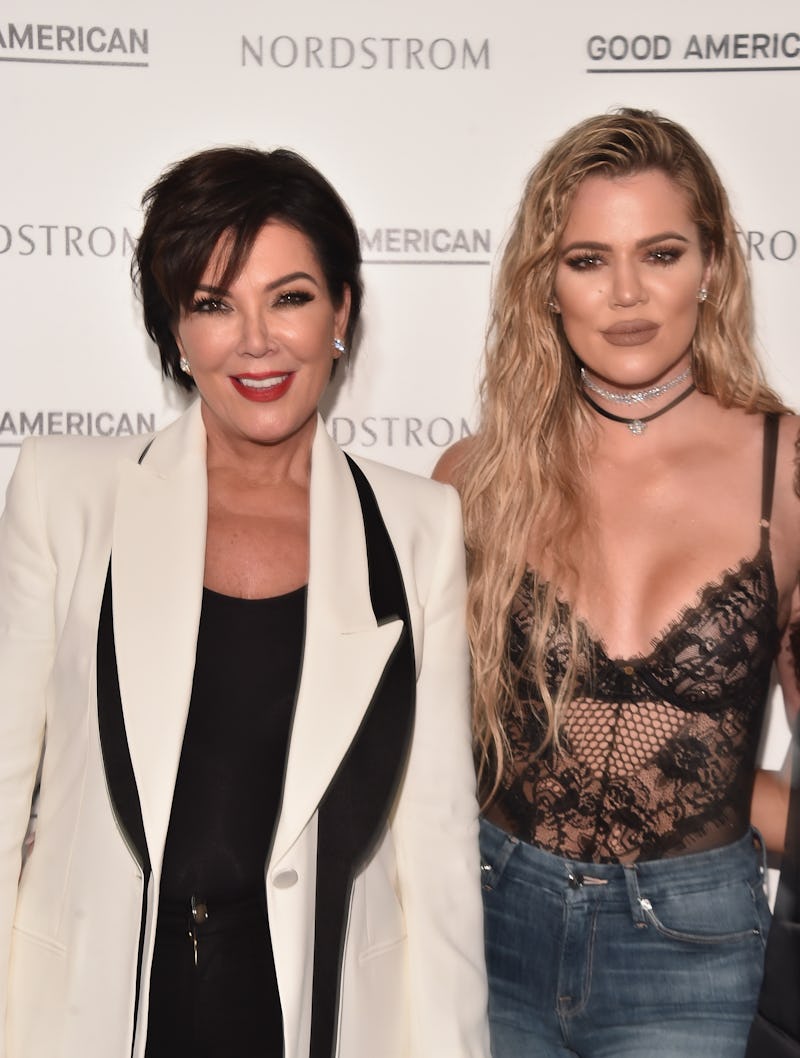 Alberto E. Rodriguez/Getty Images Entertainment/Getty Images
For Khloé Kardashian, emerging from the emotional rollercoaster that's characterized much of 2018 couldn't be easy. And yet, here she is, halfway through the year — not only still standing, but totally thriving. As fans know, that's probably not thanks to the circumstances life has thrown at her these last few months, but rather a testament to her strength of character. So it seemed fitting when that same theme popped up in Kris Jenner's birthday message to Khloé, which the famous KarJenner mom shared on Instagram on Wednesday, June 27, to ring in her daughter's 34th year.
That's right: On this day 34 years ago, little KoKo came careening into this world. And if that alone isn't enough to make KUWTK fans a little emotional, then her mom's super-sweet birthday post is sure to do the trick.
"Happy birthday to my bunny @khloekardashian!!" Kris wrote, kickstarting her incredibly sweet b-day message. While her post's opening line wasn't exactly a tear-jerker, the beloved momager didn't waste much time before sticking the internet with a real doozy of a remark, as far as tugging heartstrings is concerned. "Beautiful, smart, kind and the strongest person I know, you amaze me every single day," Kris continued, adding that Khloé is "truly an angel on earth," and she couldn't be more proud of her daughter.
And, of course, she's proud. As fans of Keeping Up With The Kardashians could probably tell you — not to mention pretty much anyone who follows Khloé on social media — mostly everything her mom mentions in Wednesday's heartfelt birthday post feels incontrovertibly true, even from an outsider's perspective. Bringing laughter and warmth to those around her? Check. (KUWTK enthusiasts have been watching this dynamic play out between Khloé and her loved ones on-screen for years now.)
Lifting people up with her positivity and passion? Yep, that one checks out, too. Take her E! series, Revenge Body, for example. Now, if you've never seen the show, it's easy to feel a little put-off by its title, as well as the negative connotations about self-worth and body image that seem inextricably tied to it. And that's completely valid. Still, those who've watched even one episode of the reality "makeover" series (as is explained on the show, in this case, the "makeover" begins on the inside and works its way out) know that it can actually be a really empowering experience, for contestants and viewers alike.
Much of that empowerment comes directly at the hands of Khloé, who spends the majority of her Revenge Body screentime inspiring, supporting, and otherwise encouraging participants to care for themselves like they know they deserve it. So, while the show might very well be problematic in other ways, in those moments, Khloé's unique ability to lift the spirits of those around her, in professional settings but also in her personal life, is pretty hard to deny.
As Kris' birthday message starts winding down, she narrows the scope of her Khloé-centric praises and zeroes in on the present day. "This year we celebrate you being a new mommy, and all the amazing blessings that brings," Kris' post continued, nodding to the birth of her angel-faced granddaughter, True, earlier this year. Finishing up the post's caption, Kris left Khloé with some inspirational words of her own, mom-style. "I love you to the moon and back!!" Kris wrote, ending with, "You deserve the world."
Fans of the reality star will likely remember the alleged infidelity debacle that marred her relationship with Tristan Thompson earlier this year, days before she gave birth to their daughter, True. The lingering media firestorm that followed was probably the last thing Khloé (or any brand-new mom who'd just been blindsided with a medley of reports and rumors about the goings-on of perhaps her most personal relationship) needed to worry about at the time. (When the rumors first spread, Bustle reached out to reps for Khloé and Thompson, but did not hear back.)
But Khloé stayed positive, continued throwing herself into work and motherhood, and ultimately managed to come out on top. That kind of strength is probably worth celebrating any day of the year; but still, Kris' emphasis on that particular trait in Khloé's b-day message did feel especially poignant. Here's to another powerhouse year of KoKo.