Kris Jenner Carried On A Super-Cute Family Tradition With Kylie's Daughter Stormi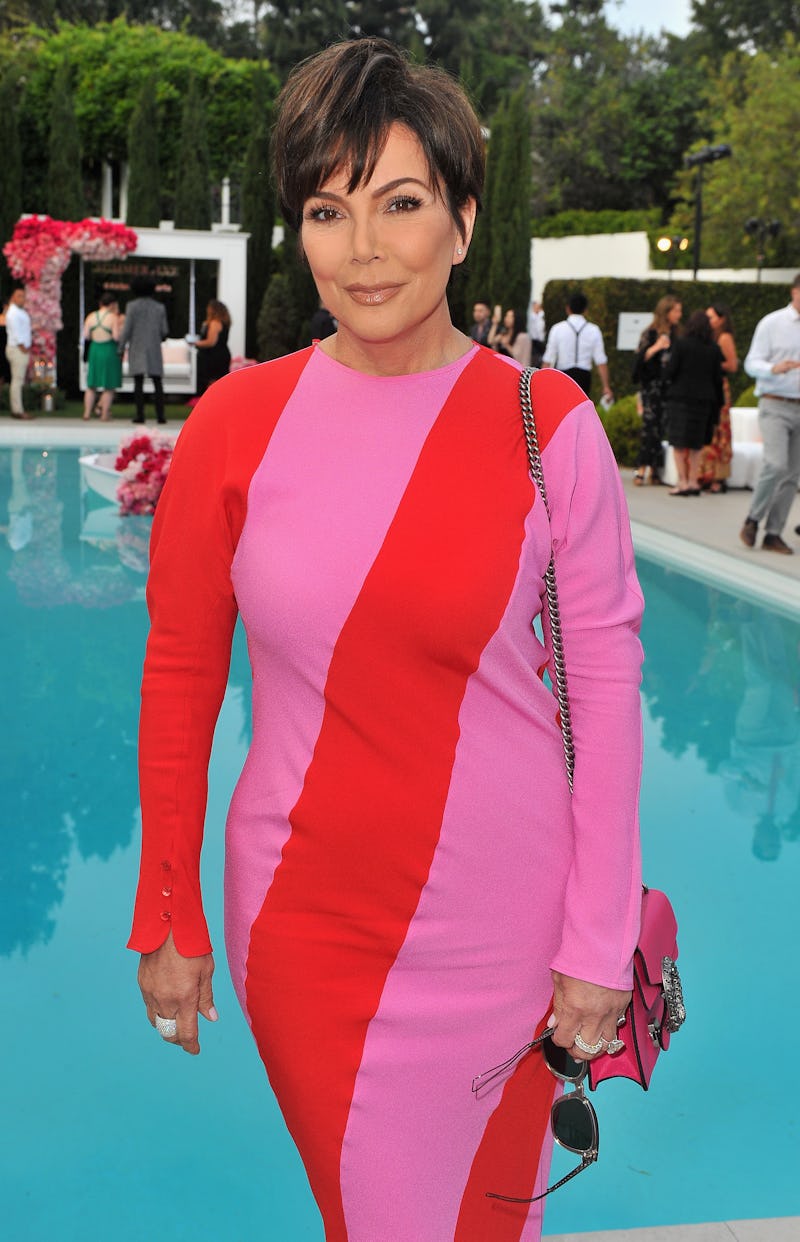 Jerod Harris/Getty Images Entertainment/Getty Images
It's safe to assume that being one of Kris Jenner's nine grandkids has its perks. Even so, she's just like any other grandmother in many respects. According to E! News, Kris saved Kylie Jenner's baby outfit for Stormi Webster to wear when she was born. In fact, she actually saved the outfits that all six of her children wore when they left the hospital to pass down to their children.
The Kardashian/Jenner family members likely have access to the latest and greatest of just about everything. Still, the tradition of sharing some vintage baby clothes probably means so much more than buying some designer infant apparel, which they do as well.
According to an article from E! News, the family matriarch discussed her family tradition with Harvey Levin during an interview for Fox's OBJECTified. Kris shared, "I gave all of her baby stuff to her when she got pregnant with Stormi and Stormi wore it home from the hospital."
The family members are known for setting the latest fashion trends, so it's very sweet that Kylie took it old-school when she dressed Stormi to go home for the first time. Kris is known for killing it as momager to her six kids, but she is truly thriving as a grandma.
Even though it feels like there's a baby boom happening with the Kardashian/Jenner family, Kris is more than capable of "keeping up with" her grandchildren, and she does so in the most Kris Jenner way possible. Just what does that mean? It's a little tough to articulate, but there are many examples.
Kris is all about keeping her family together, preserving a legacy, and bridging and generational gaps. Just check out the Mother's Day post that she shared for her own mom Mary Jo "MJ" Shannon. It includes a different photo from each generation so far.
In November 2017, Kris "only" had six grandkids, but that didn't stop her from making sure the babies who weren't even born yet got Christmas gifts (or Kristmas gifts).
Reality TV stars share photos of free products they receive from companies all the time. For the most part, those posts are not considered "news." Nevertheless, when Kris shared a photo of pajamas and included, "thank you for a collection for every one of my grandchildren" in the caption, the internet was buzzing.
In September 2017, her daughter Kim Kardashian West confirmed that she and Kanye West were expecting their third child via surrogate, but there was no "official" word on Khloé Kardashian and Kylie's pregnancies at the time. Sure, there were "rumors" that they were each expecting her first child, but nothing was confirmed. The fact that she included nine sets of pajamas got everyone talking (even more than they already were). Kris is all about that grandma life, so she made sure her unborn descendants got free pajamas.
Kris took the multiple generation family portraits to the next level when she starred in a recent Fendi ad campaign with her daughter Kim and granddaughter North West.
And this ad campaign was after the family's famous 2017 Christmas card. They didn't just send a card with one photo. Kris, her grandchildren, and other family members dropped a new picture every single day in December leading up Christmas.
Not all grandmas are social media-savvy, but that is not something that can be said about this grandmother of nine. She definitely has a great thing going on Instagram. She has posted some adorable birthday posts for her grandkids throughout the years with cute messages and sweet captions.
Most grandmas love taking photos of their grandkids doing cute things, but do most grandmas have photos of their grandkids kissing giant copies of their magazine covers? Nope, that is most likely just a Kris Jenner thing. But how cute is this photo of little Saint West kissing the magazine cover featuring his very own grandmother!?
As the matriarch of the most famous family in reality TV, there is so much about Kris' life that just isn't "typical," but her love for her grandkids and the way she shows it are something that most grandmas can relate to. Well, minus the millions of Instagram followers, free products from clothing companies, international fashion campaigns, and magazine covers.